Apple Cherry Cake Following Terike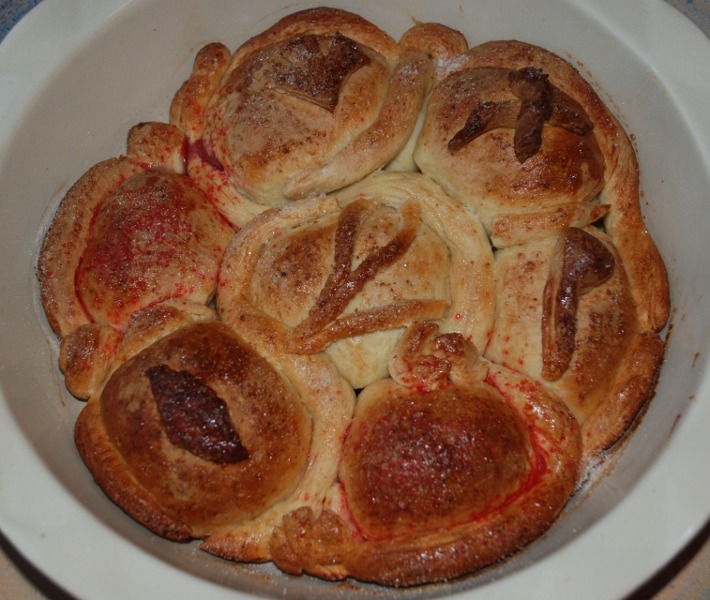 One of my New Years resolutions was to make something following the beautiful creations of Terike.    While I didn't expect to match her artistry, one has to start somewhere, and why should she have all the fun.  I chose her incredibly beautiful and appetizing  Apple Plum Cake to start.     However, no plums this time of year, so I decided to substitute the nice Chilean sweet cherries that have been showing up in the supermarket.    This particular post had a good ingredient list, and some very nice pictures of the process, so I had enough to move forward.    However, since there were no instructions I had to make things up as I went along, and have no idea if I did anything like the right thing.   Here is what I did.
Ingredients
Milk  100g  -- used 1% - whole milk probably better
Sugar  23g
Salt    5g
Butter   25g  -- unsalted
Egg Yolk  1 at 18g
Yogurt  50g   -- used very thick, rich yogurt made at greek grocery.
Flour   300g  -- used Heckers unbleached AP
Instant Yeast  10g
Egg white for egg wash
Yogurt, sugar, half cherries, and half apple slices for filling.
Scald milk in microwave for 1 minute.   Remove and mix in butter to melt.   Let milk cool to warm.   Add all ingredients but egg white and filling.   Mix in mixer and by hand for a few minutes (dough is very dry)  until it comes together and is flexible.    Let rest in bowl for 30 minutes.   Cut off a chunk of dough and roll out with rolling pin until around double length to width and wide enough for filling (around 2.5 inches.)   Cut in half.   Place dab of yogurt in center of one of the halves.  Sprinkle with sugar.   Place a half apple slice and two cherry halves on top of the yogurt.   Take the other piece of dough and place over the top.   Press the edges of the top dough onto the edges of the bottom dough.   Then cut off the corners to make it sort of round.   Pick up the roll and press the edges together tightly all around.   Place in an oiled ceramic 9 inch pie pan.   Continue until 7 rolls are made.   There should be a fair amount of dough left over.   Roll strips of dough out and decorate away.   Try to make cool little doodahs to place on top of the rolls and here and there among the strips of dough.    Then cover and place in the refrigerator (as perhaps you forgot that you couldn't stay at home to see this through.)   A few hours later, remove from refrigerator, and preheat oven to 400F.   After the pie plate warms up (around 30 minutes) brush the top with egg white, and sprinkle liberally with sugar (including a bit of red sugar.)   Bake for 20 minutes, then reduce heat to 350.   Bake for 10 minutes then reduce heat to 300.   Bake for 10 minutes until all the rolls are browned (and hopefully none are burned.)   Remove, cool, cut and pass out to eagerly waiting family members.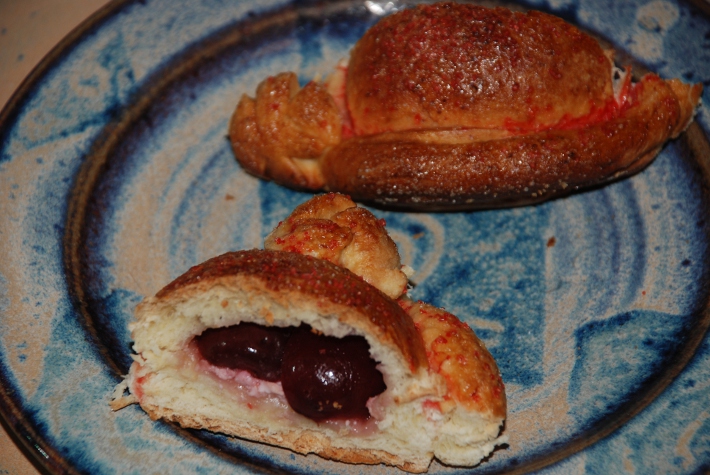 I feel quite certain that Terike's description of how she did this would be not even close to mine, even notwithstanding the Hungarian.  
Since I have not ever made something even remotely like this, I welcome any suggestions for how this could be done better.