Oat Bran Sourdough - The Flavor!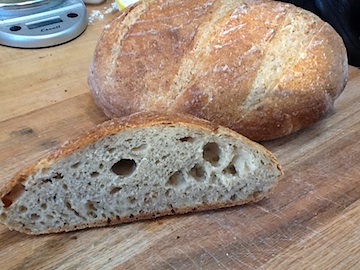 Wanted to share this success. Like you all, I hate discarding so much starter, so I've been experimenting with uses - pancakes, english muffins etc. Got the English Muffins to where I'm happy - more batter-like than dough is the secret. Emboldened by English Muffin success, I wanted to experiment with some bread. I tried this formula:
2 days before baking:
Fed  25g of my 100% starter with 50g each KAP and water = 125 G.
Day before: saved 30g, and used 50g in a levain (discarded the rest).
Levain
50g starter
68g AP flour
12g Rye
100g water
Baking Day
Dough - about 68.5% hydration
650g KAP
480 water
All of the Levain (230g)
85G White Whole Wheat (KA)
45G Rye
20G Oat Bran (Bob's Red Mill)
10g salt
7 g flax seed meal (Bob's Red Mill)
Mix all but salt. Autolyse 90 minutes. Add in salt and knead 10-12 minutes by hand. 
Bulk ferment 2.5 hours with S&F at 50 minutes
Preshape; rest for 10 minutes, then shape.
Final Proof 90 minutes (my house was a cool 68F, while outside was about 20F)
Then, my usual baking regimen: 500F preheat with cast iron dutch oven/combo cooker; 20 minutes covered at 475F; 20 minutes uncovered (final 10 minutes with parchment paper removed).
This bread came out great! The flavor was really sublime - slightly nutty and sweet - I guess from the oat bran/flax seed meal combo. Not much sourdough tang at all, which was fine with me.  The crumb was a little too open, owing I think to not enough kneading/development. We demolished the first boule with some homemade minestrone and grilled cheese.