November 26, 2012 - 7:26am
Pan de Muerto Cactus (Bread of the Dead Cactus)
Inspired by Karin's (hanseata) pan de muerto, I took her recipe, adapted it, and transformed it into a disaster---well, not entirely. I was content with the shape, the crust, and the crumb, but the flavour was... Bleh! Ick! Eww! And other interjections denoting disgust.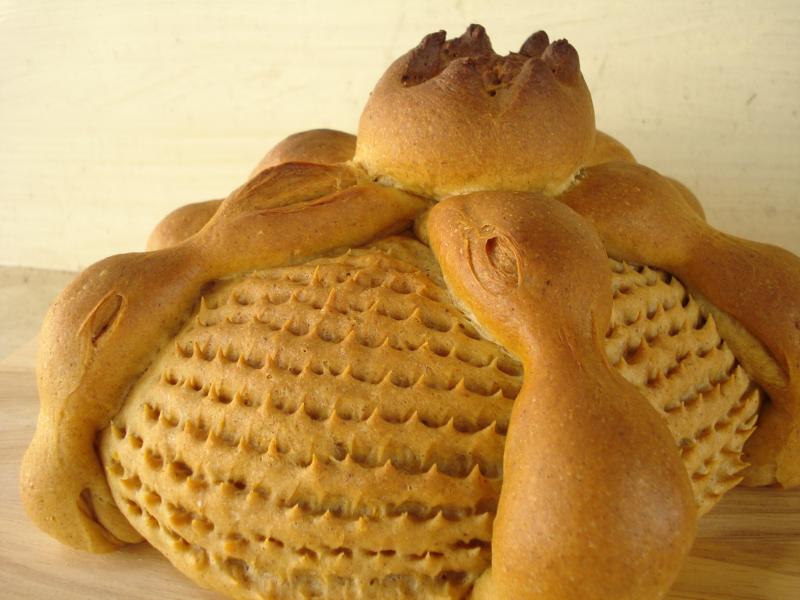 I was captivated... lured... by the traditional figure of the "Bread of the Dead", a boule grasped by a single hand, with segmented but bulbous fingers, topped by a spherical tear drop. Even more so, I was enamoured by the connotations and imageries associated with the pan de muerto. It's simply beautiful.

... But I had to deviate.
In no way do I mean to disrespect the customs or culture of Mexico, but my experimental thoughts were spurred and it had to come into fruition. I wanted a dead cactus.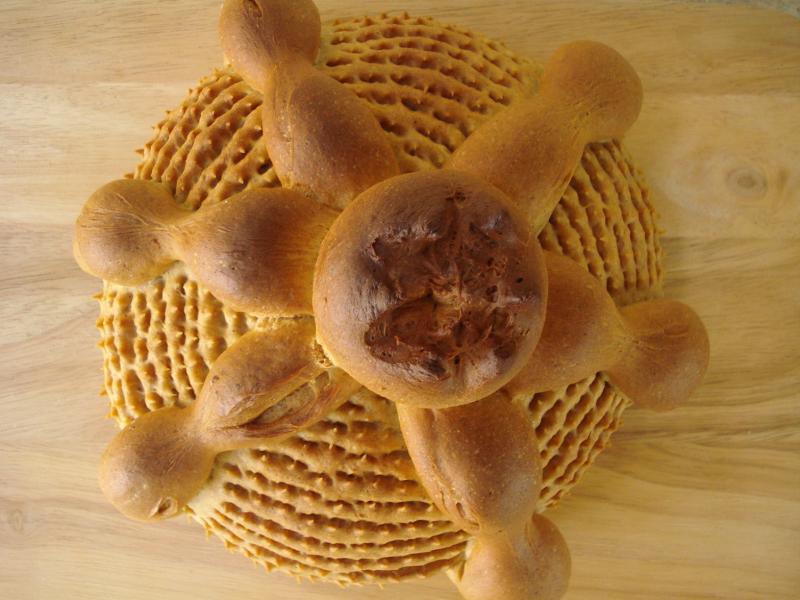 Behold, the product of my perhaps twisted imagination: Pan de Muerto Cactus (Bread of the Dead Cactus).

Similar to the traditional pan de muerto, the bones remained but the tear drop was replaced by a withered (and burnt) flower. Moreover, the boule was sheathed by rows of thorns, made by tediously cutting the dough with scissors.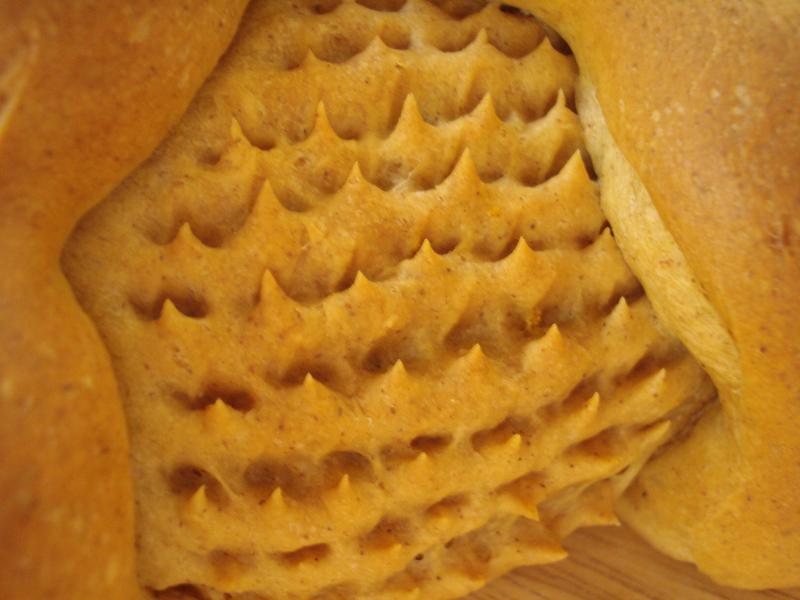 Keep this prickly monstrosity away from small children and pets. For a loaf of bread, it's rather hazardous. Heck, if you're desperate enough, it could be used as a non-threatening weapon.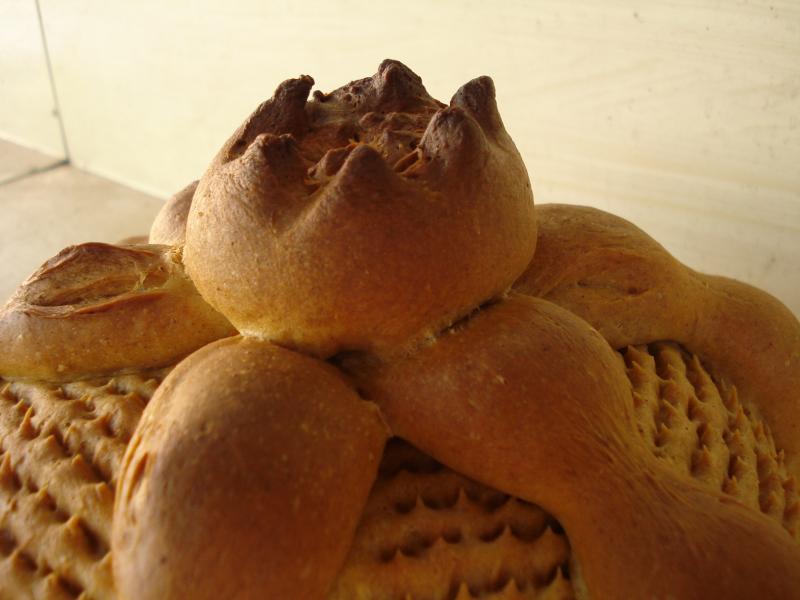 Adapting Karin's recipe, I added rye flour and spices (i.e., ground anise, cloves and cinnamon), threw in a morsel of orange zest,  substituted the sugar with palm sugar, and replaced the orange flower water with brandy...

BIG mistake! 

The brandy overpowered the subtle taste notes of the cactus bread and proclaimed itself as its dominant flavour. Do you know that feeling after imbibing a shot of hard liquor---like hot fumes thrusting itself from the pits of your stomach, through your throat and onto the back of your eyeballs? To a much, much lesser degree, that's what I felt after ingesting a piece of the Dead Cactus.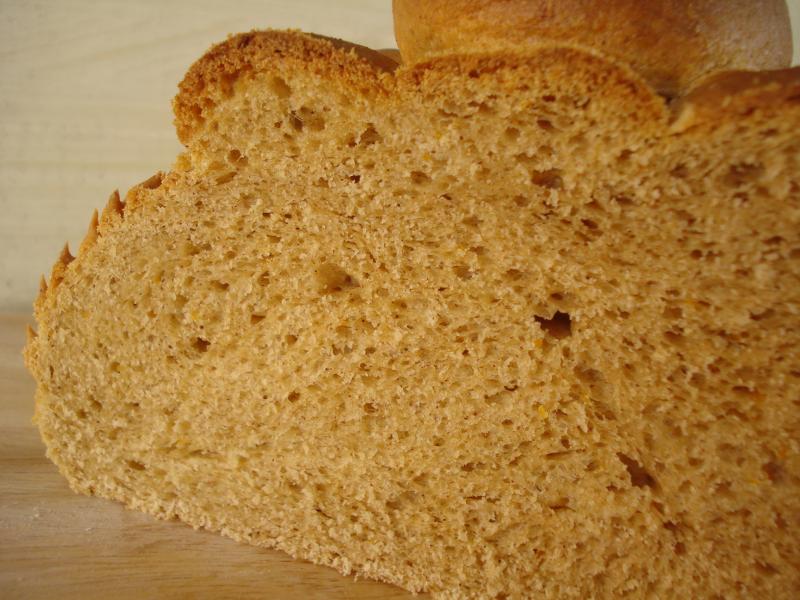 Perhaps contributed by the addition of a "water roux" or "tangzhong", the crumb was rather soft and springy---just what I was aiming for.

I'm not disappointed with my results. No, not completely. I've several reasons to be content, actually: For the first time I bulk retarded a dough; I discovered the smooth and well rounded caramel taste of palm sugar; I properly cooked a water roux; and I learned that prolonged proofing and convection baking helps retain the intricate shape of a bread loaf.

Thanks for dropping by and reading my post. I wish you a better bake than I. :)
Zita