November 15, 2012 - 5:27pm
NY Deli Rye with garlic and rosemary
I have been for the last couple of weeks using a nearly pure rye sourdough starter and have baked nothing but the New York Deli recipe from P. Reinhart's BBA.  I love the addition of the fried onions.  So far I have added the onions to the final dough and at some pont I will try adding them to the starter to see if it makes a difference.  For my last bake, I reduced the fried onion and added garlic to cook lightly, but not brown.  With the heat off, I added the caraway seed and fresh rosemary.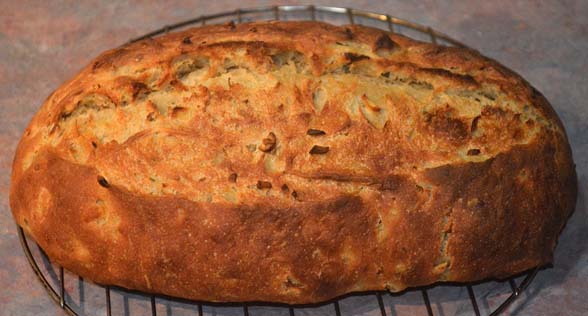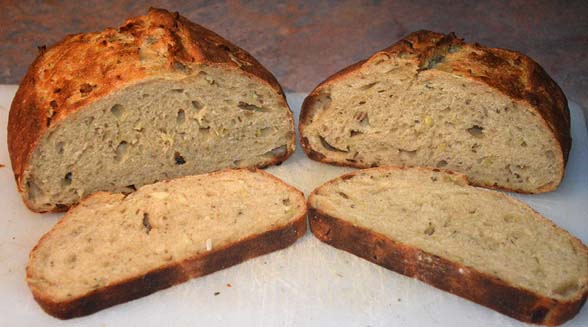 This bread has a really nice subtle garlic, onion and rosemary flavour and just screams out for a large pile of corned beef or pastrami lathered with both hot and grainy mustard.  Darn, that could have been an apres ski dinner, but the deli is closed . . .
I had incredible oven spring from this loaf.  Next bake I will also include a post proof, pre-bake photo.  I have now had 3 consecutive success's baking with my rye sourdough and will share what has worked very well for me.  Pre bake I refresh the mother rye starter as follows:
25 g seed
50 g light rye flour
40 g water
This is mixed well in a measured container and left to at least double.  This has taken anywhere from 4 to 28 hours depending on when the mother starter was last refreshed -- I do it weekly now.  After the initial build had doubled or more, I went to a second build:
115 g first build
60 g light rye flour
60 g strong bread flour
96 g water
The second build has consistently doubled or more in about an hour.  For this bake I had to put it in the fridge after a half hour as it was a ski day.  Six hours later, I removed the second build from the fridge and it had nearly overflowed the container.  Time to get baking!
NY Deli Rye w/ garlic and rosemary
151 g second starter, (it is hard to hit 150 perfectly and decided not to be anal about things.  bread is so forgiving in that way!)
50 g light rye flour
151 g bread flour
30 g greek yogurt, full fat
30 g whole milk
100 g water
1 Tbs brown sugar
1 tsp caraway seeds, pounded in a mortar and pestle, they didn't reduce much
90 g finely chopped onion, fried, weighed before cooking
20 g coarsly chopped garlic, fried, weighed before cooking
1-11/2 tsp fresh minced rosemary, less than 1 g, my scale only weighs to full grams, not fractions and I should have spent the extra 5 bucks . . .
1 Tbs canola oil for frying the savourys
1/2 Tbs EVOO for the main dough mix
11/4 tsp salt
I have been adding the salt in the final couple of S&F's of late, thanks to reading Carol Field's The Italian Baker.  So mix well, rest for 5, mix well again, rest 10, then 4 S&F's with 10 rest.  After a 1 hour bulk rise this dough had more than doubled.  This starter works faster than commercial yeast!  Pre-shaped, rested 5 then shaped a loaf.  After 30 minutes it was oven on to my 500F max, then another 30 minutes proof.  Scored and baked with steam for 20 turning and removing the steam pan at the half.
This was a fun bake I was able to fit around my schedule and am enjoying the whole sourdough leavening process.  The sourdough preferments add great flavour, I find the final dough develops strength quickly and the finished bread keeps surprising well on the kitchen counter.
BakeON!  Brian