November 9, 2012 - 10:36pm
More than 36 hours Sourdough Baguette
..... Those beautiful baguettes I tried this time, are baked by TX Farmer: " She puts everything she knows in this bread". 
Today is a day for challenge. Today is the day I start and tomorrow we'll see. The whole process looks more about waiting and gentle handling than about kneading, feeling, seeing, smelling, you know the 'normal' process. It all starts with combining flour and water and a fridge. The next day it's about adding mature starter and salt, combining them by hand, waiting and a fridge. The day after it looks like a normal day for a baguette. Dividing, resting, very gently shaping, resting, pre-heating, steaming and baking. And then it's time to see, smell and taste.My conclusion: it's a great baguette; it's full of flavor and holes. It's a great baguette if you know how to handle 70% wet dough. I've baked it twice since and it's very high on my list of delicious breads. My next challenge is to bake it again with a better appearance.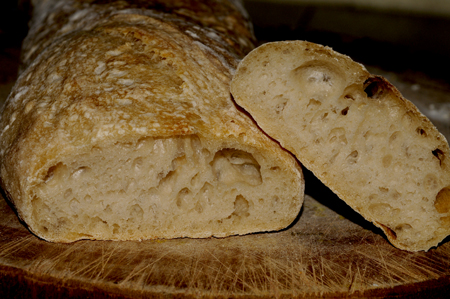 Thanks TX Farmer for sharing your knowledge on this delicious baguette.
 the recipe is at My Discovery of Bread