November 7, 2012 - 4:52pm
Blueberry, raspberry, poppy seed muffins
Okay this is now the best thing that I have ever baked: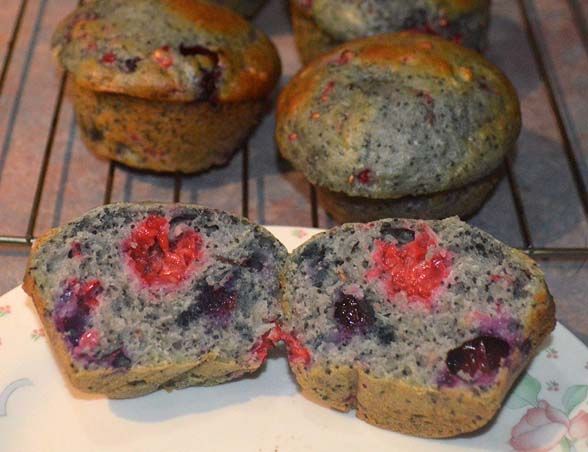 I have been baking a recipe for lemon, poppy seed muffins for some time now.  I improved on this one by using lemon flavoured yogurt along with the lemon extract and zest.  It was this recipe that inspired me to try my 2 favourite field berries, field berry yogurt, along with fresh berries in the muffin mix.  For a half of the above recipe I mashed 1/4 C rasps into the dough and added 1/4 C blueberries gently later in the mix.  I filled the muffin cups not quite 3/4 full and then pressed a full, firm, fresh raspberry into the dough, covering it with a Tbs or so of dough.  Oh my!
I know I always say this is the best thing ever baked, but I really, really like these!!!!
Regards, Brian
1 C flour
1/4 C + 1 Tbs sugar
2 Tbs poppy seeds
1 tsp baking powder
1/2 tsp baking soda
1/4 tsp salt
Sift together the obove ingredients.
1 large egg
1/2 C fieldberry yogurt -- highest fat % I can find!
2 Tbs oil
1/4 cup raspberries
1/4 tsp lemon extract
1/2 tsp vanilla extract
Mix wet and dry and make sure the raspberries are mashed into the dough.  When well mixed, add:
1/4 C fresh blueberries, stirring in gently
This recipe makes 6 muffins and can easily be doubled.  As above, one whole, fresh raspberry was added to each muffin, whcn in the muffin cup.  Bake for 20 minutes at 400F turning at the half.
Enjoy!!!  Did I say I realllly liked these???