October 28, 2012 - 2:42am
Recently, I have been limiting myself to a weekly baking routine, as I nurse my back after the spinal Steroid injection. I have been on and off TFL, viewing other members' posts, and drawing inspiration from their contributions.
Having baked a Volkornbrot from Hamelman last week, I wanted something lighter, and the oblack olives sitting in a corner of my fridge was I all the nudge I needed to choose Olive levain. I have baked this recipe last year, and did not care much for its flavor, but this time, I decided to give it another go.
The recipe is from Hamleman's "Bread", which calls for a liquid white levain, and 10% whole wheat. I used Waitrose strong white bread flour for 1/2 the flour quantity, and the rest was an ordinary all purpose flour. The whole wheat flour was freshly milled. I wanted to mix the dough very minimally, and significantly increased the hydration in hopes of achieving the random open cell structure depicted in the book. I mixed the dough with a wooden spoon, slowly, adding water gradually, until a shaggy dough was formed. The dough contained only the levain, flour and water, and was rested while pitting the olives. 15 minutes later, the salt was sprinkled on top , olives were mixed in, and the dough was folded gently in the bowl to incorporate all the ingredients, which was a clear deviation from Hamelman's instructions which state that everything should be mixed, including salt, but the olives, and after slightly developing the dough, the olives would be added. Remaining steps were exactly as Hamleman's. I don't know how significant my deviations were to the outcome. Any ideas?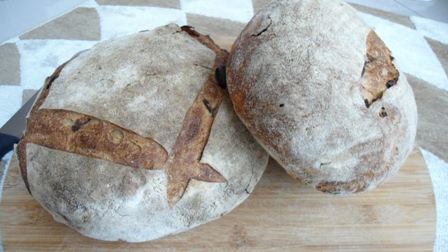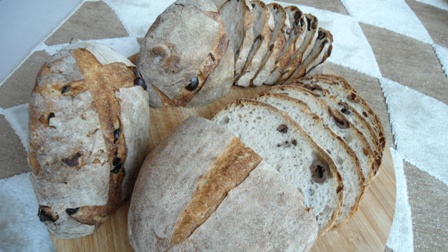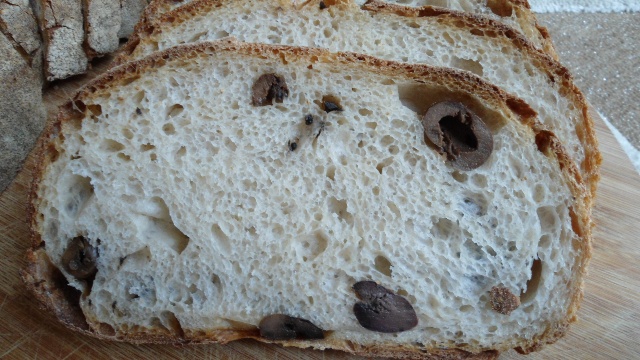 The dough was shaped, rested for 1/2 hour, and then refrigerated for 8 hours. It sat warming up for an hour while the oven was heated.
The Bread came out crackling from the oven. The crust was very crispy, and the crumb was cool and and soft: the perfect sourdough.
Now i realized that i underestimated the subtle flavors that this bread carry. This bread's flavor shines exceptionally well when dipped in olive oil. Lovely bread! and an excellent way to make use of surplus olives.
Khalid