September 30, 2012 - 4:55pm
Three-way miche taste test... results!
Last week I did a three-way miche taste test, with the same formula using three different flours: King Arthur High Extraction, King Arthur First Clear, and a blend of 60% KA Bread Flour/40% KA Whole Wheat Flour. Here are what the loaves looked like: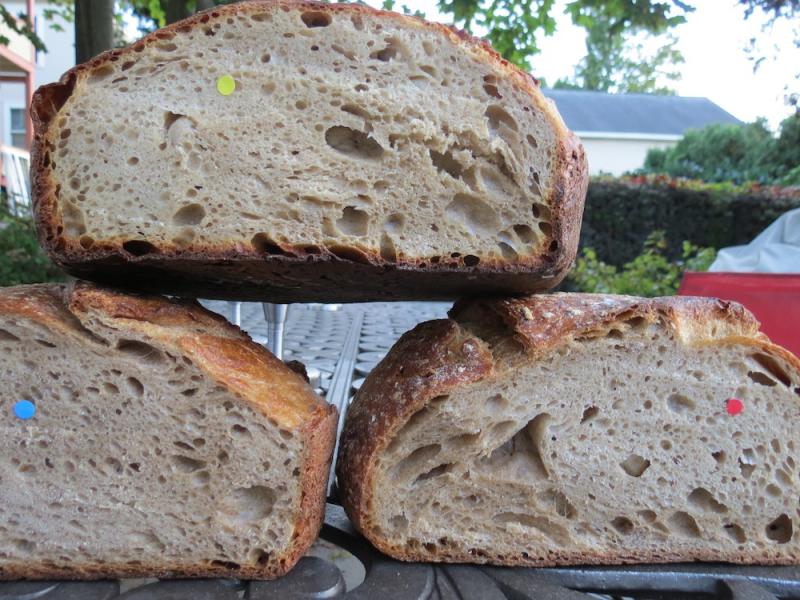 Clockwise from the top they are First Clear, Hi-X and the hybrid.
My judges were Michael London, a very well-known baker in upstate New York, and Cindy Corbett, an accomplished home baker with a wood fired oven in her back yard whom I'd met at a KAF workshop. The results of the taste test are detailed on my blog at http://wp.me/p1S3Ig-kY . But to give you a preview, the High-X and First Clear finished neck and neck with the hybrid well behind but still a good choice for the baker who doesn't have access to these other flours.
One of the reasons I'd wanted to do this test was some discussion on TFL in which First Clear and High-X are discussed as equivalents. They're not, per Martin Philip, the staff baker at KAF who provided me with research and advice: "In terms of comparing Type 110 with an ~85% extraction rate to First Clear which lacks the patent portion would be to compare apples and oranges at least from a functional standpoint (the patent portion contains the highest quality protein in the endosperm). " Yet the finished loaves were very close in nose, texture and taste and after a few days I couldn't tell them apart.
I am now doing a follow-up test with the KAF Hi-X pitted against Type 85 Malted from Central Milling. Stay tuned.