September 23, 2012 - 9:33pm
Dan Lepard's Alehouse Rolls
1971, when I was a student, I traveled with my best friend, Andrea, through England, Cornwall and Wales. We didn't have a fixed itinerary, we just followed our nose to places we had read or heard about.

We didn't stay in hotels (only once, and that was as dusty as it was expensive), we preferred B&Bs, always looking for interesting old buildings. We slept in grand manor houses, rustic inns, cozy farm houses, and even a water mill from the sixteenth century.
People always complain about the English food - I never had a really bad experience, I would always find something I liked, as long as it started with "apple" and ended with "pie"!
We often ate in pubs, having sandwiches with cheddar and chutney, and I was delighted to try the different beers.
With all these fond memories in mind - no wonder I wanted to try master baker Dan Lepard's Alehouse Rolls. You will find it in his book "Short and Sweet", or here.

I had just bought Newcastle Brown Ale at the Bangor commissary, and thought this was very appropriate for British rolls.
The dough is made with a hot beer soaker - ale and oats are brought to a boil, with butter and honey added to the hot liquid - and the rolled oats are toasted.
It also has some whole grain flour, to make the rolls even heartier (and give health conscious bakers a better conscience!)
Dan Lepard has a nice, minimalistic approach to working the dough, he handles it gently, kneads it very briefly, and allows it to develop while resting (autolyse).

As a psychotherapist this method appeals to me a lot: give the patient dough the means and time to develop, without pushing and hectoring - and it will grow just fine!
I chose rye as whole grain flour, and had to add a little more water to achieve a soft, slightly sticky dough. Instead of letting the dough rest for a final 30 minutes on the counter, I did what I usually do - and put it to sleep overnight in the fridge.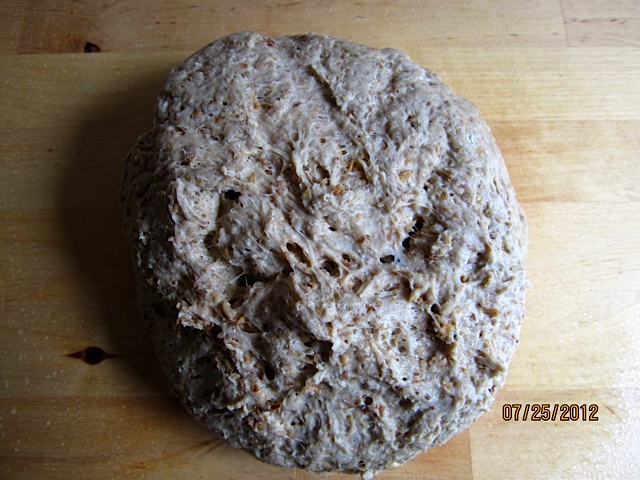 This cold fermentation of the dough fits much better in my schedule than doing it all on one day. Though I like baking in the morning, I don't want to get up in the wee hours, so I prepare everything the day before, and only have the shaping and baking left to do.
Having to choose between large sandwich rolls (à 235 g a piece) or smaller dinner rolls, I opted for the more petite version - 12 rolls à 92 g.

The recipe suggests rolling the rolls first over wet kitchen paper towels and then in oat flakes. I didn't read the instructions thoroughly, and, therefore, dunked only the tops in the oat meal.
Whereas the giant sandwich rolls have to bake for 20 minutes at 210º C/410º F, and then some more at reduced heat, my little rolls were golden brown after 26 minutes (without reducing the heat.)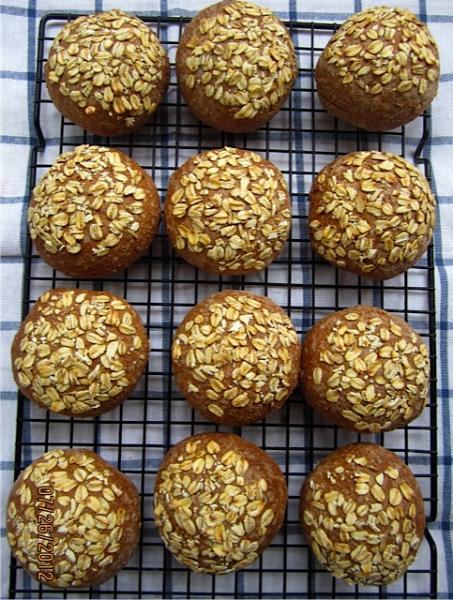 They tasted just as good as they looked, a semi-soft crust with a little crunch, and a hearty, somewhat nutty flavor.
And, since I am a stickler to etiquette, I didn't dream of pairing them with anything else but traditional Newcastle Brown Ale!