September 8, 2012 - 10:39am
Despite a late start we've had glorious summer weather this year here on Vancouver Island and the South Coast of British Columbia, with only a few cloudy days and no rain to speak of. Our garden has done extremely well as a result, producing Red Fife wheat, golden flax, quinoa, garlic, onions, potatoes, all kinds of herbs, raspberries and buckets of cherry tomatoes just to name a few. But by far our biggest crop is blueberries.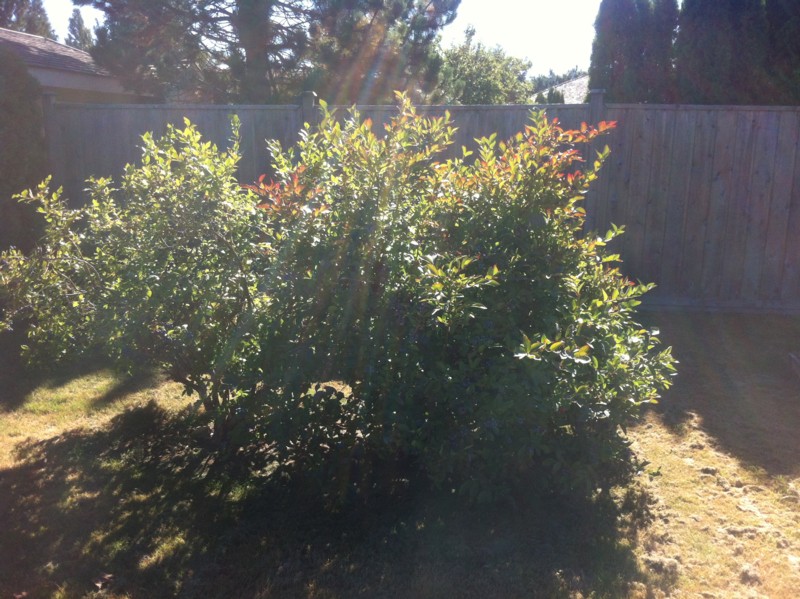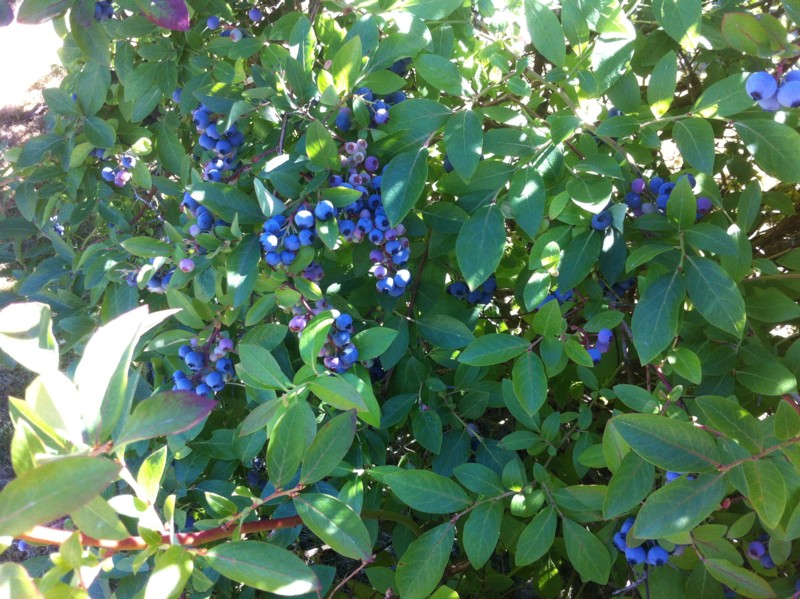 At the back of our yard we have two medium sized blueberry bushes that seem to produce more and more berries every year no matter how poor the growing season. That two average sized bushes can produce such a staggering amount of fruit so consistently just amazes my wife and I, challenging us to find ways to make use of them all before the cold weather sets in. I think we still have a bag or two of berries near the bottom of our freezer left over from last year's harvest. I'm not sure because now there are even more bags of berries from this year stacked on top of what's already in the freezer. If we don't use those up before next summer it may be a while before the ones below see the light of day.
Between the two of us we've made tarts,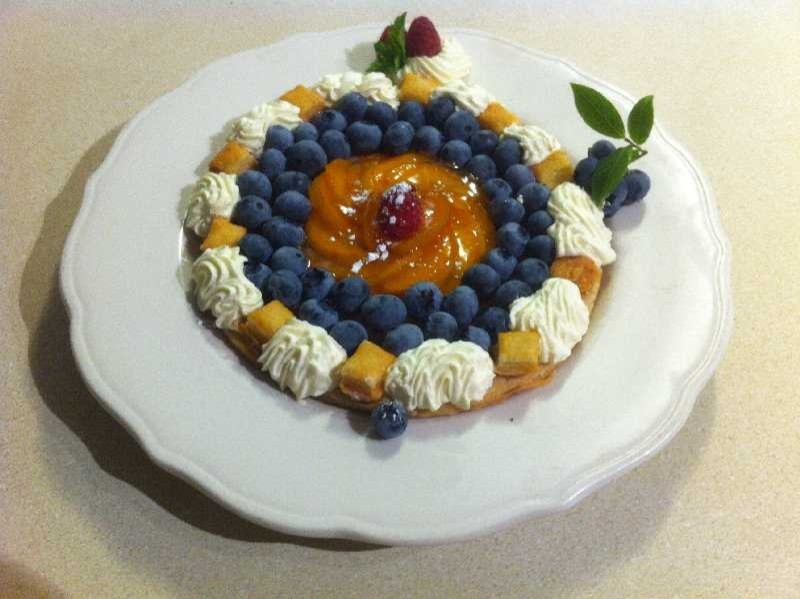 pies, jams, sauces, syrup and salsa, put them in salads, cereal, over ice cream, lemon sorbet and yogurt. I think Marie even blended some into her cassis that she makes every year from our black currant harvest, another one of our bumper crops. Naturally I've been planning to use them in a bread of some kind but have been holding off till the berries were at their peak of size and flavour. After checking them out this past weekend I decided it was time to get something going in that direction, deciding on a brioche loaf for this bake. The formula I used is from Advanced Bread & Pastry for "Brioche with Prefermented Dough"pg. 363 because of it's relatively lean butter content of 28%. Having made this dough before, I like that it's easy to handle and that it has enough butter in the formula to carry other flavours such as fruit or nuts without dominating the overall flavour of the finished product. The preferment helps to keep the doughs sweetness in balance, making this formula a good one to use for savoury applications as well. Blueberries being as delicate as they are, a very soft dough is my preference for incorporating them into the final dough with as little rupturing of the fruit as possible. Blue dough isn't particularly attractive or appetizing to me, so I try as best I can to be very gentle when mixing in the berries to keep smearing to a minimum. While it's no guarantee to avoiding the dreaded blue dough, if you're careful the crumb will have two distinct colours to it rather than a uniform and ghastly shade of blue.
An hour before I planned to mix, the blueberries went into the freezer to firm up, making them easier to incorporate into the dough once it was mixed without them breaking apart completely. This is a very easy brioche dough to make by hand because of the small amount of butter it calls for, but I use a mixer for brioche dough regardless simply because it's quicker to clean up afterwards. Once the dough was about 90% mixed it was finished off by hand and allowed to relax for a few minutes before gently stretching it out and laying the berries evenly over the surface, then gathering the dough and frozen berries up with a plastic scraper and slowly working them into the dough by hand until they were evenly distributed. With this mix I didn't follow the AB&P process exactly, deciding to bulk ferment at room temperature for 1 hour instead of putting it into the fridge directly after mixing. I also left it overnight for a retarded ferment of 12 hours rather than the recommended 30 minutes before shaping and final rise for scheduling reasons. The dough seemed quite healthy and I wasn't overly concerned about how it would preform after it's overnight stay in the fridge, in fact I feel that the flavour and crumb result is notably better than previous bakes I've done of this dough when I've followed the process. The 825 gram dough was divided in three, and very lightly rounded on a floured counter, placing the pieces in a 4.5x 9.5 inch Pullman tin for a final proof of 2.5 hours. The loaf came up the tin about 3/4 of the way before I decided it was ready, but could have/should have left it another 10-15 minutes longer due to a very minor break on one side. Brushed with egg wash and baked in a 385F oven for 25 minutes, then at 360F for 10 minutes and finally left to cool in a dead, open door oven for a further 15 minutes. The loaf jumped well and browned up nicely, just as a brioche should, filling the house with a wonderful aroma of eggs, butter, caramel, and cooked fruit.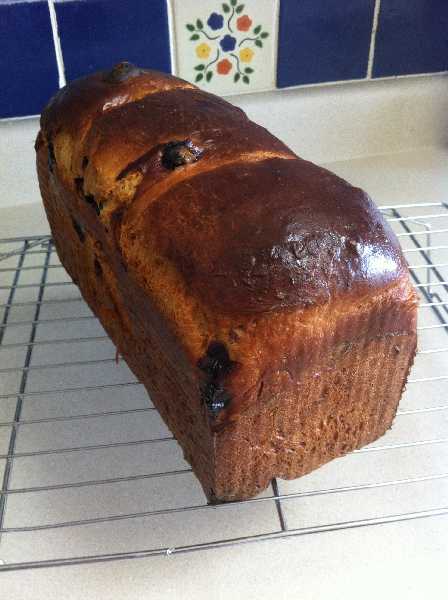 After 5 hours of cooling I took the first slice, finding the crumb to be soft and even, with a slightly open cell structure for a rich dough, and a pale yellow colour to set off the deep blue of the berries. The flavour was what I'd hoped for, just rich and sweet enough to compliment the delicate flavour of the blueberries but still with all the flavour qualities of a typical brioche.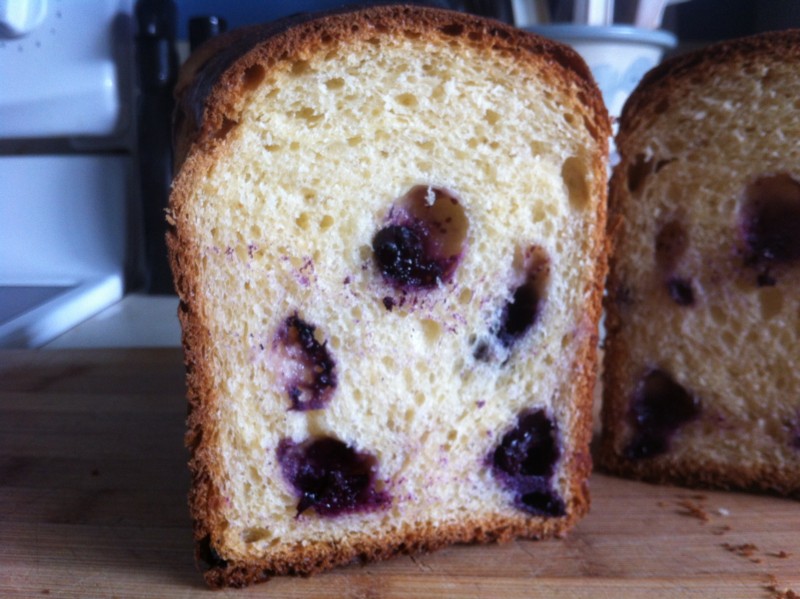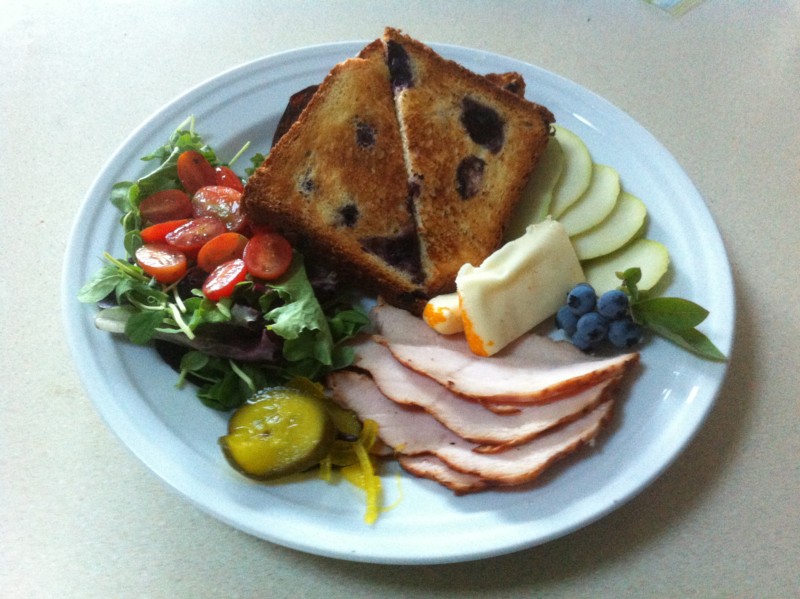 The bread goes well with roast chicken or turkey, the photo above showing it toasted on a plate with smoked turkey breast, Port Salut cheese, sliced pear and a green salad. Before it's all gone though I'll have to try it as French Toast with some recently made sage and ginger breakfast sausage and a drizzle of blueberry syrup. 
I thought I might as well include a few photos of some San Fransisco Sourdoughs made back in August that used fresh milled Red Fife flour from Cliff Leir's Fol Epi Bakery in Victoria. The loaves didn't quite achieve the profile I'd hoped for but the exceptional flavour of the Fol Epi flour more than made up for that. I found the flour to be quite a bit softer than other Red Fife flours I've used in the past, requiring less hydration than the formula from "Advanced Bread & Pastry" called for. Perhaps a fourth set of stretch and folds would have helped for a higher profile but for a first time using this high quality flour I was quite happy with the loaves it produced. A stop at Cliff's bakery for more of his lovely flour will be at the top of my shopping list next time we're down in Victoria.
Cheers,
Franko