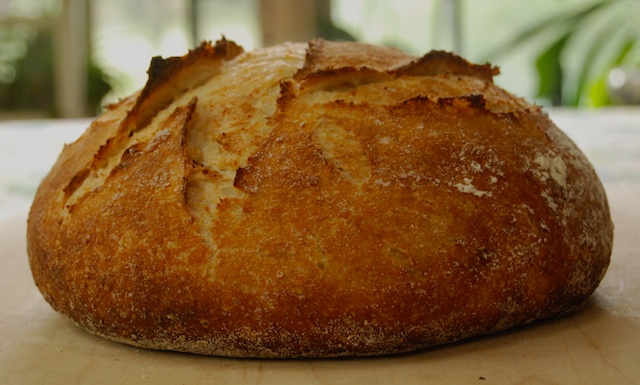 I'd been thinking that the sweet fragrance of basmati rice surely earns it some upward mobility out of its lowly caste, buried under the curry, and up into the brahmin bread basket.  A golden crumb seemed appropriate to its elevated status, so semolina was recruited.  I kept the durum to bog-standard Bob's Red Mill Fine Semolina, so as not to put the formula as out of reach as proper fine durum is (i.e., mailorder only).  Golden Temple Atta Durum would probably have been more appropriate (see below) and somewhat more accessible than the pukka mailorder product, but a soaker of BRM fine worked well.  I'm getting in the habit of adding 3% toasted wheat germ to mostly-whiteflour breads, following David Snyder's report on the SFBI miche.  So in that went.  Finally, developing the formula coincided with the recent spike in RYW chatter @TFL and the concomitant successional climax of my little mason jar crabapple/PinkLady/raisin/honey ecosystem, so RYW was fated to be the levain.  The results were surprisingly satisfying.
Formula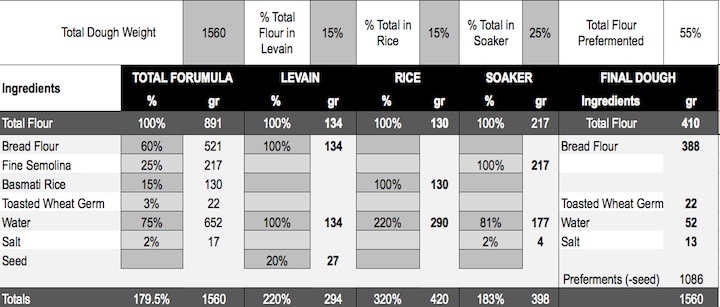 Process
1. Day before baking,
In morning, feed RYW with equal weight of Rubaud flour mix (100% hydration: 30 g RYW + 30 g flour).  Incubate at 77˚F until evening, then make up levain and incubate that overnight (9h) at 77˚F.
Bring 3 c unsalted water to boil.  Stir in 2 c white basmati rice (I used Lundberg Organic).  Return to boil and reduce flame to lowest setting.  Cover and cook for 20'.  White basmati rice weighs 142 g/c.  2 c dry came to 909 g cooked = 284 g rice + 625 g water; therefore each g of dry rice contributes ~2.2 g water when cooked.  This is more rice than needed.  Adjust accordingly if you don't want to have leftover rice.
In evening: Mix semolina soaker and leave at 77˚F (or whatever room temp is) overnight.                                         
2. Baking day, reduce cooked rice to a grainless mush via food processor and/or Foley food mill (I used the latter -- worked well).  Weigh out 420 g of mush.
3. Combine levain and all final dough ingredients (bread flour was KA Organic) except salt into shaggy mass. Adjust hydration if necessary.  Autolyse 30 min.
4. Add salt and french fold 5' / rest 5'/ french fold 5'.  Transfer to fermentation vessel (I use plastic boxes).
5. Bulk ferment 2.25 h with stretch and folds (in box) at 30', 60' and 100'.
6. Bench rest 25'.
7. Shape into a miche or 2 boules/batards.  Proof in rice+wheat floured banneton(s) for 2 h at 77˚F.
8. Bake on preheated stone in 500˚F oven turned down to 450˚F at start, for 20' with steam.  Remove steam apparatus, reduce oven temperature to 440˚F, and bake for an additional 20' with convection.    
9. Turn off oven, open door slightly, leave loaf on stone for 10'.
10. Remove and cool on rack.  Internal loaf temperature 210˚F.  Wait until fully cooled (preferably 24h) to slice.

Baking definitely diminishes the basmati flavor and fragrance.  Whereas the air was intoxicatingly perfumed with every slap of the french folding, in the finished loaf its presence is more evenly balanced with the wheat flavors.  Perhaps those more learned in the arts of gluten-free baking have tricks that would allow increasing the rice percentage in the formula.  The crust is sweet and chewy.  The crumb is angelfood-cakey soft and creamy yellow-white, slightly sticky on the bread knife but far less so 24h out of the oven than when just cooled.  RYW left no SD tang whatsoever, as advertised.  Toasts up exquisitely, best with butter.  The better the butter the better.  Fairly irresistible, truth be told.  I'll definitely be baking this again.  Maybe next week :-)

One feature of RYW that I'd failed to grok from posts by akiko, dabrownman et al. is the explosive leavening power of these potions.  From pilot builds beforehand, I knew my little homebrew could double a 100% hydration Rubaud flour mix in 6 hrs at 77˚F.  But that didn't prepare me for its Usain Boltian performance in a dough.  This juice could raise the dead.  What's up with that?  Just different bugs?  High titers?  Epigenetic adaptation to anaerobic conditions?  My baking routine this summer has been to start a SD batch and, while its fermentation proceeds at its normal stately pace, I can mix, ferment and bake a CY'd preparation (lately Reinhart's 100% WW sandwich loaf).  But bloody hell.  The CY loaf could hardly play through this time with the RYW dough hollering Fore! from the banneton.  It was nip and tuck, with the WW getting a bit overproofed (bogie?) while the RYW loaf holed out.
Finally, this bake and its score honors the victims of the tragedy in Oak Creek, WI.
Voila.  Blogo ergo sum.
Happy baking y'all,
Tom