A Spicy and Savoury Semolina Levain for Bruschetta
Semolina Levain with Roasted Garlic, Black pepper and Provolone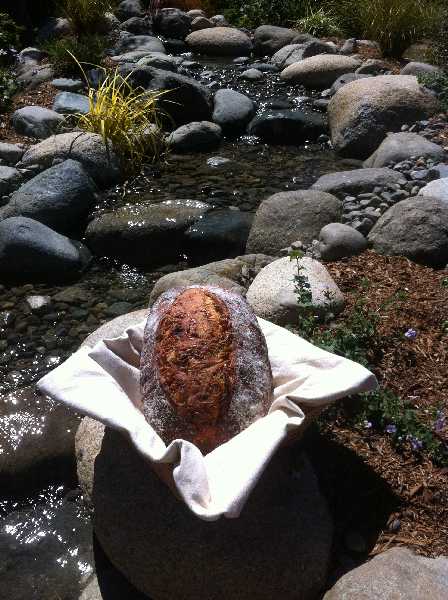 Incorporating black pepper into a bread is something I've wanted to try for a while now, finally deciding last week to have a go at it. What I wanted was a bread for grilling to use for bruschetta, with black pepper, roasted garlic and cheese meant to provide a bit more zing than your standard white Italian of French loaf offers. Using Jeffrey Hamelman's recipe for Semolina Levain from "Bread" as my starting point I took my best guess as to what percentages of pepper, garlic and cheese to add to his formula to achieve the flavour I was looking for. In the end I think I came pretty close, although next time I'll cut back on the black pepper just a touch and use either a sharp, dry aged Provolone or Pecorino Romano for a more assertive cheese flavour.
NOTE: Formula below and in the link have been adjusted accordingly.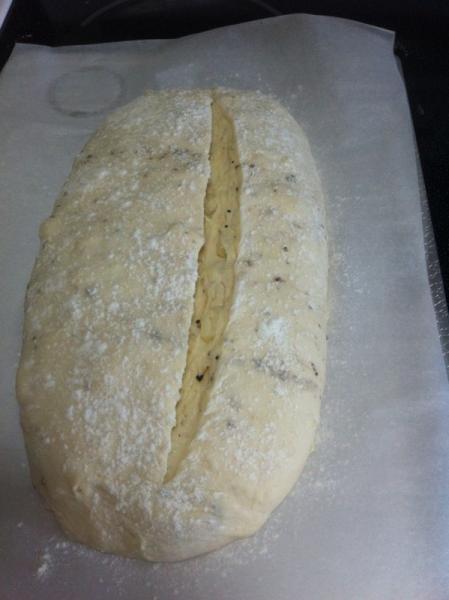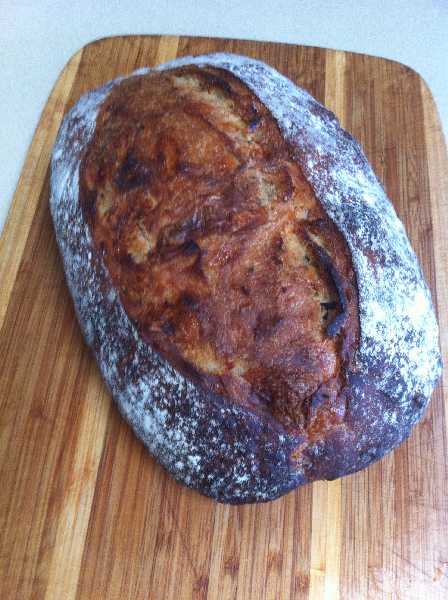 After the loaf had cooled down and the first slice tasted, I was slightly disappointed with the flavour since neither the cheese or roasted garlic came through as much as I'd hoped for, although there was no mistaking the presence of the black pepper, every so often hitting a pocket of it that definitely got my taste buds attention. Fortunately my disappointment didn't last long once I'd fired up the BBQ and grilled a few slices (brushed with olive oil) over a bed of hot coals.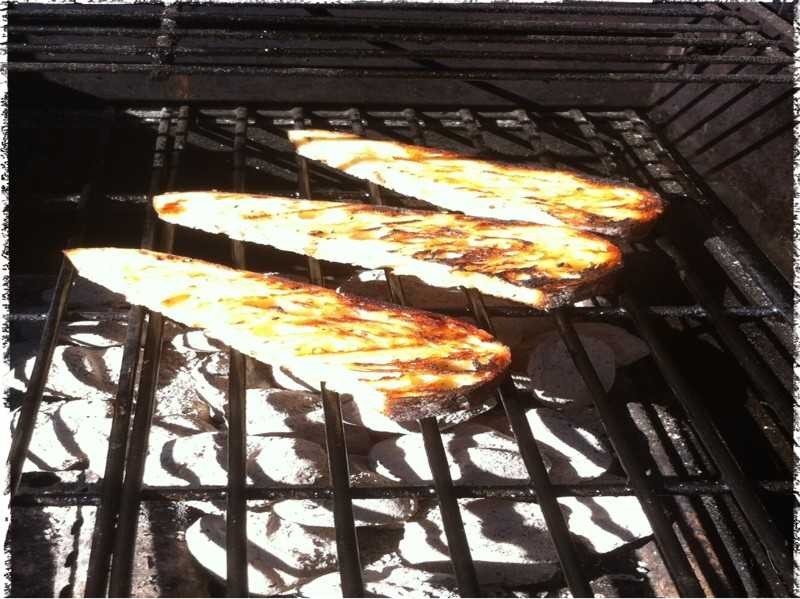 The subdued garlic and cheese flavour from my previous cold tasting were now right up there with the black pepper, creating a very good balance of flavour with the durum and wheat flours of Hamelman's base formula. Without the high ratio of durum flour used in the mix I think the flavour and crumb texture would not have been as good as one made with standard wheat flour. Durum flour has such a unique and subtle flavour to it and the crumb seems to retain moisture better than standard wheat flour, possibly why the flavours released as well as they did once the bread had been heated. Just a theory, but something I've noticed with high ratio durum doughs I've made in the past. At any rate, the grilled slices were perfectly suited to pairing with the fresh taste of chopped tomatoes and basil from our garden that I made for the bruschetta topping. My best recommendation for using this bread is to either toast, grill, or fry it in some fashion to really let the flavours come to their best. Served warm to dip in EVOO, mixed with egg and cheese for a savoury [Strata] or simply to make croûtons with, just a few of the possibilities that come to mind for enjoying this bread at it's best.
NOTE:
Extra fancy durum flour can sometimes be difficult to find and costly, depending upon where you live. Durum Atta Flour could be substituted for X Fancy Durum, or even a 100% hydration, coarse semolina soaker used at a 20-40% ratio would likely make a good substitute to use in this formula.
The very best of the Summer to all,
Franko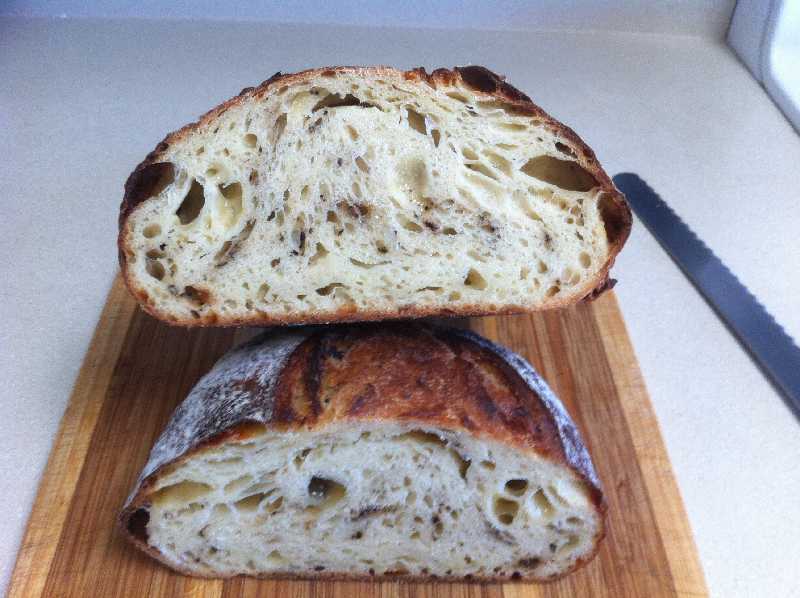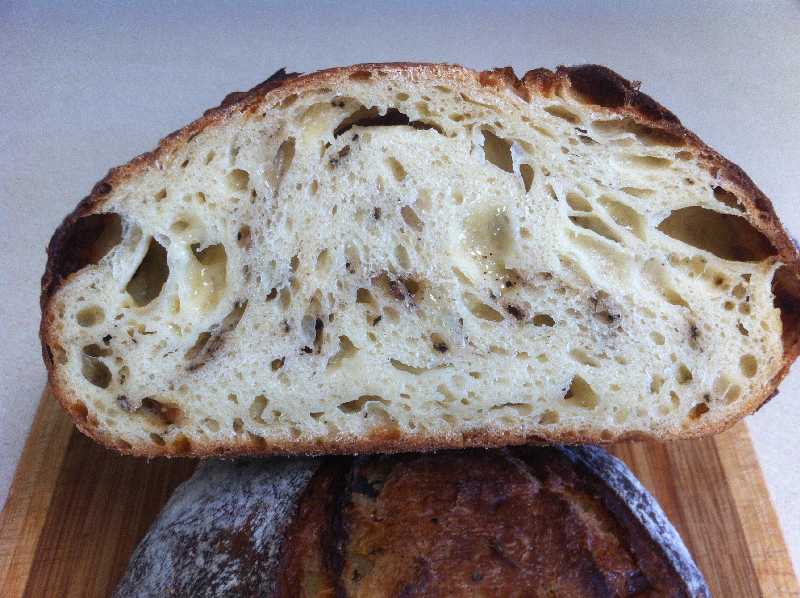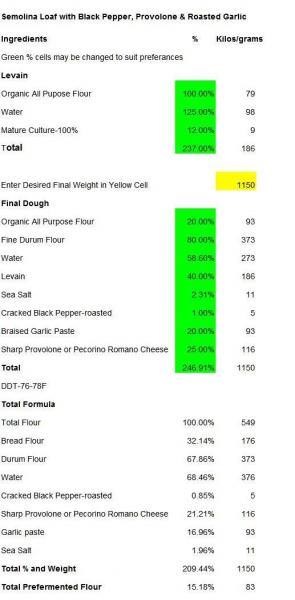 Link to working spreadsheet [here]
Procedure for Semolina Levain with Roasted Garlic, Black Pepper and Provolone
Roasted Garlic Paste:
Make the roasted garlic paste the day before the final mix and keep covered in the refrigerator. Two heads of garlic should be adequate for a single loaf of 1.150K. Roast the garlic at 325F in an oven proof dish with a 1/4 C of water, covered in foil for 30-45 minutes or until the garlic is very soft. Cut in half and squeeze the paste through a strainer or run through a food mill to ensure that the paste is smooth.
NOTE: This a method for garlic paste that I've been using since first reading of it in Michael Ruhlman and Brian Polcyn's book "Charcuterie" [ http://ruhlman.com/my-books/ ] The addition of water produces a braised paste that has fewer of the bitter flavours encountered in a typical roasted garlic preperation. 
Levain:
Mix all the ingredients for the levain to a temperature of 70-71F/21C and let sit for 12-15 hours. 
Final Dough:
Scale out the black peppercorns and roast at 350F/176C for 15-20 minutes. The peppercorns should have mild to medium aroma to them. Allow to cool, then crush with a mortar and pestle or a heavy pan. Cut half the cheese into 1/4" dice, shred the remaining cheese and toss all of it with the crushed black pepper. 
Add the water to the Semolina flour and All purpose and autolyse for 40 minutes.
Add the levain and combine with the flours thoroughly, then add the salt and garlic paste and knead to a medium development. 
Allow the dough to relax for 5 minutes then gently stretch it out to a disk. 
Spread the cheese and pepper mix evenly over the dough. Fold the sides of the dough disk to the center then fold the dough in half and slowly knead the cheese/ peppercorn mix into to the dough using wet hands, until thoroughly combined. DDT of 76-78F/24-25C 
Bulk ferment at 76-78F/24-25C for 90-120 minutes, giving the dough 2 stretch and folds at 45 and 90 minutes. 
When bulk fermentation is complete round the dough lightly, dust with flour and cover with a cloth or plastic, resting for 15 minutes before shaping. 
Shape as desired and begin the final proof at 76-78F/24-25C for 75-90 minutes. The dough should spring back slowly when pressed with a finger.
Bake with steam in a 475F/246C oven with the vents blocked for 10 minutes. After 10 minutes vent the oven and remove the steaming apparatus. After 20 minutes rotate the loaf for even colouring and continue baking for a further 15-25 minutes. Check the colouring during this time and if necessary adjust the oven temperature to prevent the loaf from over browning. Baking times will vary depending on the weight of the loaf but a 1 to 1.5K should take between 35-45 minutes to reach an internal temperature of 210F/98.8C. At this point remove the loaf from the oven, wrap in cloth and cool on a rack for 8-10 hours before slicing.
NOTE: Use the bread toasted, grilled, or fried for best flavour.