Super Sourdough Sandwich Bread
I have been working on developing a sourdough sandwich bread. I have taken my inspiration from recipes here on TFL and from King Arthur Flour. I finally settled on a formula that I am really happy with. The bread is soft with a tender crumb but the best part is the flavor. I used a starter to provide a very slight tang to the bread flour and added white whole wheat flour, golden flax meal, whole rye flour, and hi-maize cornmeal. I learned from Jeffrey Hamelman's formulas that a small amount of an ingredient can have a big impact. If you try this recipe, I hope you like it as much as I do.  ~Marie
Super Sourdough Sandwich Bread
Yield: 2 loaves
11 ounces 100% sourdough starter, fed or unfed (see note)

11 1/2 ounces water

1 ounce vegetable oil

1 ounce sugar

2 1/2 teaspoons salt

1 ounce golden flax meal

3 ounces potato flour

11 1/2 ounces bread flour

4 ounces white whole wheat flour

1 ounce corn meal (I used hi-maize)

2 ounces whole rye (pumpernickel) flour

4 teaspoons instant yeast

Note on the starter: the starter is more for flavor than lift. I usually build the 11 ounces a few days ahead and refrigerate it until I am ready to bake.

Combine all of the ingredients in the bowl of an electric stand mixer and with the dough hook, mix on speed 1 for one minute to create a shaggy dough.

Cover and let rest for 45 minutes.

Knead on speed 2 for 5 minutes.

The dough will start out shaggy, then become stickier as you knead. Don't adjust with flour or water until you have kneaded for 5 minutes. Scrape the bowl. The dough will stick to the sides of the bowl. It is the right consistency if you can scrape it off the sides of the bowl and it feels firm enough to hold its shape.

Knead for 3 more minutes. Scrape the bowl to create a rough dough ball. Cover the dough, and allow it to rise at 78 degrees for 1 hour (you will need a longer rise at lower temps) until doubled in bulk.

Lightly grease two 8 1/2" x 4 1/2" bread pans. Turn the dough out onto a floured board. The dough is sticky and you will need to flour your hands and the board to prevent sticking and tearing. Gently deflate the risen dough, divide in to two equal pieces, and shape into loafs. Place dough in the pans, cover lightly, and allow it to rise until the dough crests 1 1/2" over the rim of the pans, 1 1/2 to 2 hours.

Towards the end of the rising time, preheat the oven to 350°F. Bake the bread for 30 to 35 minutes, tenting with foil after 20 minutes. When done, the bread will register 190°F on an instant-read thermometer and will be golden brown.

Remove the bread from the oven, remove from pans, and cool completely on a rack.
 After 5 minutes kneading: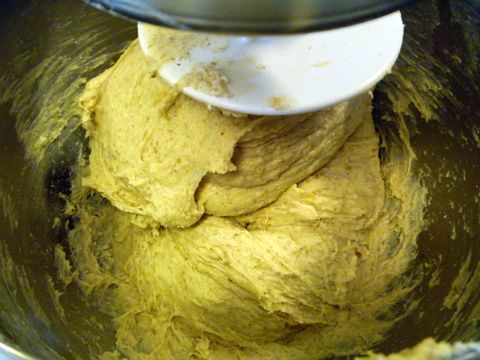 After full kneading and scraped down: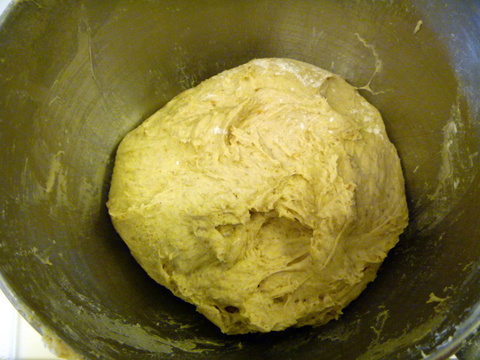 Finished Loaves: