70% hydration (I think ) questions
Hi All,
I have a few questions I was hoping a few of you experienced baker's might be able to answer for me.
I was playing around with a recipe for sourdough , as I had finally gotten some good results on my sourdough loaves, and felt like experimenting some. I had some results that were somewhat puzzling to me. Here is what I did, with recipe( A variation on Cranbo's beginner's sourdough recipe I found here on this site somewhere), questions regarding results to follow:
225 gm rye flour
225 whole wheat flour (a mixture of high protein unbleached whole wheat and regular whole wheat- I did not realize before I started that I did not have enough of either!)
385 gm water
3 tbsp gluten
110gr  starter (100% hydration)
1 scant tbsp salt (I have found me scale doesn't accurately weigh such small amounts)
I mixed the rye flour with about half of the total water, and let it sit for about 30 minutes. Meanwhile, I added about half of the remaining water to the starter and dissolved it and mixed the rest of the flour and gluten together .
mixed the rye/water combination  with the rest of the flour, starter, and water until just mixed and let rest 20 minutes. Add the salt, and mixed for about 1 minute on level 2 of the KA mixer.
I then did the french knead thing ( as seen on various youtube videos, slapping it on the counter, etc) for about 8 minutes. The dough was still very wet (this was my intent, as I wanted to see how this looked/felt/worked, etc) then returned the dough to the KA and kneaded with dough hook for 4 minutes . I placed in a well oiled bowl, turned once, and then did 4 s & f 30 minutes apart. I then left it alone in a oiled glass casserole dish with a lid in the oven (the counter gets too breezy when the ac turns on)for about 6 hours.
The dough had almost tripled in size, and had in fact pushed the heavy glass lid off the container. I preheated my oven to 450 and got steam ready. I slashed the bread (which promptly deflated it ) and made a tent with tinfoil and placed it in the oven. After 30 minutes I removed the tinfoil and reduced the temp to 400 and baked for another 25 minutes.
I removed from the oven and  *GASP* the bread was stuck to the pan. I tried loosening by sliding a thin knife around the edges with no luck. I allowed am afraid I poked a hole in the bread, so I went a head and made a slice in the bread to see what it looked like. The crumb actually looked pretty much like what I was trying, for except there were little ribbons of area where it appeared the dough was not completely cooked. After cooling for about 30 minutes, I was able to loosen it more and pry it out of the pan, but the crust came off in the pan. I had a piece of   the bread toasted for breakfast this morning and it made a lovely toast with a nice tang like I had wanted ( I think I will play more with the ratio of rye to ww flour though).
My questions:
1- What is a good ratio of whole grain flour to gluten? The only reference I saw was in volume measurements , which suggested 1 tbsp to one cup. Since I am trying to use weights, I am not quite sure how to translate this.
2- I "calculated" this recipe to be a 70% hydration dough, was this correct? ( 385gr water/550gm flour). Should I have included the weight of the gluten in this total (which would have made it more than 550 gm flour?)
3- Should higher hydration doughs NOT be baked in a pan/dish? I do not have a cloche or dutch oven, so was trying to replicate that effect to a degree. I made sure that the dish was well oiled (as I had forgotten to oil my pans for my regular ww sandwich bread, and it had disastrous effects!), and yet the bread still stuck.
4-Why would there only be thin ribbons of less baked dough through out the bread? Did the fact that I cut into it right out of the oven in my attempt to get it out of the pan have anything to do with that?
5- Should the wetter doughs be slashed? or are only the dryer doughs to be slashed?
A couple of notes on why I did the things I did- My intent was to do the entire kneading with the french knead or slap and fold method. however, as The kids kept getting under foot I was not able to continue to focus on what I was doing so ended up throwing it into the mixer. I did get a good window pane test after that.  I had planned on retarding in the refrigerator for 12 hours or so, but when it had risen so much and with my previous efforts not getting any rise after I had shaped them, I thought I would give baking after the first rise a shot (someone in a previous question I posted suggested that ) I would post pictures, but since I have no URL's, I can't seem to be able to do so. :( I do not use those photo programs, just download them to my pc in my pictures folder. I guess I will have to search here if there are any directions on how to upload photos)
Thanks in advance. I am quite certain there are plenty of you with the knowledge and know how to answer my questions!
Sandy
EDIT; I think I can add pictures now, lets try: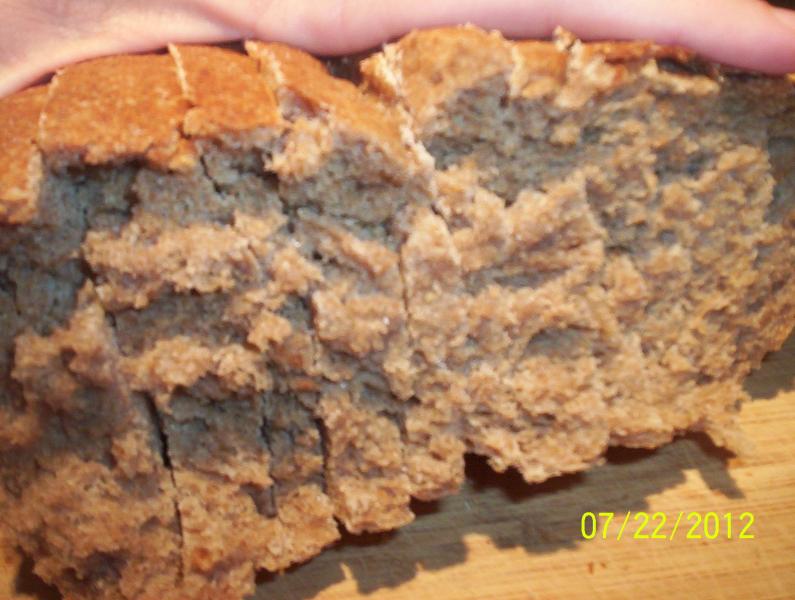 This shows (barely) the little ribbon of dough that looks less baked.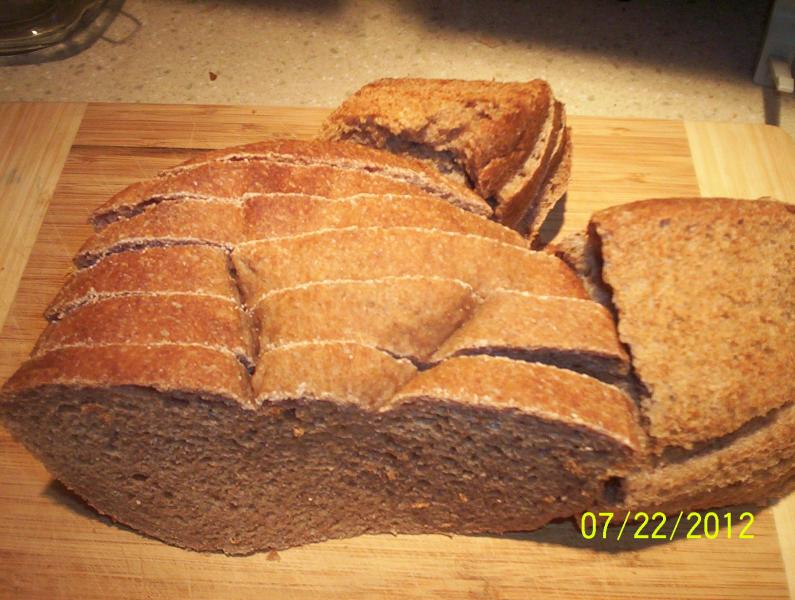 The top crust and a not so great view of the side crust.You can see the slash marks on the top of the bread.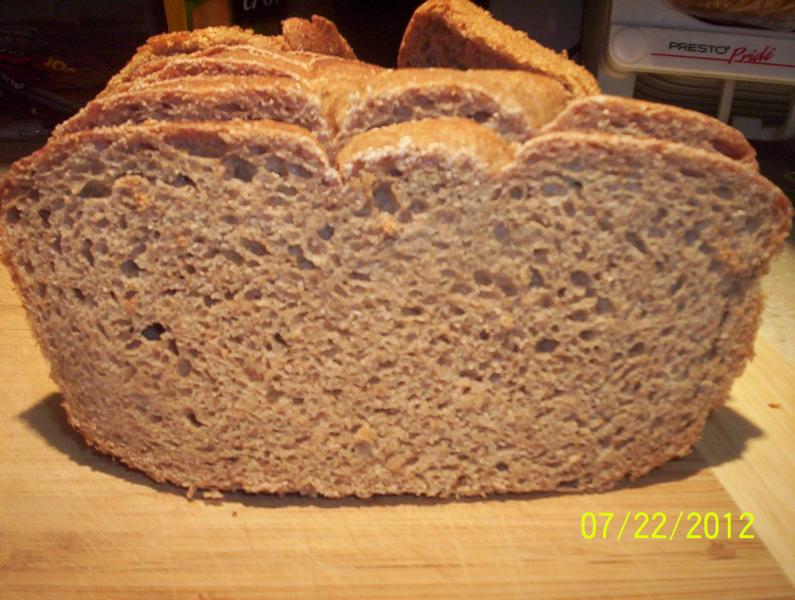 The crumbe. I notice now that perhaps the crumb is a bit tighter on the bottom of the bread than the top. Is this normal?  I apologize for the quality of the photos. I did not think to take pictures before I sliced the loaf !
Thanks again for your patience and assistance!