Multigrain Pitas - The Tasty Pocket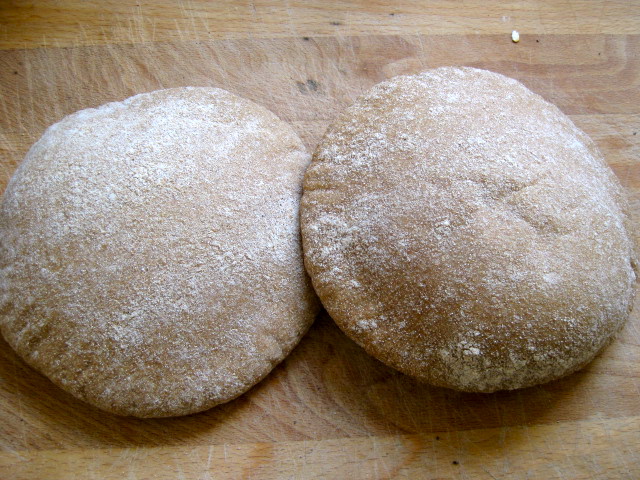 The owner of A&B Naturals, the store that sells my bread, asked me one day: "Can you bake pitas, too?" I had never made them, so I said with conviction: "Yes!"
At least I knew where I could find a pita recipe!
In "Whole Grain Breads", one of my favorite baking books, Peter Reinhart has a recipe for whole wheat pitas - just the right thing for my grain loving customers.
I started my first pita dough. No big deal, until I got to the shaping part. The pitas had to be rolled out no thinner than 1/4 inch (6 mm), and to an 8-inch (20 cm) diameter. But my pitas already reached this thickness at 6 1/2 to 7 inches (16 to 18 cm.)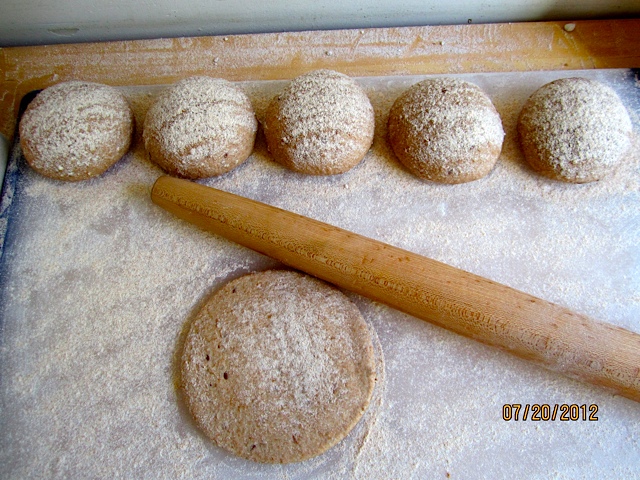 Pitas are shaped in three steps, first into rolls, then rolled out to 4"/10 cm. Don't skimp on the flouring!
Below: rolling out pitas to a larger round (6 1/2 - 7" or 16 - 18 cm.) Re-flour them, if necessary.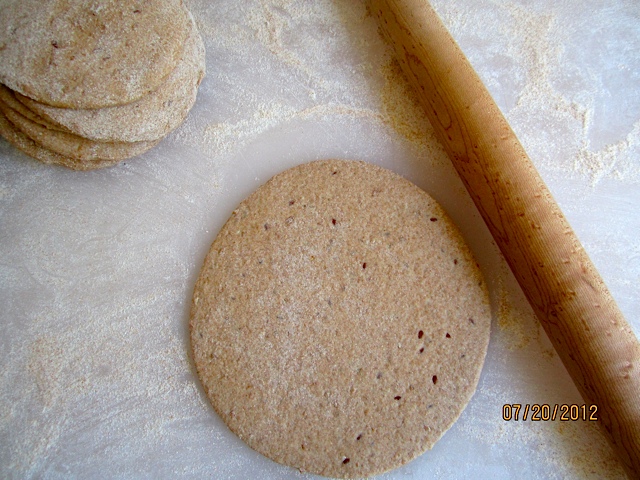 A high oven temperature is key to a pita's proper horizontal separation into two layers. This high temperature has to be maintained during the whole bake, from below as well as from above.
Many cheaper ovens don't heat up to the necessary 550ºF (280ºC.) Without that boost pitas can't produce the large gas bubble that creates a pocket. And without a pocket - no delicious filling!
A baking stone, or a rack lined with unglazed terracotta tiles (like I have), works best for keeping the  temperature stable, even when the oven door has to be opened several time during the baking process. And very hot stones make the best baking surface for pitas, too.
To reheat fast enough after each opening of the door I remembered Peter Reinhart's advice for baking pizza ("American Pie"), where the problem is the same: intermittently switching the oven to broil for a short time.
How many pitas can you bake at the same time? One batch of dough makes 8 (or 6, if you want larger ones.) Peter Reinhart says one at a time, but, of course, being a semi-professional I wanted to do it a little less time consuming.
After some trials, I found that I can put two at the same time in the oven. That's the maximum, with more it becomes very difficult to load and unload them without damage, and to keep control over their baking process.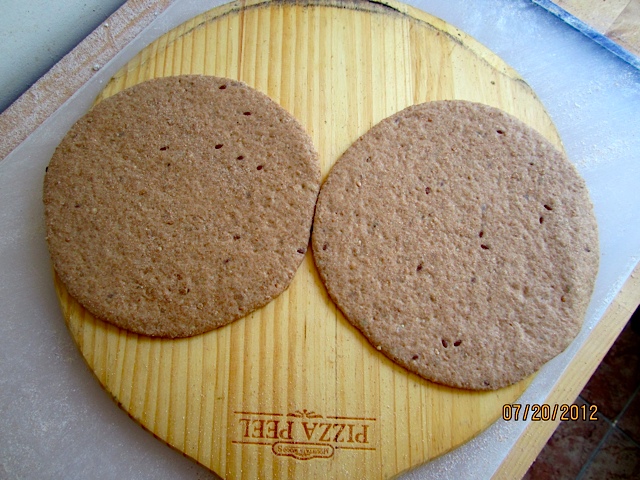 2 pitas can be baked at the same time. Once out of the oven, they deflate quickly.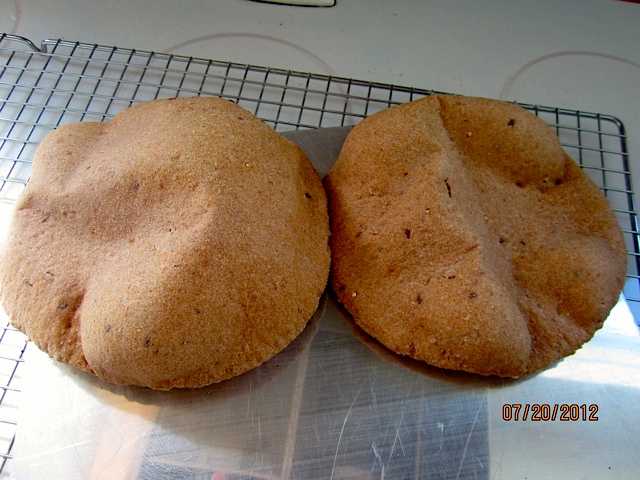 Of course, it takes a little bit of experience to slide the pitas into the oven without them folding over in one place, and to extricate them without nicking them with the peel.
But it's not rocket science, a smart child can do it: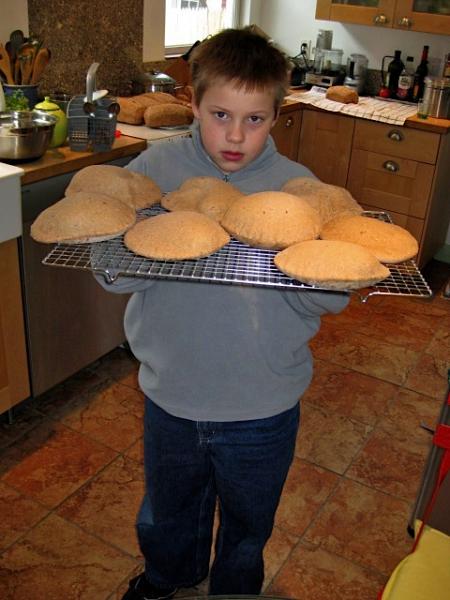 Josh, our carpenter's son, thought it was much more fun to help with my baking than reading his book!
Though Peter Reinhart's original 100% whole wheat pita is very good, I made a few changes to it. I substitute a 7-grain mix for some of the whole wheat flour, and add an overnight bulk rise in the fridge, this is more practical for my baking schedule, and, in my opinion, improves the taste even more. It also has the advantage that I can reduce the yeast amount by 2 grams.
Though I usually cut down on the sweetener in Peter Reinhart's recipes, this whole grain bread needs the full dose.
We like our pita filled with grilled Halloumi cheese, tomato and lettuce - the way we had it in Girne/Kyrenia on Cyprus. And how do my customers at A&B Naturals like them? They fly off the shelf so that I have to bake them every week!
Here is a link to the recipe in my blog "Brot & Bread".