Recently my wife and I started camping. Neither of us had been camping since we were kids, and we were both a little iffy on the idea, but we got dragged into it by some friends so we decided we'd jump right in. Turns out it was a great idea, we had a ton of fun and met a lot of new people who are growing to become friends. We've been camping again since then. We just got back from a trip, actually. One thing I like doing for new friends is to bake them bread. This presented a problem with camping because I was without my oven. Still, I soldiered on. I bought a cast iron dutch oven, the special kind with the lip on the upper lid and with legs so it could go over a fire and have coals placed on top. I was determined to bake bread.
The first time we went up, my phone died on the ride up and stayed dead the whole trip. This second time, however, we went to a different campsite that happened to have a generator, so I have pictures. This means I can share.
On the second day I decided to bake. It wasn't anything very complicated, a basic 65% hydration white bread. Since this has only been a new thing and I'm still learning how to do it, I've had to move back to the basics.
I put the dutch oven about a foot from the firepit when I started working on the bread. After kneading I turned the oven (which was now warm on the side facing the fire) 180 degrees and put the loaf in to rise. I had to keep turning the dutch oven to keep the metal nice and warm all around.
After the dough was risen, I found a long, thick piece of wood that let two of us lift the oven (making a mental list of things to bring next time) and we set it on the very inner edge of the pit.  After about five minutes we turned the oven 180 degrees to cook the bread evenly. Another five minutes later and we pulled the dutch oven out of the fire, set it on the stones surrounding the fire pit, and I used a collapsible trenching shovel to pile embers from the center of the fire on top. It was so hot that I singed the hair off my arm and I was sweating, though I was only near the fire for a few seconds.
I kept turning the dutch oven to keep the heat fairly even. I lifted the lid just a bit to check inside, and after much longer than I expected I turned out a beautiful loaf of bread.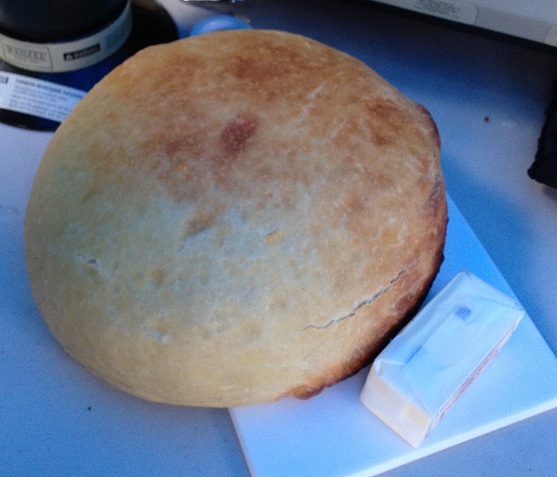 I'm very pleased with how beautiful this loaf turned out. I sliced into it and handed my wife and one of her friends a slice. I walked to our tent for something, and about five minutes later this is what was left of my loaf: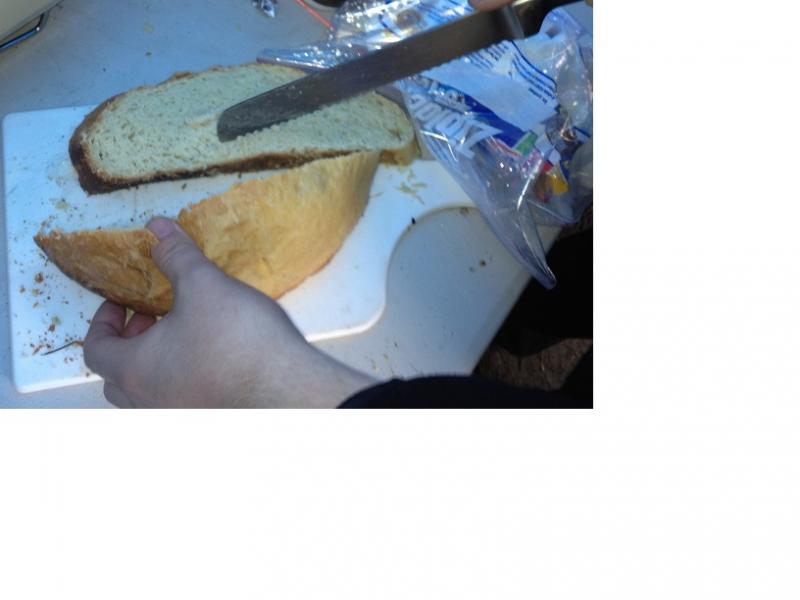 Apparently my friends were much less impressed with how beautiful it looked than they were with how it tasted.
Anyway, there was a bit of a clamor for more so I set to work on another loaf. This one wound up going in a few hours later since it was fairly cool out. Over that period of time the fire was built up a lot and then died down to coals. I had kept one spot clear for my dutch oven, I put the loaf in, let it rise like before and it rose beautifully. Then I dropped it in the fire, rotated, etc.
When I pulled the dutch oven out I was concerned because there was smoke/steam pouring out of the lid. I knew I had burned it, even though it had been in there for half the time. Nonetheless, it had only been cooking for 10 minutes, it was nowhere near done whether or not it was burned on the outside. So I let it cook in its own heat.
When I turned it out, this is what I found: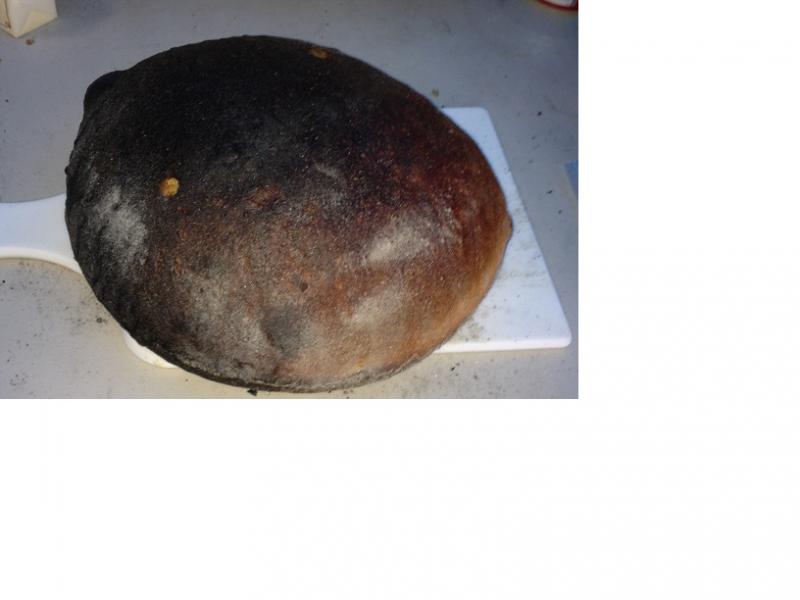 As you can see, it's a little ... crispy.
The outside, however, was the only part that burned. I found it to be more than edible, in any event, it was like eating toast without having to go through the whole toasting process. The crumb was tender and moist and this loaf lasted only marginally longer than the other.
I'm thinking this is going to be a thing from now on, on camping trips.
I'm not sure why there are big gaps after the second and third images. They don't look that way in my editor or in the upload screen. If anyone has tips for helping me fix it, let me know please.