Altamura Style Bread Revisited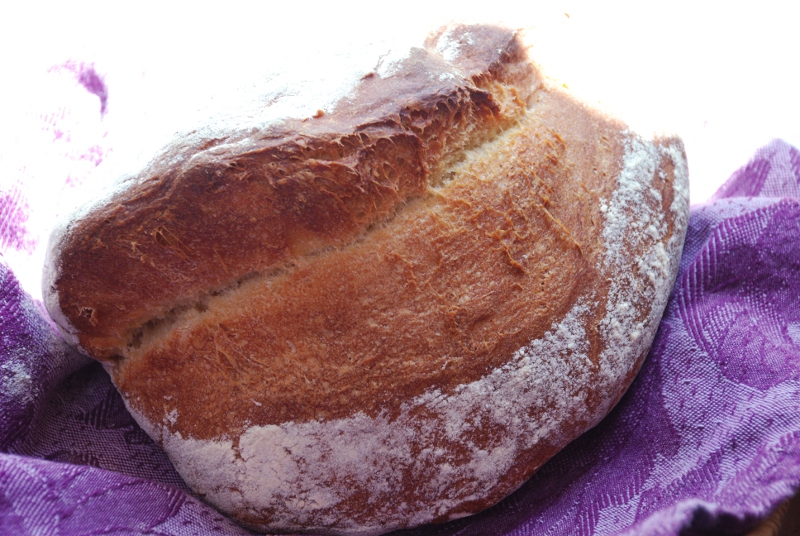 Some time ago, I attempted many times to follow Franko in making a high percentage durum loaf with low hydration and shaped by a simple fold - in fact an Altamura style bread.   I was never altogether satisfied with my progress, and finally set it aside and focused on other baking.    While I stopped trying to make an Altamura style loaf, that doesn't mean I stopped baking with durum - in fact my regular rotation (that sounds more formal than it is) includes medium percentage durum loaves like Hamelman's Semolina (p. 171 of Bread) and Sylvia's pugliese.   I think this regular baking has made me more comfortable with durum, and I stopped looking at it as a crazed and evil beast that required a lot of fuss and nonsense to get right.    That more relaxed attitude led me to throw together a loaf that I realized just in time for shaping had many of the characteristics of the Altamura style bread that I had tried so hard to master.   So I folded and proofed and baked and voila, the best Altamura style loaf that I've yet managed to produce.    There's a lesson in here somewhere but I'm not entirely sure what it is.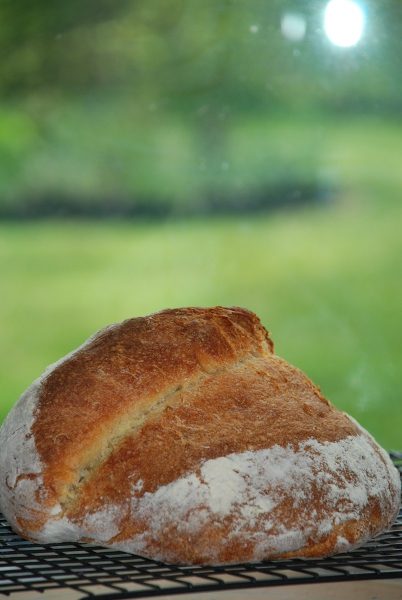 I used an entirely passive method of dough development.    First I fed my regular starter with durum flour and water, and immediately refrigerated it for around 20 hours.   Then I mixed all ingredients until dough formed a shaggy mass for a couple minutes only, and then refrigerated for 24 hours.   Then I let warm on counter for around four hours,  then pressed out slightly (hardly at all) folded over and proofed for around 50 minutes, then baked for 20 minutes with steam and 35 minutes without at 400F.    I had no idea when I cut into it what to expect,   but here's what I got: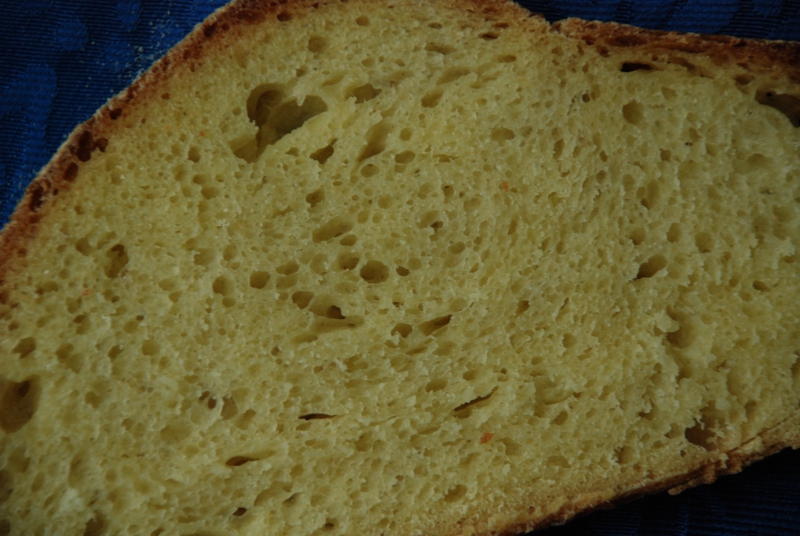 Altogether a happy result from a casual approach mostly forced by time constraints.     And yes it's tasty - the good taste of durum shines through.
Formula:
| | | | | | |
| --- | --- | --- | --- | --- | --- |
| 5/11/2012 |   |   |   |   |   |
|   |   |   |   |   |   |
| Seed hydration | 66% |   |   |   |   |
| KAAP | 95% |   |   |   |   |
| Whole Rye | 5% |   |   |   |   |
|   |   |   |   |   |   |
|   |   | 5:00 PM |   |   |   |
| Seed | 100 |   |   |   |   |
| KAAP | 57 |   |   | 57 | 36% |
| Whole Rye | 3 |   |   | 3 | 2% |
| Durum | 0 | 100 |   | 100 | 62% |
| Water | 40 | 66 |   | 106 | 66% |
|   |   |   |   | 266 | 2.7 |
| 5/12/2012 |   |   |   |   |   |
|   | Final | Starter | Total | Percent |   |
| KAAP |   | 57 | 57 | 9% |   |
| Whole Rye |   | 3 | 3 | 0% |   |
| Durum | 500 | 99 | 599 | 91% |   |
| Water | 330 | 105 | 435 | 66% |   |
| Salt | 12 |   | 12 | 1.8% |   |
| Starter | 263 |   |   | 24% |   |
|   |   |   | 1105 | 168% |   |
| Starter factor | 1.0 |   |   |   |   |