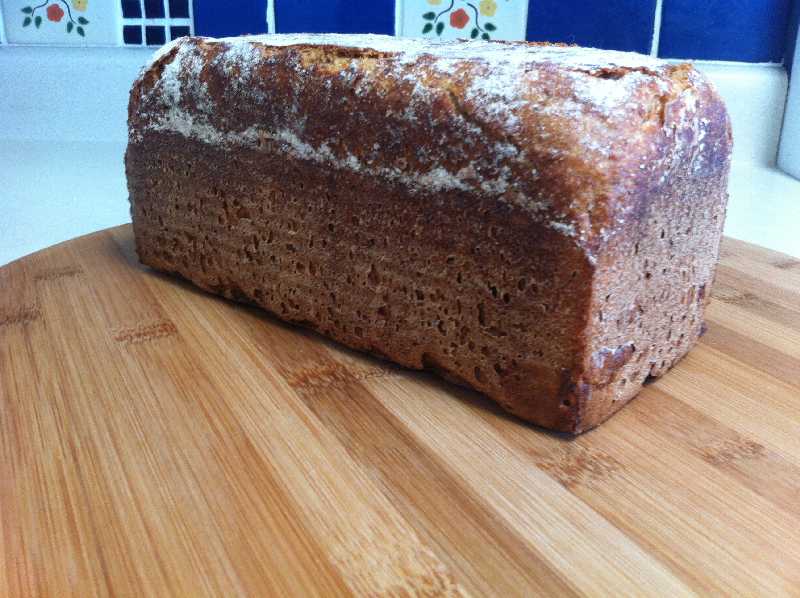 The Rye & Barley Mash Bread I've posted on previously has become one of my favourite breads over the last few months for it's pronounced sour and deep flavour characteristics, much of which I credit to the fermented mash/soaker of whole barley and rye kernels included in the mix. With this latest bake I thought I'd try a lighter version by reducing the rye to 40%, and go with organic white All Purpose for the remaining 60%, eliminating the barley flour altogether, but include a fermented soaker of cracked rye and wheat.
Using the Rye Barley Mash formula as a template I deleted a few things such as the altus and barley flour and changed some percentages to come up with something I thought might work. The soaker had been fermenting away in the Brod & Taylor proofer for 3 days developing a fairly tangy sour note to it indicating it was ready to use, so late Monday afternoon I mixed up the levain in preparation for the final mix the next morning. By the time the 1 hour autolyse was complete the levain had been fermenting for almost 14 hours and looked quite healthy, strong and ready for prime time. The mix proceeded along fine until I added the rye/wheat soaker, after which the mix wasn't looking so fine anymore. I realized the dough was going to be fairly wet because of adding extra water to the soaker to loosen it up a bit, but this was quite a bit wetter than I'd anticipated. Hmm, OK, I'll just get it into bulk ferment and do some stretch and folds in 30 minute increments to build some strength and see what happens.
I like a well hydrated dough but this one was so sloppy that even after 3 stretch and folds it showed very minimal development over the course of almost 1 1/2 hours bulk fermentation. Going back over the formula to see where I'd gone wrong I realized I'd neglected to adjust the overall hydration down from the original formula to compensate for the reduced rye flour and omitted barley flour. A few choice words were muttered, all directed at myself, none of which bear repeating here, but I knew at that point I'd need to make some corrections in order to save this bowl of goo and have it result in something resembling bread. An additional 60 grams of AP were added, adjusting for salt and adding 1+ grams of instant yeast to give it a boost. That little bit of extra flour made all the difference, turning a soupy mix into a very loose but workable dough that could be molded for panning. After rounding the dough it sat on the counter for 30 minutes before molding into a log for panning in a Pullman tin and final proof. After 2 1/4 hours in the proofer at 76F it had risen 3/4's of the way up the pan and appeared to be worth putting in the oven. I decided not to press my luck by scoring the loaf, opting for baking it with the lid on, hoping at the very least it would give the loaf a uniform shape. Lo and behold after almost 70 minutes in the oven, with gradual reductions in heat, it turned out a reasonable looking loaf considering how it started out.
I took the first slice today after letting it cool overnight, wondering what I'd find. I was pleasantly surprised to discover a moist, even and open crumb, with a nice crunchy crust as a bonus.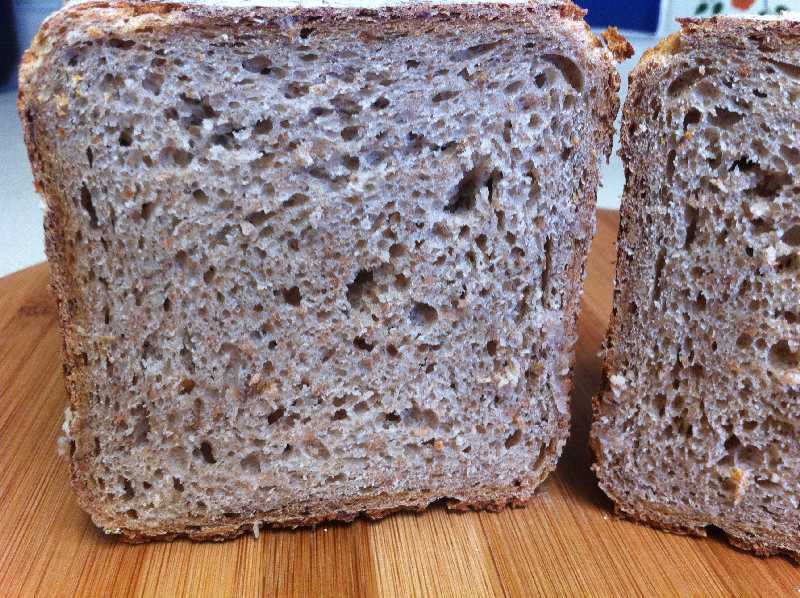 The flavour has a lot of similarities to the Rye Barley Bread, though not near as tangy as it was, but overall a very tasty loaf of bread. The formula has since been adjusted for hydration, but rather than share it now I'll test it out a few times until I'm confident it can be reproduced reliably and post the results and full formula at a later date for anyone interested in trying it out.
Seafood Sausage en Brioche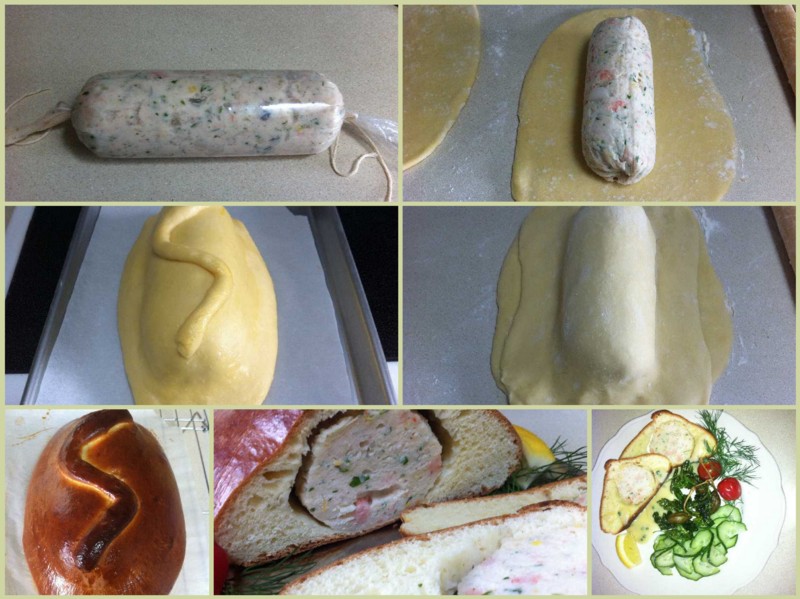 This is something I did a couple of weeks ago that turned out nicely and is absolutely delicious! Saucisson en Brioche is normally made using a savoury meat sausage wrapped in brioche dough but I wanted to try it using the recipe for 'Shrimp & Scallop Sausage' from Michael Ruhlman's book 'Ratio'. Making a seafood  sausage is considerably quicker and easier compared to one from pork or veal since no curing is needed, and all you need is a food processor and some plastic wrap to make a casing. The sausage, very basically is a mixture of cold egg white, cream or heavy cream, seafood, and seasonings blended until it's smooth, uniform and thick enough to shape. For this sausage some of the shrimp were coarsely chopped and folded in at the last to give it some added texture.  Tightly wrapped in plastic, then poached until the internal temp reaches 155F. Let the sausage cool slightly and have a brioche dough rolled out and ready for final proof. From there it's a matter of wrapping the sausage in the dough as tightly as possible (which I need to do better next time) and proofing it for 30-40 minutes. Egg wash, and bake in a 360F oven for 20-30 minutes depending on the size. Allow it to cool slightly and firm up (10 minutes) before slicing. The sausage was plated with a cucumber salad vinaigrette, deep fried parsley and caper berries, sauced with a lemon chive beurre blanc. A little elegant compared to my typical dinner choices now days, but sometimes you need to shake things up a bit to get out the food rut many of us fall into. 
Cheers,
Franko