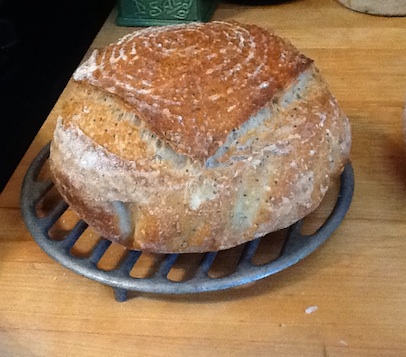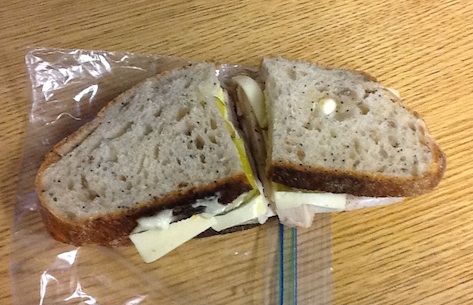 Top: The boule
Bottom: A sloppy turkey and jack w/mayo and dijon on seeded sourdough
Made a modified sourdough (with 1/8 tsp active dry yeast for timing) with toasted sesame, poppy and sunflower seeds. Came out great. Thanks to TFL'er Jay and the "The Basic Problem with my sourdough" thread contributors for guidance on my starter.
Formula
Levain:
102 g KAF AP
108 G water
43 g 100% hydration starter
5 g Rye
Fermented overnight (12 hrs minimum) at room temp.
Final dough:
417 g KAP AP
100 g Whole Wheat flour
310 g water
All of the levain (258 g)
1/8 tsp active dry yeast
13 g salt
20 g each sunflower, poppy and sesame seeds, toasted and cooled
Comes out to ~70% hydration, but feels wetter to me.
Mix all but salt, seeds and yeast. Autolyses 1 hr. Add salt, seeds (cooled) and yeast. Knead 10-12 minutes until moderately developed. Ferment 2-3 hours w/2 S&Fs.
Divide and preshape for 2 boules. Rest 20-25 minutes. Shape as boules. Proof for 90-120 minutes (watch the dough, not the clock ;-)).
Preheat oven 500F for 30 last 30 minutes of proof. 
Bake in cast iron covered dutch oven 20 mins covered; 20 minutes uncovered until 190F internal. (I use a parchment paper "sling" to load the dough, which I remove for the last 10 minutes.)