I went shopping yesterday at Aldi and found this fantastic cake spring form tin made by Zenker that also doubles as a serving platter and came complete with a plastic lock cover....you just remove the spring form and the cake is ready to be served, great for making cakes and transporting them!
http://aldi.com.au/au/html/offers/2827_21031.htm
http://www.zenker-backformen.de/index.php?id=11&k_id=11&L=5


The cake tin came with a recipe book so I just had too try a recipe, since my sister had given me some home grown apples I picked out this recipe. The cake was really nice and moist, I used ricotta and sour cream and also used ground almonds. My dough was too soft to roll out so I half rolled it and used my hands to press it into the tin, but the cake still turned out lovely.
Moist Apple Cake
Dough
150 grams quark (or 2 parts ricotta and 1 part sour cream
6 tbsps milk
6 tbsps oil
80 grams sugar
4 heaped tsps vanilla extract
2 pinches salt
3 heaped tsps baking powder
300 grams flour
Glaze and topping
4 egg yolks
250 grams sour cream
100 grams sugar
100grams ground almonds or hazelnuts
800 grams sour apples
Juice of 1 lemon
6 tbsps apricot preserve
For the dough
Mix the curd cheese (or substitute), milk oil, sugar, vanilla extract and salt. Thoroughly knead in the flour mixed with the baking powder. Grease the sheet cake spring form 38(L) x 25(W)with butter. Roll out the dough to a size somewhat larger than the baking tin and place it into the tin, forming a rim at least 1 cm in height.
For the glaze
Mix the egg yolks, sour cream and sugar, and fold in the ground nuts. Pour the glaze onto the dough and distribute it evenly. Peel and quarter the apple removing the core, slice and mix with the lemon juice. Arrange the sliced apples on the glaze. Bake for 25 – 30 minutes in a preheated oven on the middle shelf at 190 degrees C or 170 degrees C circulating heat. Warm up the apricot preserve and press it through a sieve. Remove the cake from the tin and spread the preserve over both the top and sides of the cake.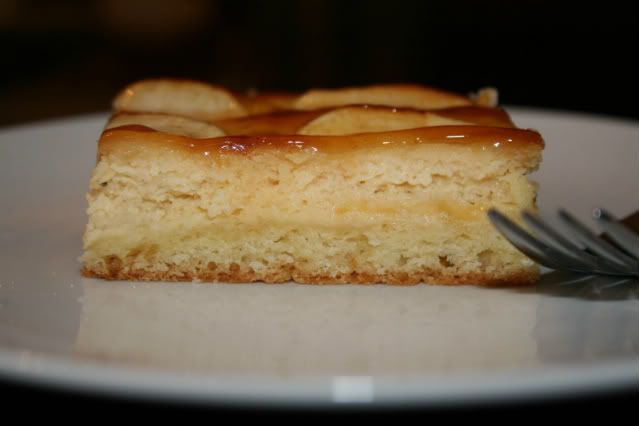 Cheers Sonia