February 21, 2012 - 2:23pm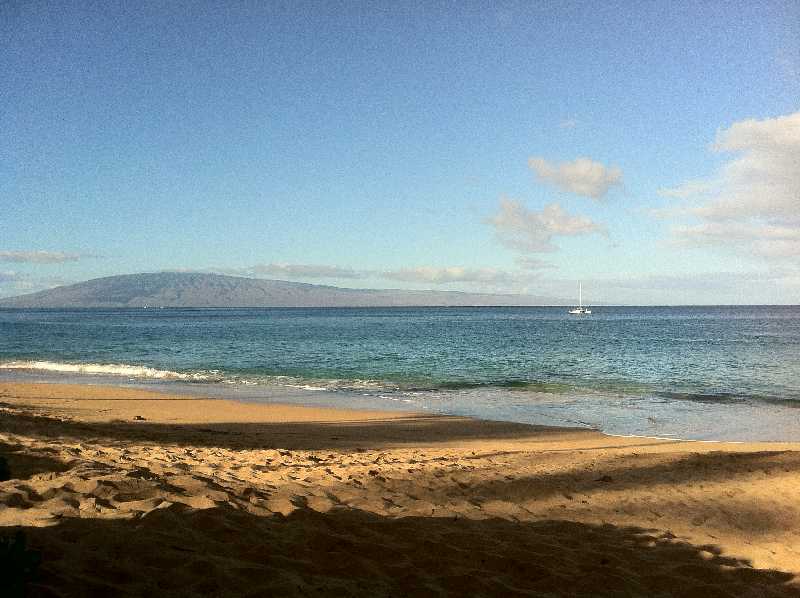 Earlier this month my wife Marie and I took a welcome break from winter for a week of sun and relaxation in Maui. Nothing like a good dose of sun, surf and fabulous beaches to help shake off some of the winter blahs. The weather during our stay was perfect,with average temps in the mid 70'F -21C range, clear blues skies and gentle trade-winds throughout most days, keeping even the mid afternoon heat tolerable. The only specific item we had planned during our time on Maui was a morning tour and lunch at an organic farm in the up-country area of Kula, about a 45 minute drive from where we were staying in Kaanapali in West Maui. 
O'o Organic Farm is located in the Waipoli (Misting Forest) district of Kula at an elevation of 3500 feet.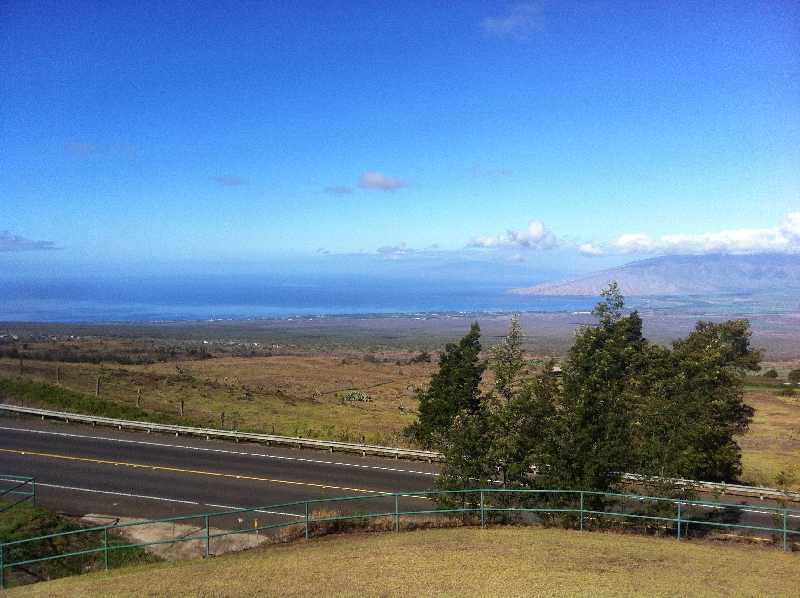 The 8.5 acre farm is owned and operated by a local restaurant group to provide organic vegetables, herbs and fruit for it's three dining establishments in Lahaina, I'O, Pacifico, and The Feast at Lele, as well as their speciality food shop Aina Gourmet Market in the Honua Kai Resort near Kaanapali. Have a look at the short video here for a more in depth description of the farm and how it provides the three restaurants the ability to offer a true "farm to fork" dining experience for their guests. 
If a visit to Maui is in your vacation plans, the tour of O'o Farms is an experience I'd recommend to anyone interested in organic farming methods and practice, or just food in general. Our guide Ansel, who is also the farm's Orchard Manager, made the entire 2 hours we spent in the orchards and fields with him and the other members of our group a wonderful learning experience. Ansel's engaging and friendly manner, along with his extensive knowledge of horticulture and sustainable farming practice kept us interested throughout our tour. As well as showing us what the farm was growing we also had the opportunity to taste some of the various produce as we toured the fields, one of which was coffee. Ever had a ripe coffee berry picked right off the bush? Well neither had I and was surprised to discover that they have a somewhat sweet outer fruit to them, not at all what I expected and quite pleasant tasting. The farm is in the early stages of growing coffee plants, with an eye towards eventually producing enough to make it a commercially viable crop. At the moment they are buying beans from a larger local grower and roasting them on site for sale at the farm and the groups Aina Gourmet Market.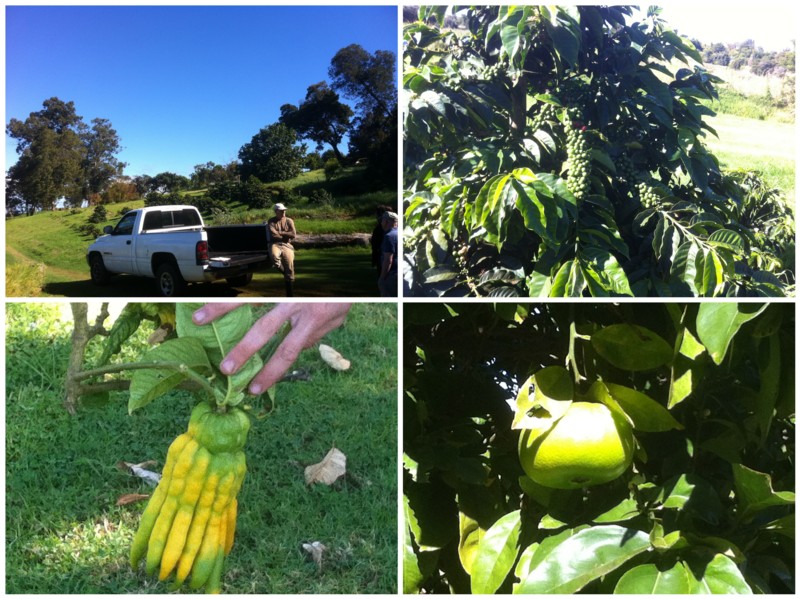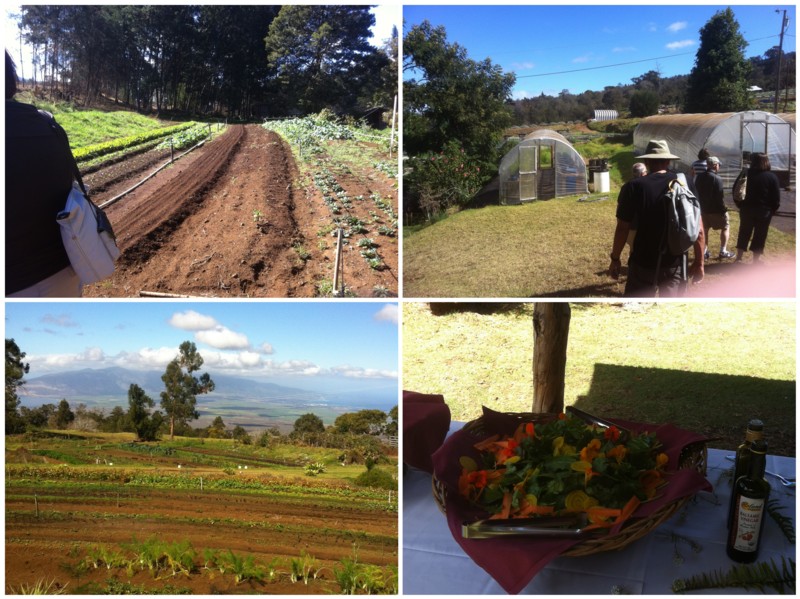 Before we'd started the tour Ansel informed us that James McDonald, Executive Chef and partner of the restaurant group was on site that day and would be preparing lunch for all of us at the end of the tour. O'o Farm has an outdoor kitchen with a commercial range/oven, wood fired grill, a rotisserie or tourne-broche, refrigeration, preparation and serving tables, all set under a canopy and shade trees.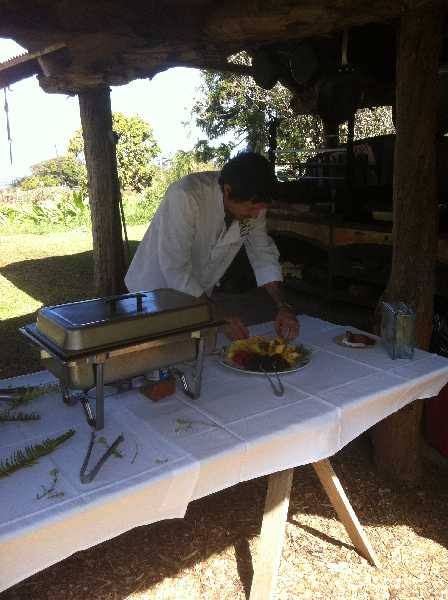 Lunch consisted of salad with a variety of freshly picked greens and edible flowers, sourdough bread (from Boulange in San Francisco, fabulous bread!), and two choices for the main course, pan fried tofu with fresh herbs and sauteed/stir fried vegetables, or fresh local fish with roasted vegetables. Fresh fruit and hand made chocolates for dessert. My description of the preparation may not be entirely accurate and my apologies to Chef McDonald if that's the case. Simple menu perhaps, but skillfully prepared and cooked to showcase the bounty of O'o Farms, Chef McDonald is clearly a proponent of the 'less is more' approach to cooking, allowing the high quality of his fresh ingredients to speak for themselves. There were more than a few appreciative comments from around our table for how flavourful everything was and I think most of our group went back to the buffet for a second helping. At the end of the meal we were invited to sample some of the various Aina Gourmet coffees roasted on site and to purchase some to take home if we liked. Whenever I'm in Maui, bringing home a few bags of Kona Coffee is always a must for gifts and myself, but after tasting the Aina coffee that's all changed. As rich as a good Kona can be, I've never had one as well balanced or with such depth of flavour as a brew from these roasts. Four bags of Aina Gourmet Coffee somehow managed to find precious space in our luggage for the flight home.  
Later in the week Marie and I decided to stop in at Pacifico Restaurant in Lahaina for lunch and take the 'farm to fork' experience full circle. We enjoyed a lovely meal on their beach level terrace overlooking the channel between Maui and the Island of Lanai. The day was glorious, with sunny blue skies, surfers rolling in just up the beach from us, and two or three whales off in the distance spouting and breaching, and who seemed to be enjoying the day as much as the families playing in the surf just a few yards away from our table. To begin our lunch Marie ordered the Roasted Maui Onion and Goat Cheese salad and I opted for the Tropical Ceviche du jour, both of which were a beautifully presented and appetizing first course to our lunch. For our main courses, Marie had a "tower" of spicy grilled tofu with ocean-seaweed salad, tropical salsa, jasmine rice, ginger ponzu sauce and wasabi aioli.[pic] I had a flat bread brushed with Kabayaki glaze, then grilled and topped with fresh tuna carpaccio, grilled pineapple, and a variety of sprouts and fresh farm greens, with a drizzle of wasabi aioli garnishing the side of the plate.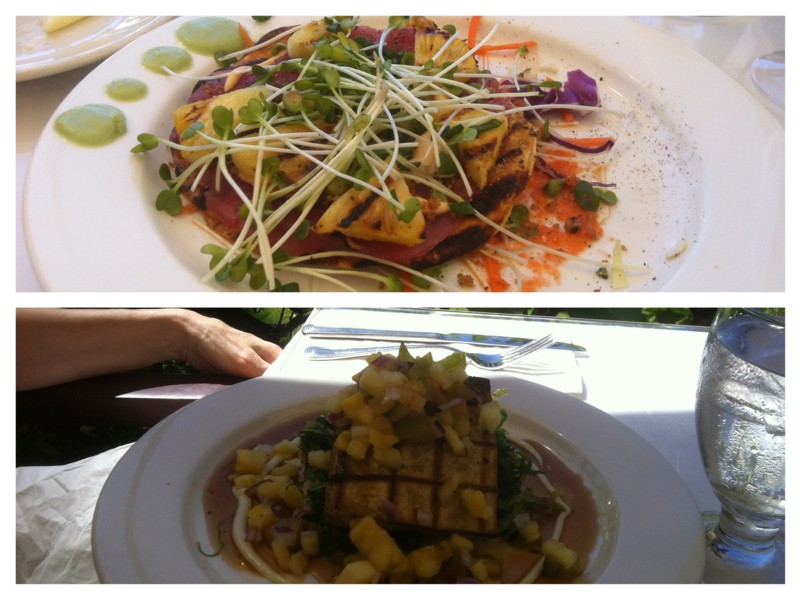 The preparation and presentation of our meals was considerably more elaborate than what we'd had at the farm, but the same bright flavours of O'o farms produce were evident in every bite. The tuna carpaccio was so fresh I'm sure it had been caught within hours of landing on my plate, meltingly tender, and accented with a bit of heat from the wasabi aioli, it was a brilliant composition of flavours, texture and colours. Marie's Leaning Tower of Tofu was pronounced delicious from start to finish, high praise indeed from someone not as inclined to comment pro or con as I am when it comes to food.[ Insert pacifico food] Service was friendly, attentive, and well paced, something that can be an issue at times in Lahaina restaurants during lunch service. All in all it was an excellent meal, complimented with great service and the tropical ambiance of Pacifico's beachfront setting. Kudos to Chef James McDonald and his crew for a memorable experience, certainly one of the highlights of our time on Maui.
On the flight home I spent some time thinking about what I should make for the coming weeks bread needs. My bread of choice for the last 2 months has been the Pan de Campagne I posted on a few weeks back. Time to try something just a little different I thought, something with seeds and mixed grains perhaps? A little thought was also given to how I might use the Aina coffee in some sort of pastry or dessert as well, but more about both these ideas in a future post.
Aloha,
Franko