February 19, 2012 - 10:48pm
Hamelman's 5 Grain sourdough Bread
Once more, reminded by Karin's blog, i bake another recipe out of Hamelman's "BREAD". The recipe, cast away behind Volkornbrot with flaxseeds in Sourdough Breads section, was unintentionally overlooked. Karin (hanseata)has Praised the bread, and i had to bake a mutigrain SD sourdough sometime, so i did.
The Recipe is 75% Bread flour, and 25% Whole rye flour. The hydration was 99% with all the grains, but i felt it needed 100g more water to the final dough. The dough was sticky, as noted by Hamelman. I slaped and folded the dough in 5 minutes intervals for 30 minutes, in order for the dough to have enough strength. At the end of the slap and fold, the dough was finally coherent and held shape. i suspect that such moderately intensive kneading did leach out much flavor from the Bread flour. How could it be avoided?
I adhered to Hamelman's instructions to the word, including final yeast addition. The fermentation with this dough is very fast, with bulk fermentation of 1 hour, and final fermentation of 1 hour. No folding was required.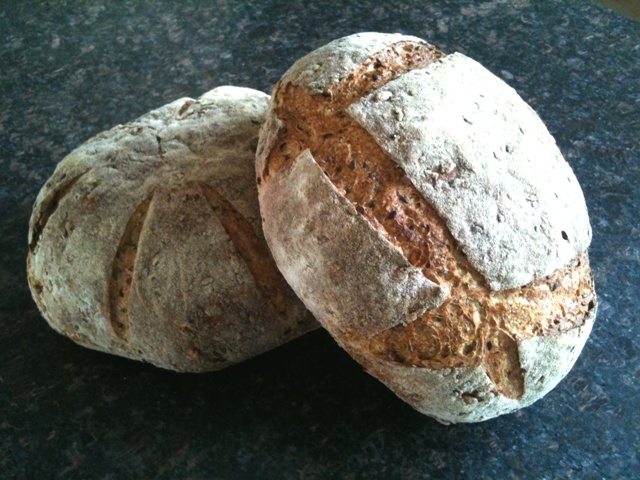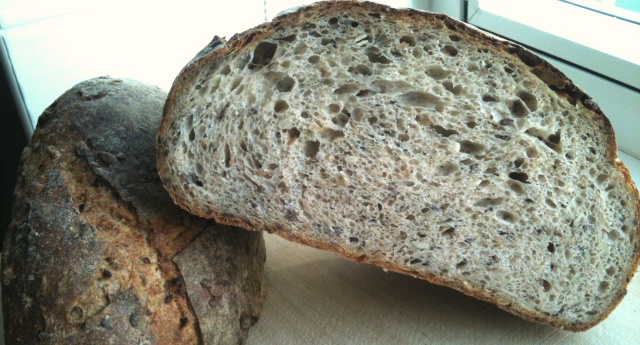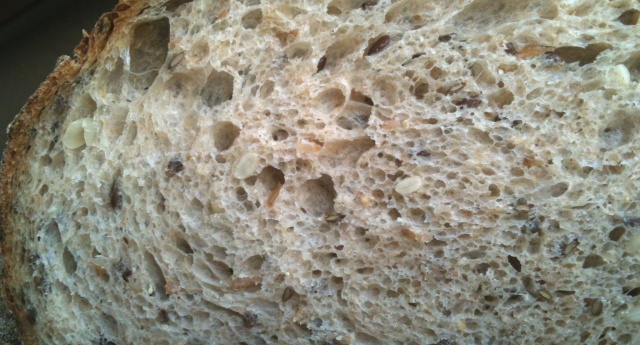 The crumb was delightfully open, and was soft, not chewy. The crust was crunchy, and full of wholegrain flavor.
However, i would say that i was somewhat disappointed with the flavor, initially. The flavor will develop in time, but i believe that this bread lacked the intense SD flavor associated with the removal of yeast from final dough. God willing, I'll try this next without the yeast. However, i believe this bread excells when toasted!
Added by Edit:
This is a photo of  tweaked steaming method i used for this bread: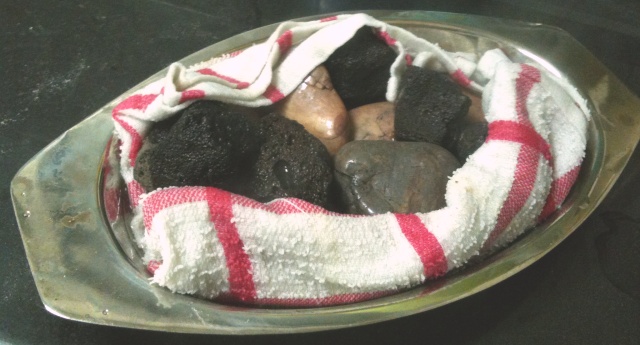 Khalid