Second Whole Wheat Attempt
I gotta say, that even though I've only worked with whole wheat twice now, I haven't run into an ingredient that puts me on edge as much as this one. 
So I'm trying to make this bread again, only this time I tried to follow the exact measurements instead of my gut.  So putting in the exact amount of water it calls for I got what looked like the beginnings of crumbly whole wheat play dough, but I resisted the urge to keep adding water until it was soupy (because I'm pretty sure that's why my dough wouldn't get to the tacky stage last time).  Well I let that do its thing overnight and then mixed in the other ingredients, with the addition of bread flour being gradual.  In the end my dough was tacky, but not smooth and hardly elastic.  With a sigh I put it in the oiled bowl and hoped that that was just how whole wheat doughs operate.  Then I read and saw that basically, its not.  So in a fury I took the dough out 5 minutes later and tried to knead it into submission, but honestly, I'm pretty sure it just got much worse.
Let me just say how livid I am because I don't have enough bread flour to make anything after this and this bread is supposed to last us for the next week.  Damn you whole wheat...which I have plenty of.  Arghh!  Who knows, maybe I'll be surprised in the end, but for now I'm thinking trusting my gut isn't a terrible idea in the future.  Here's the dough: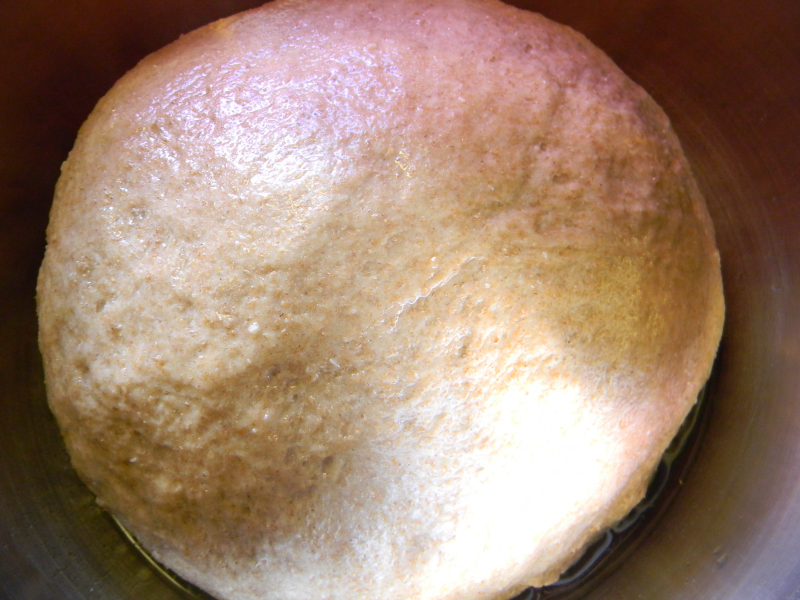 I know it doesn't look as bad in the picture, but trust me...final photos to come later in the day...
Well after about 5 hours of a first rise (with it seeming to plateau around the 3 hour mark) I broke down and formed the loaves. I warmed the oven then turned it off and put the loaves in there for a second rise, hoping things would move along a bit faster this time around.  Well 30 minutes later, I had a beautiful rise on both of them. About an inch and a half over the rims, yay!  I decided to go ahead and bake them, because I didn't want them to overproof and then deflate...we'll see what this day long venture produces soon..
Well, here is the crumb shot from this day long honey whole wheat: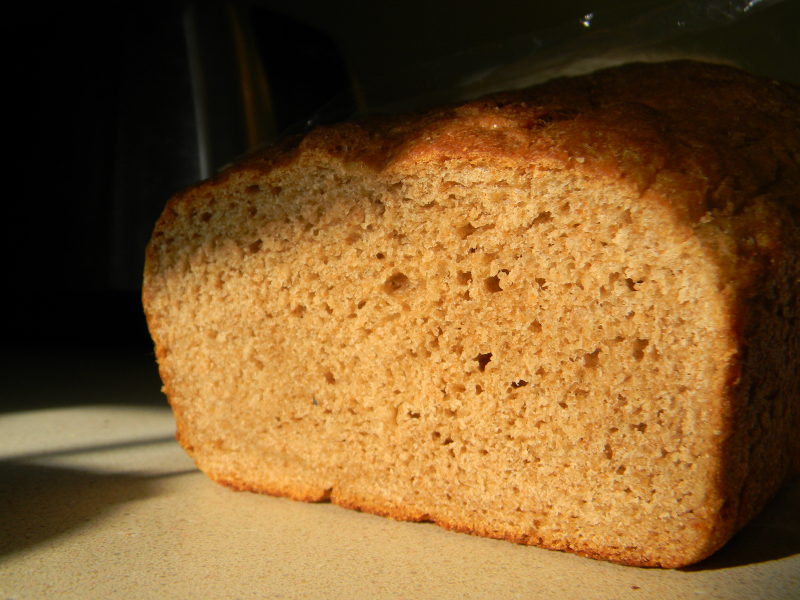 After cutting into it I feel like I could have let it rise a little longer, however I feel like I made a little improvement between this loaf and the last one (being that it wasn't as flat).  The taste was completely different.  It was very yeasty with just a hint of sweetness, which I guess was a result of that 5 hour rise.  It's quite addicting I must say.  I guess the key with whole wheat, just like any bread, is patience. Here's the loaf: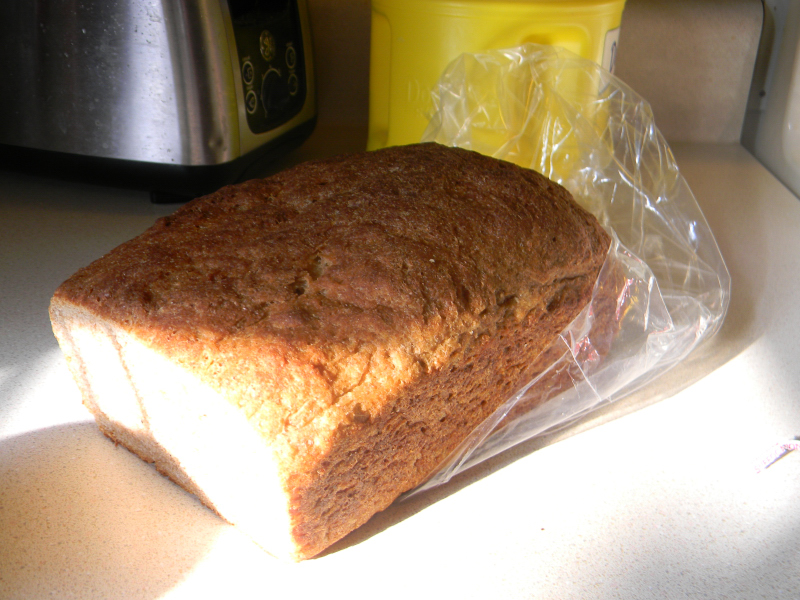 So however frustrating, I was ultimately satisfied. Thank God!
-Rachel