December 11, 2011 - 6:47pm
Hello,
This was my first attempt working with flax seeds.  I got a bag of brown whole flax seeds from the grocery store, soaked them at 300% hydration for 12 hrs.   Separately, I made a 3lb / 1362g dough at 68% hydration using 90% AP flour, 10% einkorn flour, and a touch of honey (5%).   20% of the flour was a liquid levain at 125% hydration, 50% of the flour was a cold flour soaker at 80% hydration.   For the flax seed soaker, I wasn't sure in advance how many seeds I'd want in the dough, so I just soaked a bunch of seeds, more than I'd need.  
For some reason I had thought I could treat the seeds as a hydration-neutral component.   After soaking,  the seeds had absorbed most of the water, but what remained was a gelatinious, kind of slimy, soupy mixture.   I tried straining them but not much drained.   So, I went ahead and began spooning them into the final dough and incorporating by hand, until I had a lot of seeds in the dough to my satisfaction.    This also significantly increased the hydration of the dough.  I spent about 30 minutes attempting to develop the dough by hand, slap + folds, kneading, etc., to no avail.  More of it was glued onto my hands than in a cohesive dough on the workboard.  :-)  
So I ended up adding 4 heaping spoonfuls of additional AP flour.  I hated to do it, but I had to.  :-).  I let the dough rest for 30 mins, then resumed stretch / slap / folding for another 20 mins.  That helped, but the dough was still very sticky and felt more like an 80% hydration dough.   After a long bulk ferment and more S&Fs, the dough did come together more, but relaxed very quickly.  I probably should have baked in a pan, but instead I tried it in the brotform and free-standing in the oven.   Upon the end of final-ferment and removing from the brotform, it blobbed out horizontally quite a bit.   To my surprise, it did get some upward spring in the oven, but next time I definitely need to factor in additional hydration being added by the flax seed soaker.
So that's all the bad parts.  The good part is -- tastes great!   :)  I couldn't remember what flax seeds tasted like beforehand, but once I tried it -- "ahhhh...  I remember now.".   They do taste very nice, and I see why people put them in bread, quite complementary.
Here's some pics.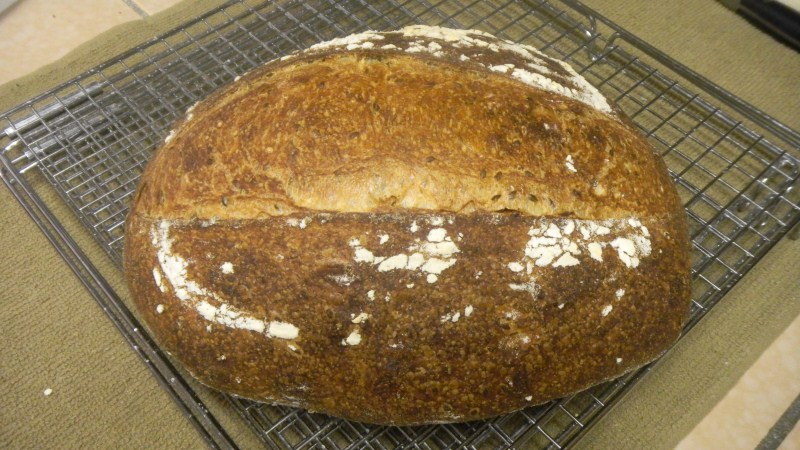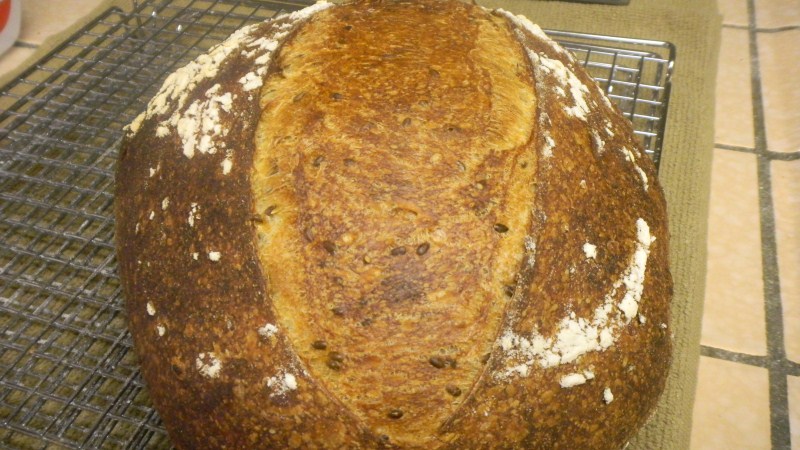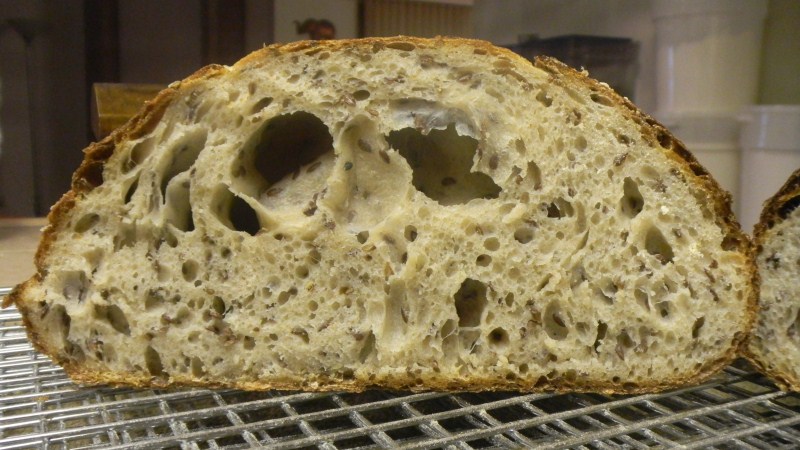 Happy baking!