December 3, 2011 - 11:56pm
Double Levain 50% Whole Wheat and Rye
I have been reading with interest the postings by Andy (ananda) about his work with double levain breads.  Until now I had not experimented with them, but I had a fully refreshed rye sour at hand. I have already baked a solid brick of a Russian Black bread with that sour, and whilst licking my wounds I have been looking for something a little less difficult to exercise my sours with.  I'm not sure if double levain falls in that category or not, but at least it is not a 100% rye bread.
I read and reread Andy's posts, and finally decided to just plunge in and give it a try.  After all, that's half the fun of baking, for me anyway.  I composed a formula based on my existing rye (80% hydration based on the formula from Inside the Jewish Bakery) and wheat (66% hydration) sours, targeting a total of 30% prefermented flour in the batch, and dividing the preferment as 1/3 rye and 2/3 wheat sours.  Both sours are being actively fed twice daily. I also wanted to include a good portion of whole wheat flour from my home mill, but I was not willing to go 100%, so I ended up with some Portland Mills Morebread (All Purpose) flour in the mix as well.
 The overall formula for two 750 gm boulles broke down like this:
Grams
Wheat Levain:                       287
Rye Sour                                 162
PMI AP Flour                        266
BRM Dark Rye Flour              86
Fresh Whole Wheat flour     265
Salt (1.5%)                                13
Water (70% Hydration)       430
 I hand mixed the batch enirely, beginning with the sours and water in a large bowl, then adding the remaining flours and mixing to a shaggy mass.   I rested the dough for 30 minutes, then added the salt and mixed it in thoroughly, along with another 15-20 grams of water because the dough was too dry.  My home-milled wheat flour is very thirsty and always requires a little extra water.
 I bulk fermented the dough in a clear bucket for what ended up being 3 ½ hours, doing stretch and folds on the counter at 1,2, and 2 ½ hours.  It ended up stretching out to 3 ½ hours in bulk because dinner was ready just at the time when I should have been dividing.  We ate, I did the dishes, then I divided and shaped the dough into two rounds, and placed them in floured cane bannetons to proof.   Because I planned to bake them consecutively in my La Cloche clay baker, I moved one loaf to a cool place after about 45 minutes of proofing.  The other remained where it was warmer. The difference was not enough, and the second loaf mildly over proofed.
As planned, I baked these consecutively in my La Cloche.  The La Cloche (top and bottom both) was preheated to 535F on preheated tiles on the lower rack of the oven.  The bread was loaded, and after 10 minutes the temperature was turned down to 485F.   At 15 minutes into the bake I removed the La Cloche lid from the oven and completed the bake at 485F in 15 to18 minutes for each loaf.  Between loaves I returned the La Cloche top to the oven while the preheat temperature of 535F recovered.
Here are the two boulles.
The crumb: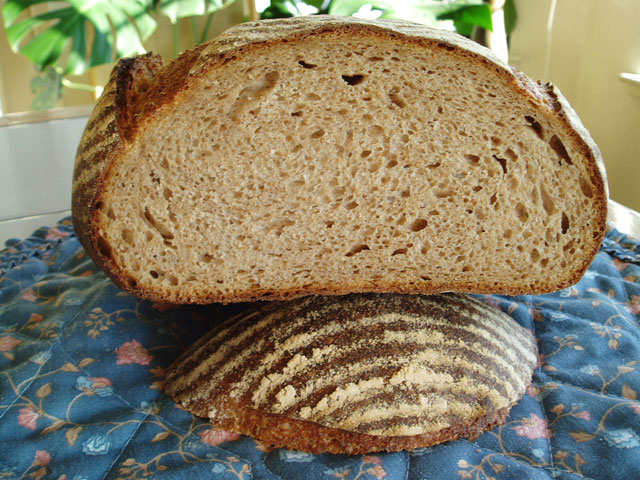 And closer: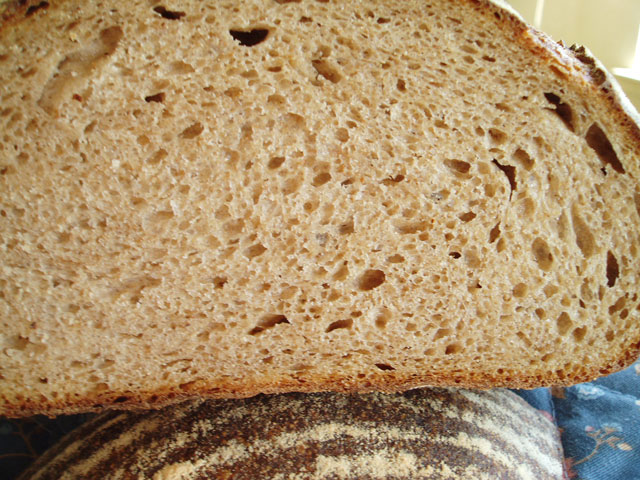 Overall I am pleased with this bake.  It was a successful experiment.  The loaves baked up very nicely, with a nice bold crust, which I prefer. The crumb is, for a 50% whole grain and rye bread, pretty good, and perhaps even very good.  It is certainly not a brick like a certain Russian Black Bread of recent experience.  The thing which surprised me is the flavor.  The flavor is not excellent, but I would call it very good.  The rye flavor is fairly strong, but the whole wheat is somewhat muted, and certainly overshadowed by the sour tang.
I would rate the flavor higher but that it came out too sour for our taste, and I must read more to determine why that happened.  I was unprepared for this outcome because I did not retard the dough in any way, but rather took it directly from the main build through bulk fermentation, shaping, proofing and into the oven.  The bulk fermentation time was a little longer than planned but not exageratedly so.  Still, the sour flavor is as strong as if I had retarded the dough overnight in a cool spot.  I conclude on a preliminary basis then that the extra sour flavor comes from the acidity of the rye sour, or perhaps the bulk fermentation time should have been much shorter than 3 hours because of the whole grain hyperactivity.  After more reading I will try this again and try to tone down the sour a notch or two.  I'd like to be able to taste the bread itself more than this bake allows.  It will be fun learning to manage and bake with double levains.
Thank you Andy (ananda) for the inspiration, and especially for your great descriptions of your double levain bakes to guide me.
Thanks for stopping by
OldWoodenSpoon