November 29, 2011 - 7:53pm
I have learned a lot about my oven this fall.  One of the most important things I learned, though, I just confirmed this weekend with this bake.  I have feared since I finished the insulation layer that my oven was too thin-walled to hold enough heat for multiple bakes.  I also suspected that perhaps I just was not "charging the heat battery" fully enough to make it last.  This weekend was a test of this theory.
This weekend I extended the high-fire burn from 1 3/4 hours to 2 1/2 hours.  I did not burn it any harder than I have before, but I burned it that hard for longer.  The finished temperature of the oven was not that much different from previous bakes.  I could tell by other external observations, like steam coming from the insulation layer, that I had the heat deeper into the oven than before.  The temperature drop during my soaking and equalization period was also quite a bit less.  I figured that was a good thing.   It did throw off my proofing schedule though!  Just one of the joys of learning a WFO.
The plan was to again try to bake two loads in the oven, back to back.  I've tried it before and ended up with undercooked second batches both times.  For this test I prepared a first load of 30% Whole Wheat sourdough boulles (6 loaves @ 770 grams each) that I knew with confidence I could bake off.  The second load was a lighter test of two loaves of "Old School" Deli Rye from the Inside the Jewish Bakery book.  At only two loaves I could bake them in the kitchen if the wfo proved not up to it.  In the end, the wfo proved up to the task.
It was a challenge trying to bring all the timings together, and I only pulled it off, sort of.  I underestimated the soaking and equalization time I needed after the longer high-fire burn.    While waiting for the oven to cool I over-proofed the sourdough, and ended up forcing the oven floor temperature down with repeated damp scuffling.  It worked out though, and the sourdough baked off beautifully.  Next time I will try loading just a few degrees hotter.  Here they are, just ready to come out of the oven.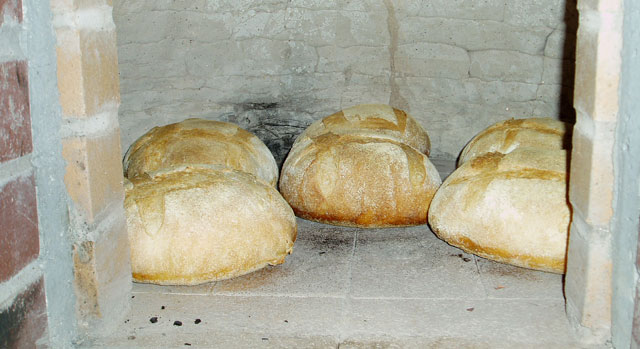 These finished at 208F after 28 minutes.  The bottom crust was not as pronounced as I feared.  I must have gotten the floor cool enough after all.  As soon as I got these loaves out I loaded the rye loaves, even though the oven temperature was a bit higher than the recipe specified.  Nonetheless, they baked off in roughly 30 minutes as well.  Here is the whole bunch on the rack cooling.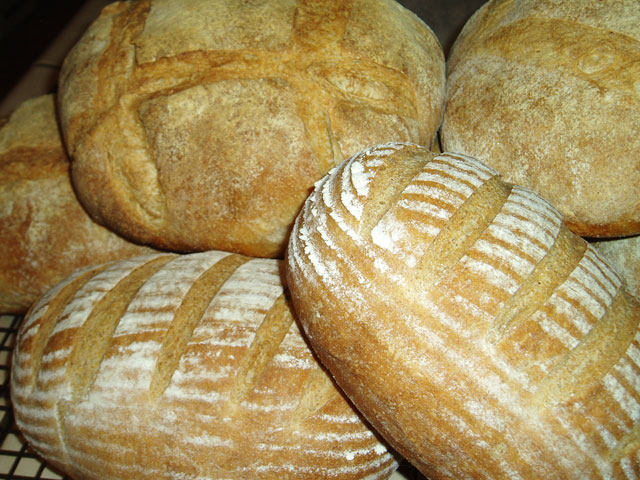 I was very pleased with the crusts on these loaves. They all have that great thin, crisp crust that I think is characteristic of the WFO finish.  Following are the crumb shots.  The sourdough first: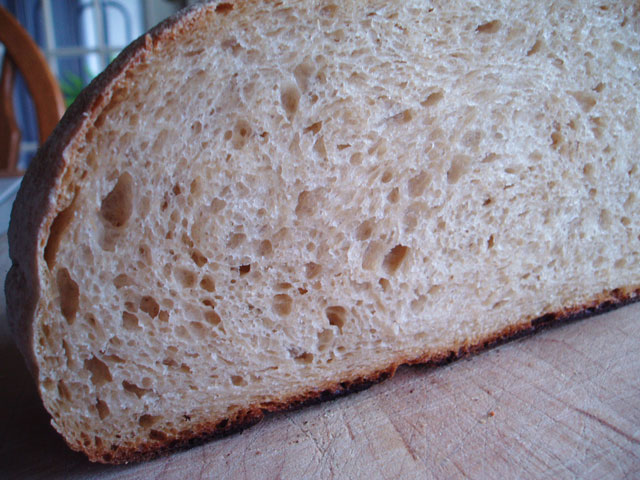 Though quite acceptable and very tasty, there is obviously some tightness in the crumb from over proofing.  As I learn to manage the oven timing better that will improve.
Here is the rye bread: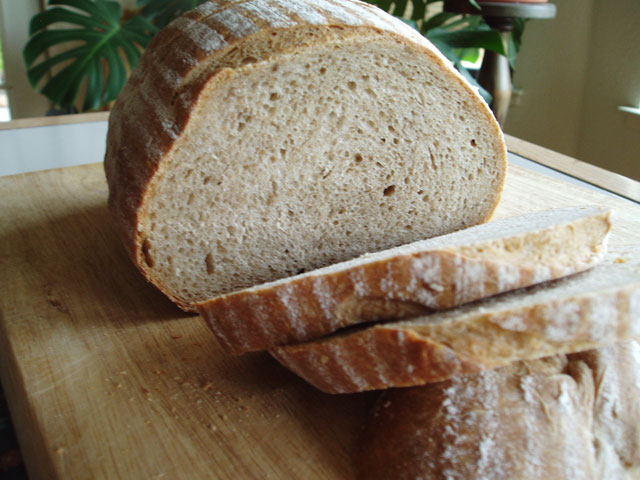 I was very pleased with this result.  I have a short list of improvements to shoot for next time, but the patti-melt sandwiches yesterday were great!  I also gave one of the sourdough loaves, still warm from the oven, to my neighbor and assistant oven builder.  As it happened his newlywed daughter and her husband were visiting, so they enjoyed the loaf for dinner.  Next day my friend said "Don't send that bread over when the kids are here!  Now they're looking for a house in the neighborhood!".  Too much fun!
What did I learn about my oven?  It can bake two loads back to back with no trouble.  I just have to charge it up accordingly.  I need to allow more time in my timeline for oven soaking and equalization though.  I have a big note in my oven management log to "Make the oven wait for the bread, not the reverse!  Start the fire early!" 
I also know that I must finish my oven door.  I have been getting by with just a piece of 3/8" plywood held in place by a brick for an oven door, and it does not fit all that well.  I know, therefore, where my heat is going!  I have a 3" thick solid oak door in progress, but I still need to get the stainless steel heat shield made for it, and get my thermometer.  I also have a little millwork to do to finish the woodwork up before I can do those things.  With that door, though, my heat retention will improve a lot.  As it was, the oven was at 545F (roughly) when I loaded the sourdough, and roughly 435F when I loaded the rye.  It was still over 400 when the rye finished.  I assume the temperature drop was less for the rye bake because it was only two loaves.  Next time I'll prepare more loaves for the second load!
Thanks for stopping by!
OldWoodenSpoon