November 23, 2011 - 5:43pm
Today was my first attempt at croissant making.  I was looking for something that was flaky, but could be used as a sandwich.  While mine turned out kind of small, I'm very pleased with my first try. 
I found this recipe on TFL, then changed it up.  This is what I did:
Mix 1/2 cup of starter, 1 3/4 c all purpose flour, 2 T oil (I used olive oil), 1/2 c warm milk together.  Add 1 1/2 t noniodized salt.  Knead LIGHTLY, for only a few minutes.  Place in oiled bowl with plastic wrap, and put in fridge over night.
Next day: 
--Beat out butter in sheets.  I beat out enough butter to cover the surface of the dough when rolled out.  Chill butter.  Roll out dough as flat as possible, chill
--Take dough sheet in squarish shape, place the butter sheet on the dough in a diamond (points hitting the middle of the dough's sides).  Wrap the dough around the butter like an envelope, making a smaller square.
--Roll out into long rectangle, using water for the rolling pin and hands to assist.  Fold the dough over into thirds--you should have three layers on top of each other.  Roll out.  Repeat folding and rolling again, then put in fridge.
--Repeat the folding and rolling twice, then put in fridge.
--Roll out dough again.  Cut into long triangles, making a wide bottom and a point at the top in the middle of the other two (help me here...what kind of triangle is this).  Roll up the triangle with the flat, two-pointed side first, ending with the top middle point.  Use light flour to help.
--Let them proof.
--Bake 10-15 minutes in preheated 475 degrees Fahrenheit oven.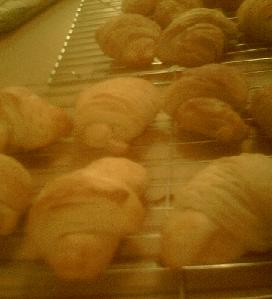 crumb view (sorry, poor camera)
constructive comments welcome