November 11, 2011 - 3:00pm
ITJB Vienna Bread - 5th Try But Still No Joy
My schedule cleared up enough that I could sneak in another test bake of this recipe last night.  Based on yesterday's exchanges with Eric Hanner and MiniOven I made only a couple of adjustments from the previous bake, and in particular changed the rack and tile setup in my oven at Eric's suggestion.  Here is a brief summary of this bake:
1.  Continue with KAF All Purpose flour (11.7% protein)
2.  Continue to exclude malt (don't have the proper malt required)
3.  Continue dough development to just short of full gluten development
4.  Add about 8-10 grams of additional water to bring "apparent" hydration to more acceptable level.
5.  Continue two rises with thorough degassing between for bulk fermentation
6.  Attempt to more carefully and evenly shape the dough
6.  Remove upper tier of tiles from the oven and raise baking rack up (1 slot) to middle of oven
7.  Continue to preheat to 375F then back down to bake at 350F after loading
Part of my original plan was to also implement MiniOven's suggestion for dark baking pans, but alas, I did not find them locally and had to order them.
In summary, there is both good news and less than good news in this bake.  Eric's suggestion to remove the top tiles did pay off well, and the oven spring was much more even and controlled in this bake, where my shaping held up.  That is the good news.  The additional water in the mix returned this dough to a manageable hydration level that was much easier to work with.  I turned out one good loaf and one where the "bottom" seam gave way and the loaf blew up.  That part is my fault.  The basic problem I have been trying to resolve, though, persists.  Despite the changes and improvements in this bake I still have sides caving in.  That is the less than good news.  It is not quite as dramatic this time, but it is clearly still an issue.  Here is a short pictorial review: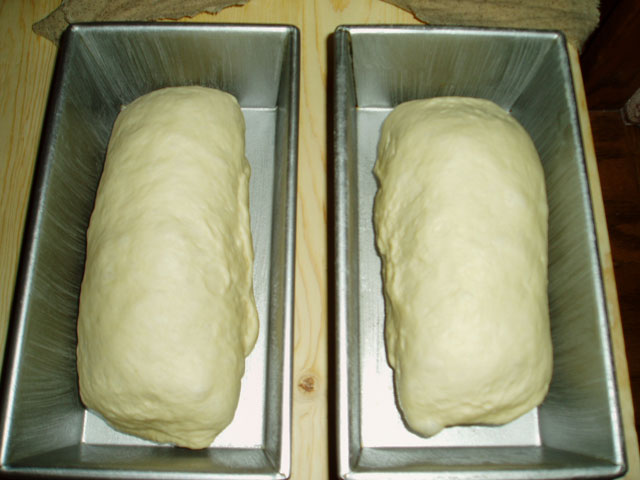 The loaf on the left is the one where I got sloppy in the shaping.  I failed to pay attention to where the seam ended up, and so it ended up around to the right side in this picture.  Because of a taper I allowed in that edge I could not readily rotate that seam to the bottom without ending up with a double crease in the top.  I decided to let it be and take the consequences.  I knew this seam would not hold, but it actually came out a little better than I imagined.  I probably should have rested it and re-rolled it, but I did not.  I did a better job shaping the other loaf, and I did center the loaves better in the pans prior to proofing.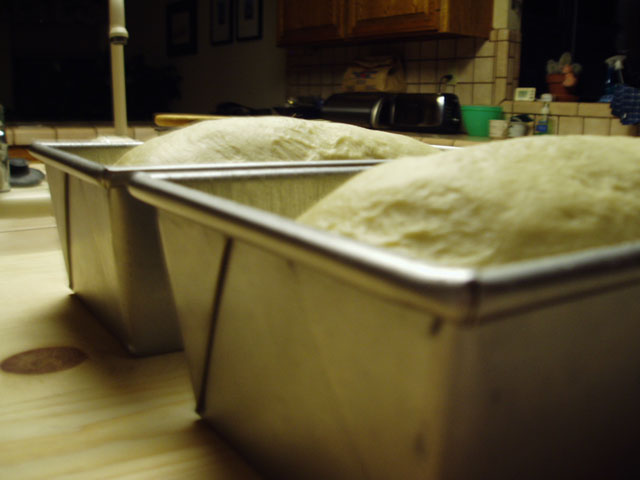 Here the loaves are fully proofed, ready for the egg wash, slash and loading.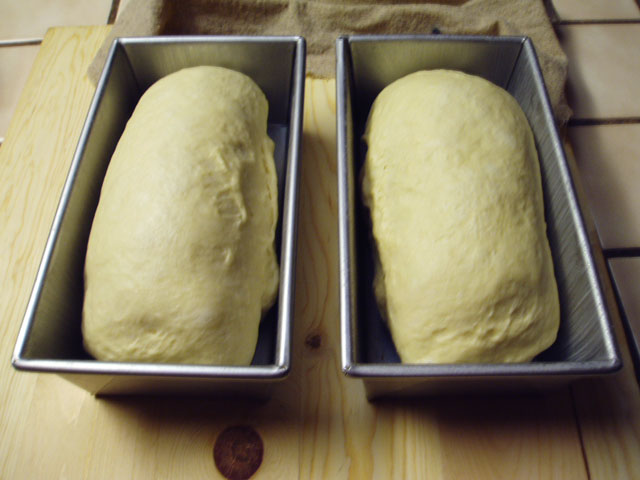 Here you can see how well the proofed dough fills the pans.  That side seam in the left loaf never did proof out to touch the pan, but the oven spring filled that gap quickly.  Nonetheless it remained the weak spot that failed.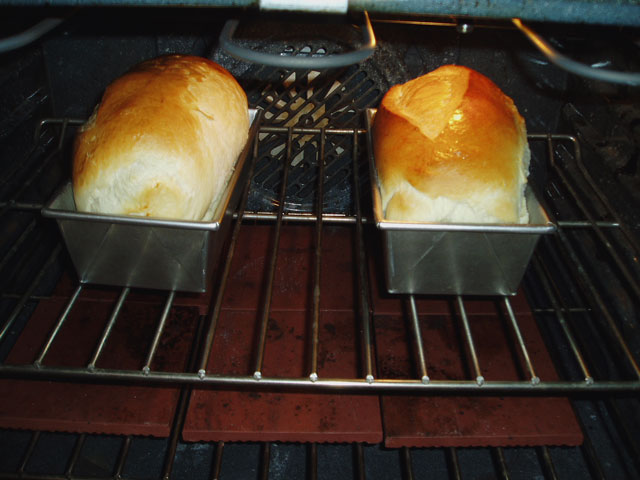 It took 36 minutes to get the internal temperature up to 206F.  You can see above that the loaf on the left has suffered a shaping failure and burst up on the inner edge where that side seam failed to hold.  The above shot also shows the setup for this bake.  No top rack or tiles, and the baking rack is up one level from before, leaving about 1 1/2" more space between the pans and the bottom tiles than in previous bakes.  If that proximity to the bottom tiles was a deciding factor in the problem of the loaf bottoms caving in this should have resolved it, but in the end it made no difference.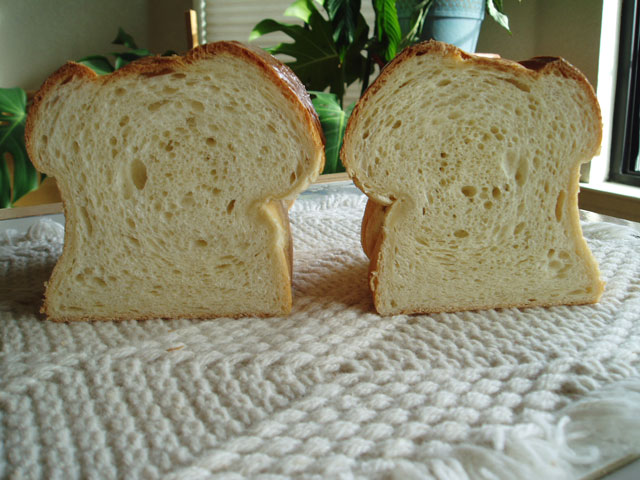 The crosscut above shows the quite open crumb, the clear hourglass figure, and the doughy patches against the side walls of the loaf where internal pressures have compressed dough layers up against the side walls.  Again.  Note that this shot is of the better shaped of the two loaves.  Also note that the oven spring is more orderly and the slash stayed reasonably well centered, indicating the spring in this loaf was pretty much straight up rather than distorting off to one side or the other as has been the norm in all my previous bakes.  This was the main thrust of this particular test bake, and it was a success for certain.  It is pretty conclusive that if I can properly shape the loaves, removing the top tiles will allow them to spring normally.  Thank you Eric!
Since I was not able to bake one of these loaves in a dark pan I still don't have much new insight into the cave-in problem.  I feel like the answer is right in front of me, but because I tend to suffer from tunnel vision when problem solving I am missing it.  I plan to leave this and go on to other baking until my dark loaf pans come in and I have some non-diastatic malt on hand.  At that point I will hopefully have achieved some distance from this issue so I can open the book and try this again from a standing start, by the book, doing my best to approach it as my very first encounter with this bread.   That's todays thought anyway.
Thanks for stopping by
OldWoodenSpoon