November 6, 2011 - 11:40am
Hello,
Here is another attempt of soft butter honey rolls.  I used the following hydration estimates for the following ingredients:  Butter = 17%, Honey = 75%, Eggs = 75%, Milk = 90%.   My targeted overall dough hydration was 66%, and fortunately the dough was spot on.  Nice and pliable, not sticky at all, but not too stiff/dry either.
Here was the recipe I made w/pics.    All flour was KA bread flour, all weights in grams.
Total Dough Weight: 950
Targeted Dough Hydration: 66%
Total Dough Flour Weight: 572
Total Dough Water Weight: 378
Percentages:
    
Leaven Percentage: 39%
Leaven Hydration: 100%
Starter Percentage: 20%
Starter Hydration: 125%
Butter Percentage: 20.0%
Eggs Percentage: 10.0%
Whole Milk Percentage: 10.0%
Honey Percentage: 10.0%
Salt Percentage: 1.8%
Baker's Yeast Percentage: 5.0%
Levain Sour:
Flour Weight: 203
Water Weight: 198
Starter Weight: 45
  
Final Dough:
Flour: 349
Butter: 114
Eggs: 57
Whole Milk: 57
Honey: 57
Salt: 10
Baker's Yeast: 29
Procedure:
1) Mix ingredients for levain and ferment until ripened.
2) Mix all ingredients into final dough.
3) Bulk ferment 90 mins, folding the dough once half-way through.
4) Scale rolls at 50 grams, I could fit 15 in a 13x9 pan, with an initial space between each roll (they will join together as they rise).
5) Final ferment 60 mins, or until fully risen.
6) Make an egg-wash + butter glaze, brush before bake.
7) Bake at 375F for 40 mins.
I made 15 rolls for a single pan, and some extra which I made a small loaf from.  The crumb is shreddably soft and light, the crust is also light and flakey.
Pics.
First one is about 15 mins into the final rise, the first balls I shaped had just started to join together: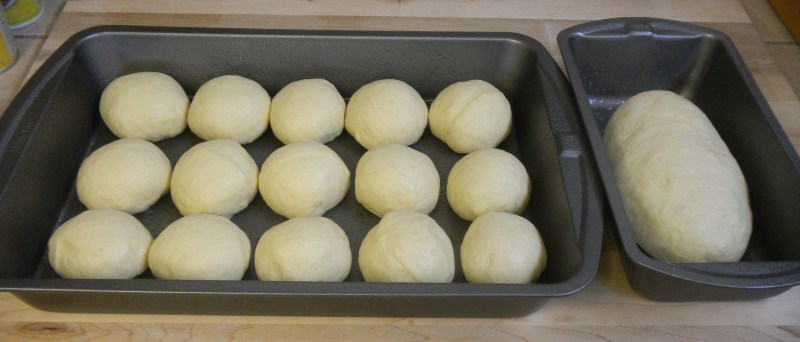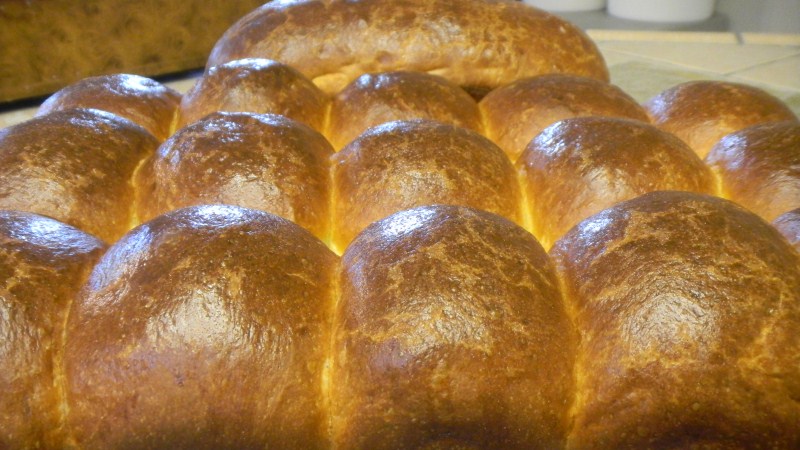 I cut open the loaf to sample it.   (Saving the rolls for now..)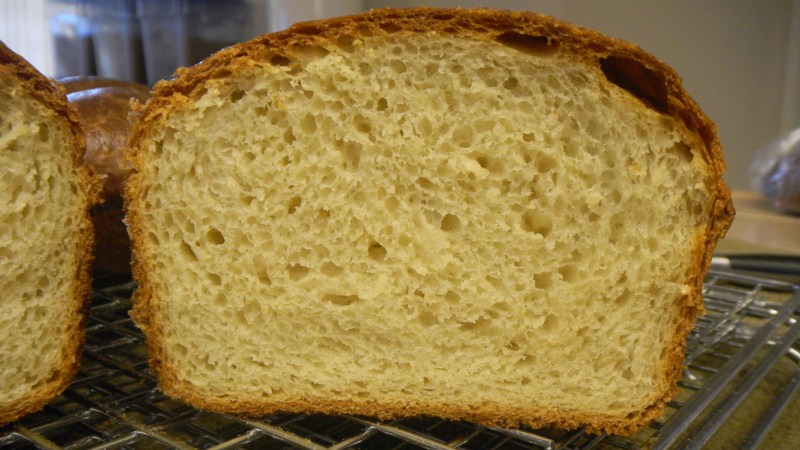 Happy baking!