October 17, 2011 - 10:53am
Malt crackers – as a good way to use diastatic flour.
I purchased excessive quantity of malted coarsely-chopped wheat grains in brewery supplier's shop.
After milling this grain in flour it was not clear how one can use these quantities (1 kg) since we add only 1% of diastatic malt to dough.
After searching and thinking I created a recipe by myself, receiving golden, crispy and very healthy crackers. It's wonderful to eat with home-made cheese, cream cheese, salty dip or jam.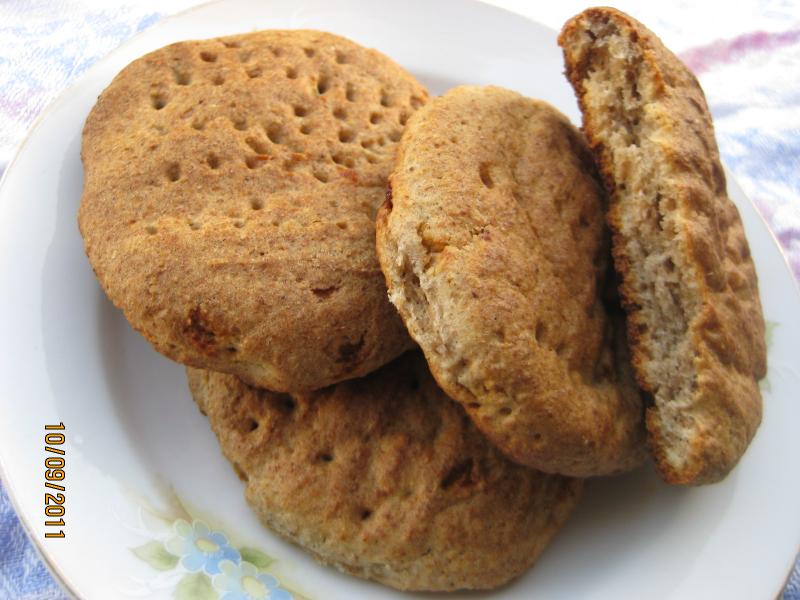 Ingredients:
This quantity is enough for 9 big crackers.
 100g malted flour
100 g bread flour
1 tsp of guar gum (you can find it on a shelf with non-gluten baking products)
1/8 tsp of salt
1 Tbsp of DME
30g of soft butter (optionally)
½ tsp of baking powder
¼ tsp of fresh granulated yeast
100 ml of buttermilk /yoghurt (I used very thick home-made buttermilk), non-sweetened
1 egg (room temp.)
Heat the oven to 200-210 C.
Mix all the "dry" components. Beat butter and egg in a bowl for a short time.
Arrange together - dry mix, egg-butter mix and the buttermilk to sticky dough.
With wet hands make small circles, pierced with a fork and put them on a baking sheet at a small distance from each other – about 3-4 cm.
Crackers should be ready after 15 min.