October 8, 2011 - 11:37pm
Hamelman's Flax Seed Bread
This is Flax seed bread from Hamelman's "BREAD", i baked two days back. It is a 60% Rye bread with soaked flaxseeds. I used Wholegrain Rye in the Rye sour instead of the medium Rye called for. I also adhered to Hamelman's recipe and procedures, including the addition of 1.5 tsp of instant yeast in the final dough.
This Rye dough with flaxseeds is very sticky! I had to add 2 Tbl of Vital wheat gluten to the white (12% protein) flour to emulate the strength of High gluten flour. The dough ended up very .. very thirsty, that i ended up adding almost 75g more water to the final dough to get the consistency of the (paste) right. Once i immersed my hands (i mix entirely by hand) into the dough, i knew i had to toil in the pasty mess for at least 20 minutes trying to get whatever white flour in there to develop.
The dough kept on tearing even during shaping, but i finally managed to get them into floured lined banettons.
The only way to get this boule to bloom properly was load it seam side upwards.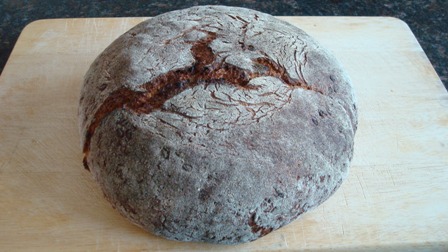 Lower Profile due to all the added hydration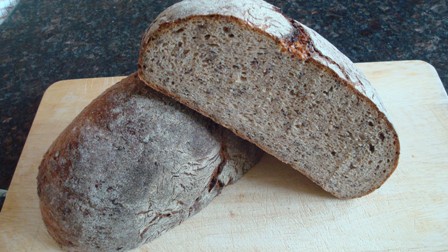 But with a very evenly opened textured, and moist crumb.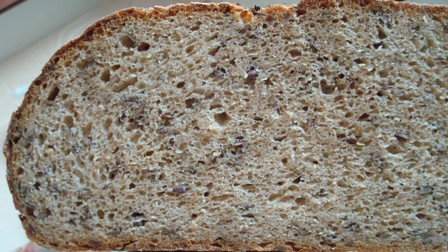 The dough, although quite a hassle to mix, does make a wonderful Rye bread, with a flax seed crunch and a pleasent soury note. My elder family members loved this bread. It is wonderful with cream cheese, or pastrami.