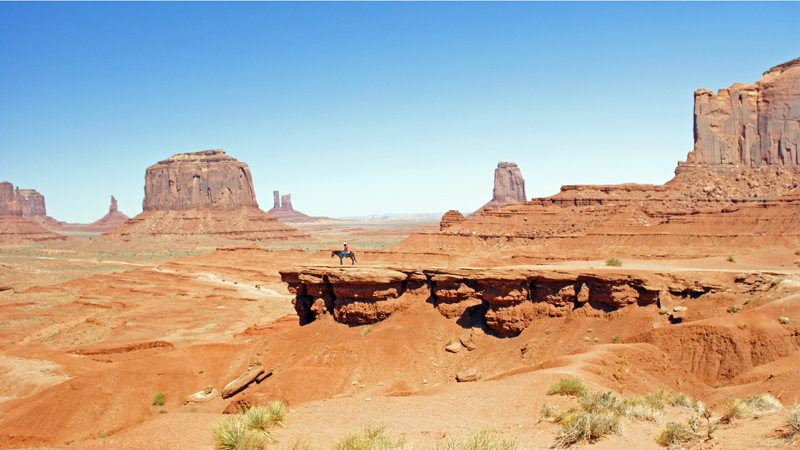 A week ago I was touring the Southwest's canyons--Grand, Bryce, and Zion--National Parks. The tour included a half-day visit to Monument Valley, an awesome natural phenomena of towering monolithic rocks, owned, and managed by the Navajo Nation on the largest American Indian reservation: 17,000,000 acres covering parts of four states. Monument Valley was made known to the rest of America, and the planet, when, through the efforts of a trading post owner and manager, the well-known movie director, John Ford, learned of it. He made nine movies there, all during the Great Depression years--most featured John Wayne--subsequently, the site has hosted the production of scores of movies, TV productions, and advertisements benefiting the the Navajos, especially in the lean Depression years.
En-route to Monument Vally we stopped at yet another Trading Post--we'd already visited a sufficiency for me--but I was surprised by its adjacent gallery offerinng some of the finest native crafts I've seen since the 70's, and a rug weaver at work--I photographed just her hands--on two small pieces. She'd just completed a thirteen-month stint doing a larger rug (9 x 12 ?) whose price tag read $60,000.00. It hung is the restaurant where I had a delicious lunch of Chili Verde soup, and a side of Navajo Fry Bread. I was pleasantly surprised by its chewiness (the bread, not the soup) and no hint it had been deep-fat fried.
The trip through the valley, conducted by Navajo guides, was worth braving the dust and heat. We were treated to a running history of Kit Carson's cruelty to the Navajo's, the largess of the Movie Industry, and a reverence for the man, Harry Goulding and his wife "Mike" (Leone), owners of the trading post, who almost single-handedly lured John Ford to "discover" the valley, and provide work for the Navajo during lean years.
Home again, I recalled the Fry Bread, and, curious as ever, googled recipes and history. I won't go into details, but it appears that in the 19th century Fry Bread became, of necessity, a staple in the Navajo diet, when damn little else, other than flour, lard and a little sugar, was available from the government. Blue Bird Flour seems to be the universal Navajos' choice for making Fry Bread, although I couldn't find out why. Cortez Milling, CO is its sole producer, and has only been in business since 1964. (Perhaps, they bought the brand). Here's a newpaper clip from the Navajo Times re Blue Bird flour.
http://navajotimes.com/business/2010/0910/093010bluebird.php
Haven't made it; don't think I will; but enjoyed it, and will order it again given the opportunity. Loved the chili, and the history. It fascinates me that bread, simply bread, has played major roles throughout history; this is yet another example.
David G