September 23, 2011 - 10:58am
Crispy crust on a soggy day?
UPDATED: Adjusting ingredients as shown below, and a bolder bake — to nearly 220°F internal temperature — yielded pleasntly crunchier crust with even more pronounced flavors. Color is so bright I think I may have forgotten to add the rye flour. I've decided I like the formula both ways, just depends on what a person wants. New photos at end.
Original post
I'm aiming for breads with good hearty crust and a soft crumb--but not gummy, undercooked or overproofed. Several of my other breads are close to where I want them but I still struggle consistently getting the result I want from the kind of white breads so many people post here. 
This bread and the four slight variants of it that I've mixed and baked recently all taste really good. This loaf actually has that nutty flavor in its crust that doesn't always show up. The crumb is soft and moist but not gummy at all. All good. But within half an hour out of the oven the crust had gone from a proud, knocking sound when tapped with the closed fist to a softish thud. Cracks only appeared where large bubbles reached the surface—never got that overall crackled finish like can be seen on white porcelain. This is probably nitpicking but I was also looking for a more open crumb. 
It feels like excuse making but I wonder if it's the weather that might've made this crust go limp, or my oven? Humidity was close to 100% overnight, this morning while it baked and while it cooled. Or maybe I've reached the limits of my bottom-of-the-line slightly leaky home gas oven? As for the crumb, possibly a little less kneading and/or switching the bread flour from the starter to the final dough would help open it up a bit more? I haven't mastered higher hydration doughs than this so please don't tell me to add more liquids.
This is a really good bread which people rave over and even request but I'm bothered that the crust isn't getting to where I think it could be and the crumb is just slightly less open than I want.
Photos and formula below. Thanks for any suggestions.
Sam
Note: modified quanties indicated by strikethrough of original, like this.
Formula and process:
KA bread flour + KA AP AP Flour, Conagra Chef's Delight: 168 g from starter + 400 g + 50-75 g added in first mix.
tap water: 112 from starter + 320 g + about 100 g to add if needed while mixing 
whole rye flour: 30 g
salt: 18 10 g  
starter included in above quantities : 280 g total (40% hydration: 168 flour + 112 water)
honey: 45 25 g 
olive oil: 45 25 g 
ground ginger: 1/4 tsp
apple cider vinegar: 1/2 teaspoon
soy lecithin: 1/2 tsp
instant dry yeast: 6 g
malted milk powder: 35 12 g
plus 2- 3 Tbsp. softened butter olive oil to coat proofing bowl 
Yield: one loaf, 1195 g approximate total dough weight, 1040 g out of oven
Needed to add the water held back after first "shaggy" mix. Mixed the dough only a couple of minutes after it began to show signs of window panes, 10-12 minutes in all at mostly high speed. Placed dough in a buttered bowl, covered and left in the refrigerator (about 40°F) for 21 hours. Quick, gentle shaping and baked an hour out of the refrigerator: Steam for ten minutes at 475°F on stone, remove steam, rotate, lower to 460°F for 15 minutes, remove parchment and lower to 440°F checking every ten minutes and rotating as needed until internal temp of 205°F achieved, about 55 minutes in all. Sliced after two hours. 
Crust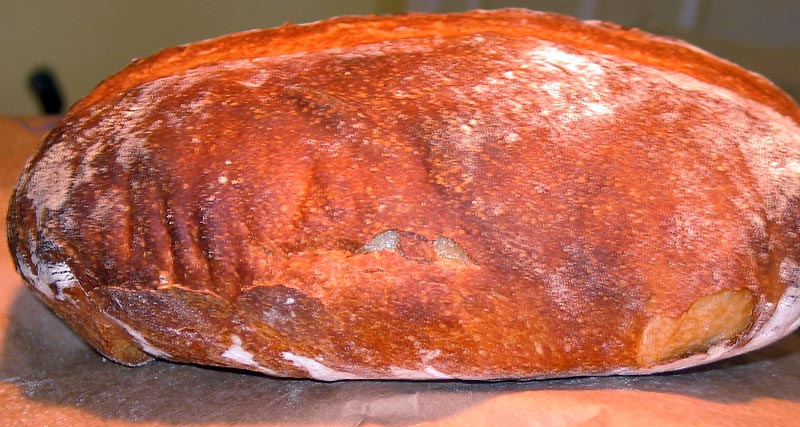 Crumb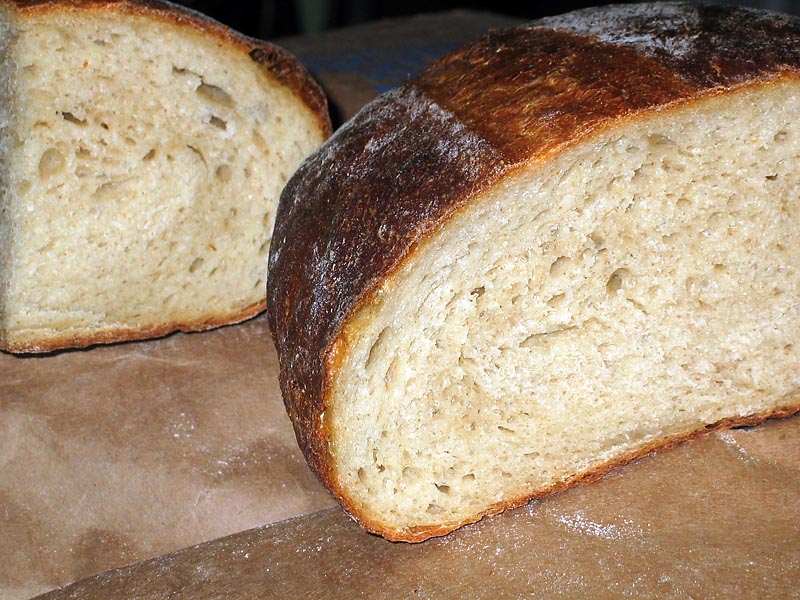 New photos
Top crust: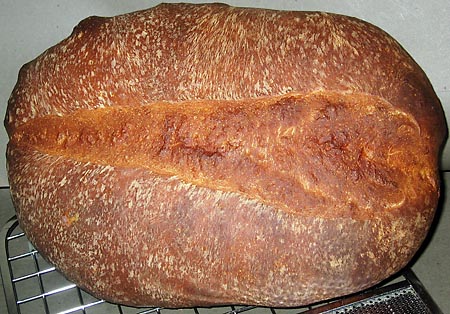 Bottom crust: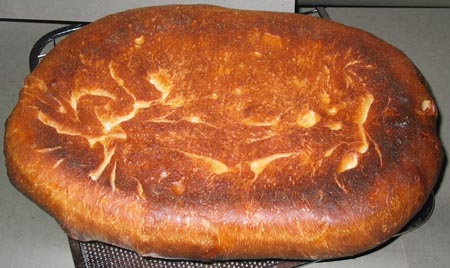 Crackles closup:

Crumb: