September 21, 2011 - 2:06pm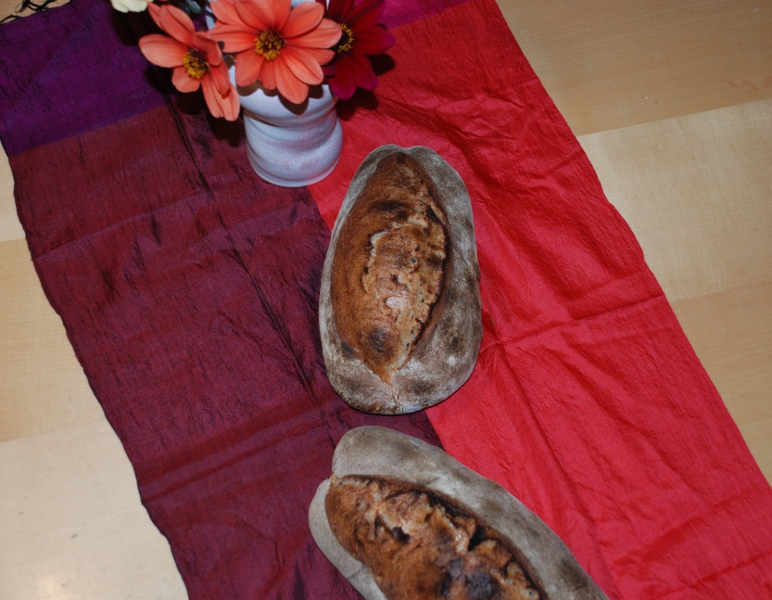 Ever since I saw Lumos' post on her interpretation of Poilane's bread I have been meaning to make it.    But, but, but.... I don't have spelt.   I have to drive for spelt.   I already have 10 bags of flour on my shelves.   There's no room for my son's cereal.     Yesterday I looked at the formula.    Just a bit of spelt.   You could make it without spelt.    I decided to make it without spelt.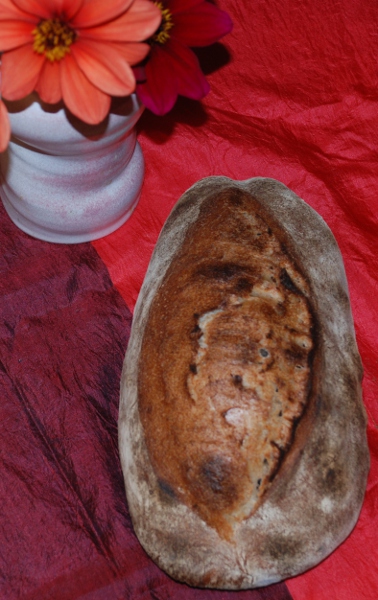 Otherwise I stayed true to Lumos' formula if not method.   I had exactly one day this week where I could bake in my WFO and I didn't want to miss it, so no overnight retard.     And I prefer to stretch and fold on the counter if at all possible so I did that as well.   Even though the hydration of this is 75% which is higher than I have been doing lately, the dough was not particularly wet or sticky and handled very nicely.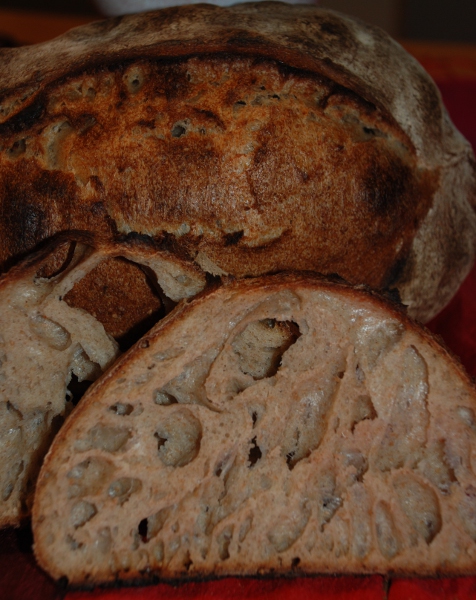 I was on a tight time budget, so I had to build up the fire as fast as I could to get everything going.   Fortunately my wood was dry thanks to my tarp and Eric's put the next load in the oven after baking trick.   and I got the oven up to temperature in just over an hour.    I tried Sylvia's throw flour on the hearth trick to see if I was going to burn the heck out of my bread and the flour burned slowly so I figured I was ok even though the temp read over 700degF.    My cuts opened, my crumb opened.   My starter seems to be fully recovered after its bout of vacation neglect.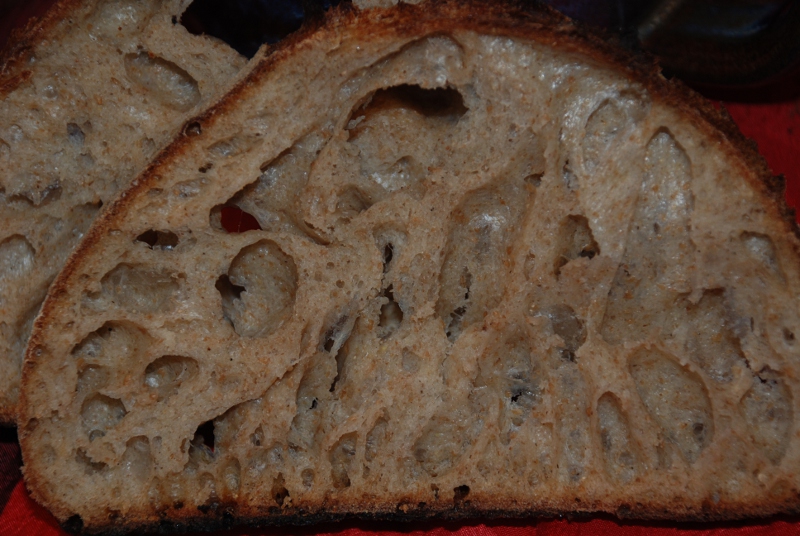 And I would have to say the resulting bread is around the tastiest I've ever made.     Maybe I always think that about my latest effort, but no I'm serious.   This is really delicious.   Thank you Lumos!
Modified formula:
Starter from 9/18

70%

 

 

 

Final

Starter

Total

Percent

KAAP

360

140

500

67%

Rye

90

7

97

13%

WW

150

 

150

20%

Wheatgerm

15

 

16

2%

Malt

10

 

10

 

Water

455

103

558

75%

Salt

13

 

13

1.7%

Starter

250

 

 

20%

 

 

 

1344

 
Method:  Mix all but salt.  Autolyze 30 minutes.   Add salt.   Mix in stand mixer for 5 minutes at medium speed.   Bulk ferment for 2.5 hours with 2 counter stretch and folds.   Cut into two and preshape.   Rest for 20 minutes.   Shape into batards.   Proof in couche for 2 hours.   Bake in WFO for 15 minutes with steam, 15 minutes without.