"Woodstock" Bread - Whole Wheat with Lots and Lots of Seeds
I have a houseguest visiting from New Mexico.  His theory is that "healthy" bread is bread with lots of seeds in it.  We went over to the "Grateful Bread" store in Sacramento and he picked up a loaf of something they call "Woodstock" bread, a whole wheat loaf with lots of seeds in it.  My friend thinks it's named after the little yellow bird in the Peanuts comic strip who would no doubt consider birdseed a gourmet addition to bread. 
It was pretty good, so I had a hand at trying to duplicate it.
Initially I baked a 100% whole wheat loaf, 67% hydration, with a tablespoon each of sesame, poppy, and sunflower seeds and pine nuts.  The dough was a bit dry so I added a bit of extra water.  The resulting loaf didn't rise as much as I might have wanted, was a  bit dense, and didn't really have as many seeds as the loaf from the "Grateful Bread" store.  I'm not sure if the dryness and density of  this first effort was due to absorption of water by the seeds or a peculiarity of whole wheat flour (which I usually don't use).
I tried a second loaf, throwing in three times as many of the same seeds plus an equal portion of flax seed.  In that loaf I added the juice of an orange to the water on a whim and added 10% white bread flour, plus some brown sugar to give the yeast a bump.  The result had about the right seeed content but the orange juice made it too tart for my taste.
I baked a third loaf using straight water with no orange juice.  It came out pretty good, lots of seeds, nutty flavor, not too dense.  I'm pretty happy with the formulation, and it comes pretty close to the loaf we bought at "Grateful Bread". 
INGREDIENTS:
450g Whole Wheat Flour
50g Unbleached (white) Bread Flour
1 tablespoon instant yeast
1/2 Tablespoon salt
1 Tablespoon Brown Sugar
3 Tablespoons poppy seeds
3 Tablespoons toasted sesame seeds
3 Tablespoons sunflower seeds
3 Tablespoons flax seeds
3 Tablespoons pine nuts
400g water
PROCEDURE:
Combine all ingredients in a bowl and mix with a stand mixer.
Bake at 450F for 25 minutes.
RESULT:
A nice loaf with lots and lots of seeds.  The pine nuts seem to add a nutty sort of flavor.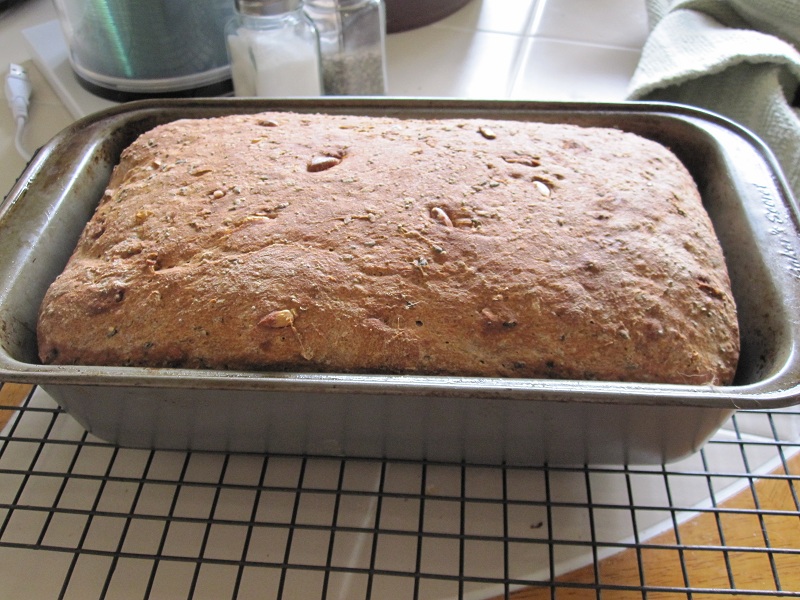 ^Loaf Photo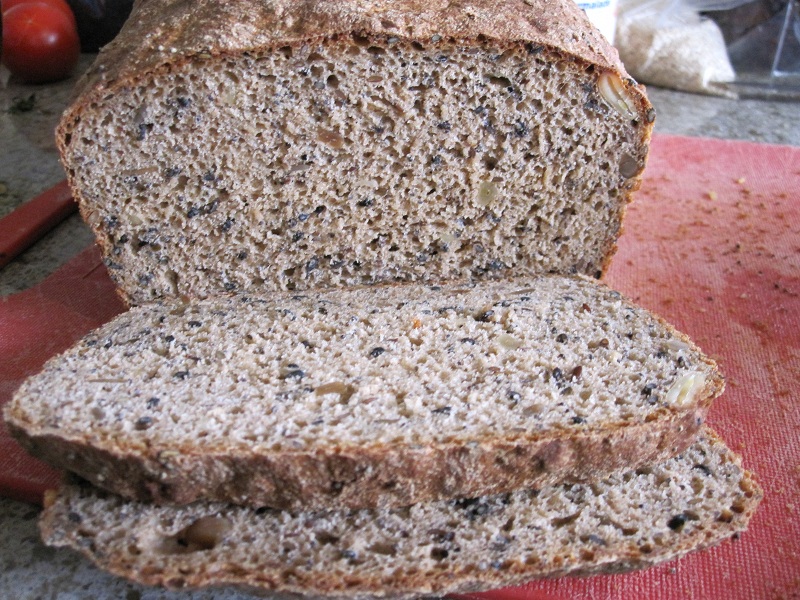 ^Crumb Photo