Spelt Sourdough (after Eric Rusch's formula)
I recently found Eric Rusch's Spelt Sourdough at his breadtopia.com site, and gave it a try (http://www.breadtopia.com/spelt-bread-recipe/). I loved this recipe, and since my wife prefers spelt over wheat, I decided to try tweaking it for our everyday sandwich loaf. I've been around on it a few times and think I've come up with something pretty good as an adaptation of Eric's wonderful hearth loaf formula:

For each loaf:
Dry ingredients
530 g spelt flour 100%
10 g salt 1.9%
1 T. Vital Wheat Gluten (this could be omitted for people with wheat gluten problems, but I find it helps the rise)
1-2 T each sunflower seeds, sesame seeds and flax seeds

Wet ingredients
350 g water 66%
3T (64 g) honey or molasses, or a mix 12%
1/4 c. starter (I have a spelt starter @100% hydration)
(I sometimes augment this with a pinch or two of commercial yeast)

I mix this in two-loaf batches, let the mixed dough rest for an hour, then do 4 stretch-and-folds before putting the dough in the refrigerator for the night. In the morning I degas the dough a bit (to get fewer big holes) as I form the loaves, place them in 4.5 x 8.5 inch loaf pans, cover and let rise until they're 1.5 times their original size (this can take as long as six hours on some days). I score the loaves lengthwise (which you can see in the picture), then bake 1 hr. at 375° F to an internal temperature of 200°.  My family loves the flavor and texture of this bread, and with the seeds it's a little homage to Dave's Killer Bread, which is made here in Portland, Oregon. :-)

As you can see from my photographer daughter's picture, we couldn't quite wait the full hour before cutting into this loaf, but it should give you an idea of the crumb.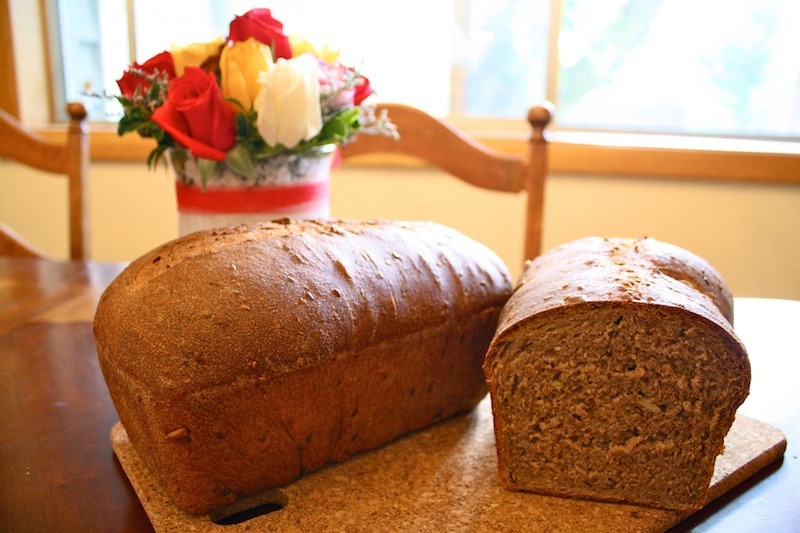 Thanks, Eric, for this terrific bread recipe!

Toneweaver (Brent)