First bread in rebuilt WFO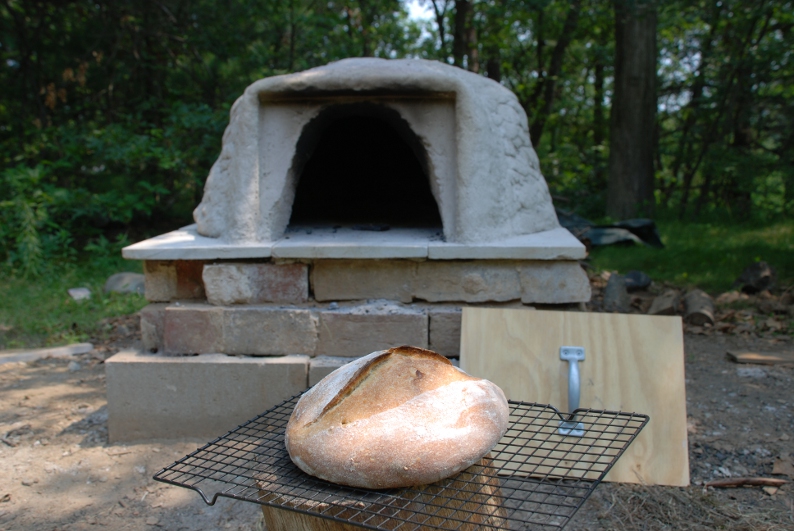 Last year, I built a WFO platform and hearth,  and a dome out of sandy dirt that I dug up from a pile in my yard.   I had hoped (and convinced myself) that there was enough clay in the dirt to make the dome hold together.   That was not the case.   The dome slowly crumbled over the course of the summer.   I patched it up and patched it up again and finally wrote it off in the fall.    Amazingly the platform survived intact through a very difficult winter.   This summer I decided to build a new dome using real instead of imagined clay.    So I bought fire clay from a potter's supply and with help from my husband mixed up 600 pounds or so of clay, sand and water and built a new dome.   Then my husband, who finally took pity on me taking on a project like this with no building skills whatsoever, decided to make me a good door.   He built an offset with the leftover clay/sand mix which perfectly fit a door made of thick plywood.   This morning after waiting forever for the oven to dry, it was time.   I fired it up (and up and up and up) and finally loaded it with a loaf of bread.   After 30 minutes, I checked it, and the loaf was pale, so I closed the door and let it bake for 15 more minutes.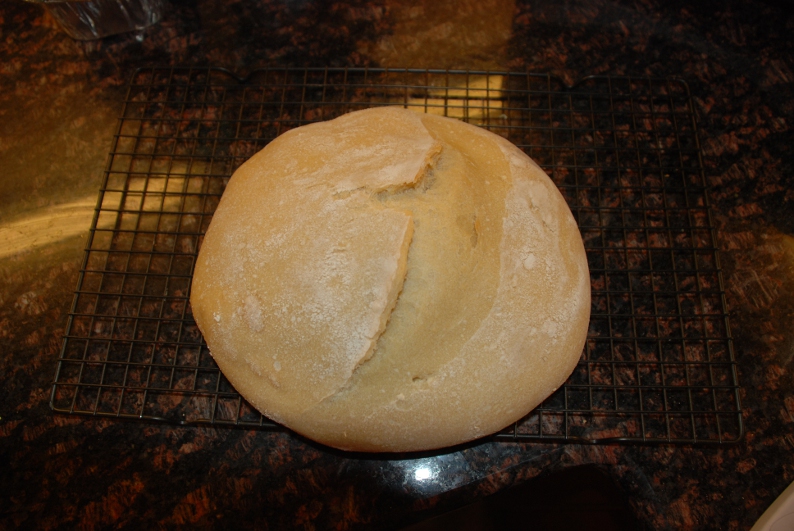 The loaf was still pale, but I checked the interior temperature and it was 210degF.    Then I paced around in the yard pulling weeds and thinking this over, and finally figured out that the door was so carefully fit that no steam was escaping from the oven at all (I didn't add steam but there is plenty of moisture in the dough) and the crust simply hadn't baked even though the bread had.   By that time I had opened the door so much that the heat was way down, so I took the loaf inside and baked it for 15 minutes at 450 to brown it up.    I certainly didn't have this problem last year, when the door was just a piece of plywood leaned up against the opening with plenty of room for steam (and heat) to leak out.   Fixing this isn't as easy as you would think - the door is fit so tightly (and the bottom beveled so that it's flush with the hearth) that you can't just move it over a bit.   Undoubtedly a precision venting system is now on the drawing board.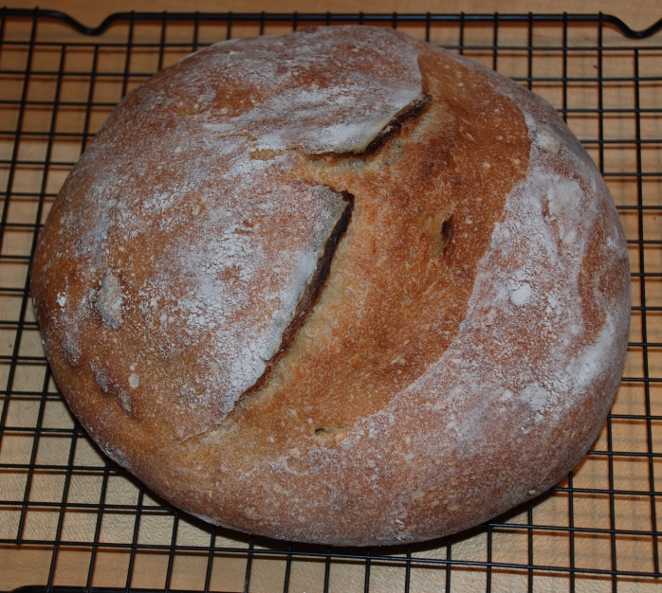 But anyhow, the bread.   I decided to go back to yeast water, since I didn't think I had much chance for success today, given that i was just getting to know the oven.   I continued reducing both the hydration of the yeast water based starter and decreasing yeast water as a percentage of total water.   I also interpreted an earlier post by Andy (on enzyme issues in high ash content flour bread) pointed out to me by Juergen Krauss and added salt with the first mix instead of autolyzing.  All this seemed to get the enzyme problems I've been having with yeast water doughs under control.   But perhaps not completely so, as you can see below.   But (as seems to be a feature of yeast water) this is a delicious bread and more successful than I expected under the circumstances.