Eagle Mills' Un-bleached All-Purpose Flour: a critique
Yesterday, shopping at the local supermarket, I was seduced by "Since 1856 Eagle Mills® has provided artisan bakers with the highest quality flour of the day....blended with Ultragrian®, ... with the clean taste... of white flour." Nothing unpronounceable, nor frightening appeared in the ingredients,  and $2.99 for a 5lb. bag wasn't a disincentive. I'd never heard nor read about Eagle Mills flour, and new on the shelves of an often visited market. I bought a bag.
Later in the afternoon I mixed my weekly dough formula for three baguettes routinely retarded overnight. The only difference: Eagle Mills Un-bleached All-Purpose flour in place of my usual trusted AP flour. This morning I baked three baguettes.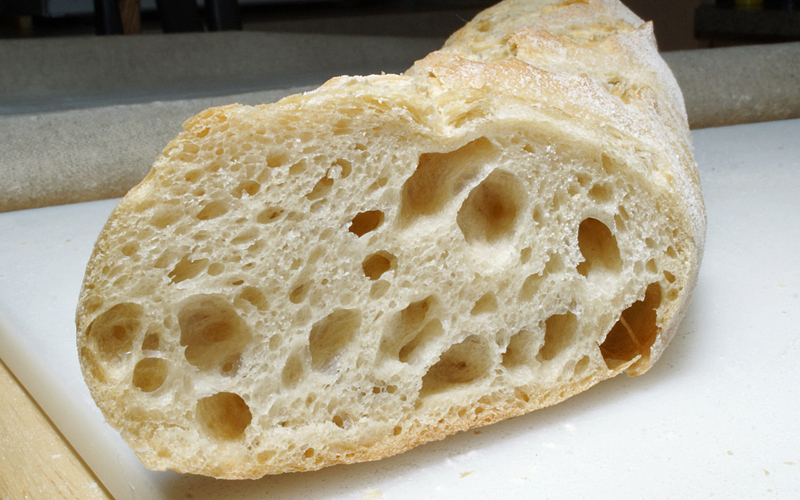 I want to stress the ONLY difference in these baguettes is the flour, compared to approximately 300 baguettes made over the past 2+ years. The other ingredients (salt, yeast, water) were the same brand, source and quantities. Similarly, mixing, manipulations, times and temperatures were as identical as reasonably posssible. I can't swear the hydration was the same for all past bakings--I experiemented with between 65% and 72% for a long time. However, my goals from day 1 was good flavor first, repeatability batch-to-batch second.
External appearances were very similar, but that's where the similarity ended. Even before I cut into a loaf, the smell was "off", not unpleasent, but not recognizable. The crumb, as seen in the photo is reasonably open (67% hydration), but lacks the translucent luster routinely experienced with the usual flour. This loaf's mouthfeel is only slightly less al dente, but not at all unpleasent. Cut, the crumb's smell is distinctly lacking in what I think of as "wheaty".
The loaf's flavor is its biggest disappointment. Insipid, not only does it fail to deliver the advertised "clean taste...of white flour", but, for me, it left a rather unpleastent, lingering aftertaste.
Tomorrow, its back to the flour I've come to trust. Being frugal (tight-fisted?) I won't discard the remaining flour; I'm certain it will make roux and thicken sauces gravies quite well, after all a a well-made roux never has a floury taste ;-)
David G