Protein content VS. Gluten Content: An Experiment
I Have been been wondering about the correlation between Protein content in flour and their useability for baking. Through some web search,I learned that Protein content of a flour gives nothing more than a hint as to the strength of the flour. I read that some amino acids (that make up protein) are usually soluble and contribute little to the strength of a flour.
In search of more information, I came across this video : http://www.youtube.com/watch?v=i6oQNo4gpeE. and instantly, i thought of applying the procedure to my flours. 
I have several flours, but have purchased lately some Hovis strong white bread flour, with protein of 12g. On the other, i usually stock some regular plain /all purpose flour. Though nothing is printed of the protein content on polypropylene sack of 10Kg. of the latter flour, except: a star (as in white flour, 2 as in wholewheat), and a statement : "Bakes good everytime!", I always assumed that the my plain flour comes from the regular flour sold in 1Kg, and 2 Kgs. paper bags. I could be wrong?? there is nothing such as "Bread flour" in Dubai. It is either: "All purpose flour", "Chapati Flour" or "Whole Meal Flour".
So, i ventured on to the comparision. I Made two identical dough of  each flour, and let them rest in the fridge for 1/2 hour, and then drain their starch by washing them under running water. I obtained two blobs of Gluten.
The two blobs of Gluten. The one on the right is the Hovis, and the left is the All Purpose.(note the Smooth texture of the Hovis one, though could be attributed to the long rest period - 5 hours) in the fridge, as i had to leave the house.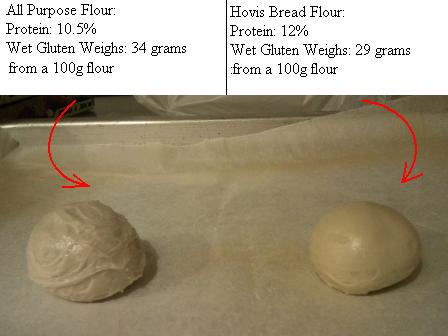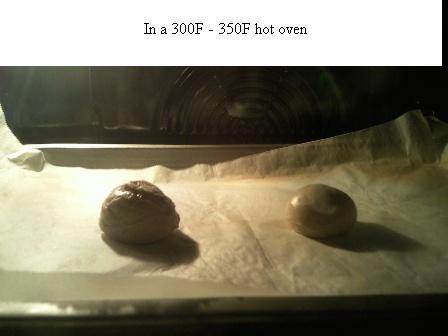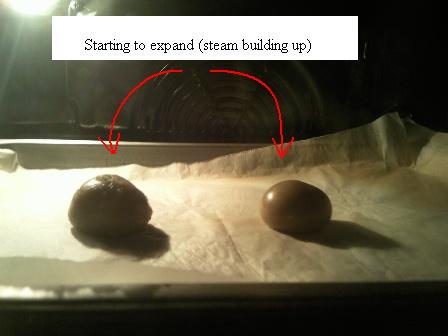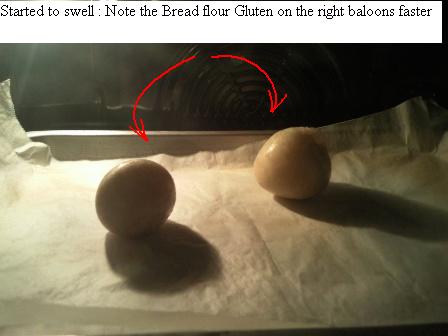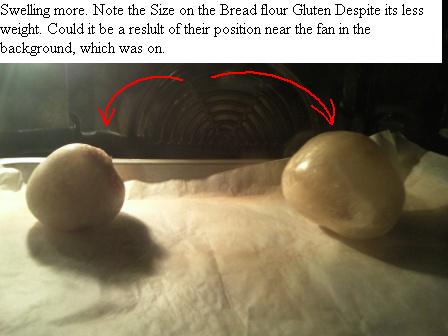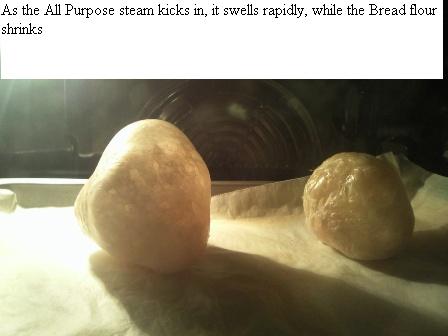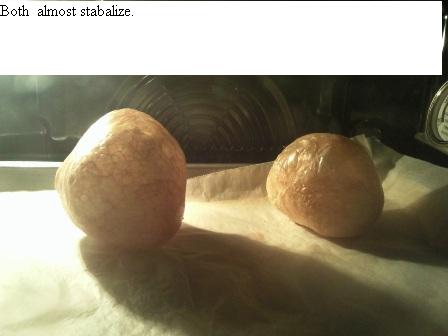 After they dried, i weighed both glutens. All Purpose is: 12 grams (12%), and Bread Flour is: 10.7 grams (10.7%)! Quite the opposite of what i was expecting..!!!
Is this a reliable way of knowing the actual protein content of a flour? i can understand
That a 12% protein flour has some dissolved amino acids that were washed away, to become 10.7% protein gluten, but a 10.5% protein flour becomes a 12% dry gluten?? Furthermore, the All Purpose had more wet gluten than the Strong Bread flour.
Although, those results are hardly conclusive, i find myself quite intrigued by them.
Anyone?