Chile and Cheese (two quickbreads and one sourdough)
Hello,

These are three bakes using chile (jalapeno or chipotle) and cheddar cheese (I've had a craving lately for some spicy things!).

The first bake is a Cornmeal Biscuit with Cheddar and Chipotle, an old favorite from Bon Appetit Magazine, March 2006: http://www.epicurious.com/recipes/food/views/Cornmeal-Biscuits-with-Cheddar-and-Chipotle-234118

The baked biscuits (cheesy, oniony, with some background heat from the chipotle); we love these!: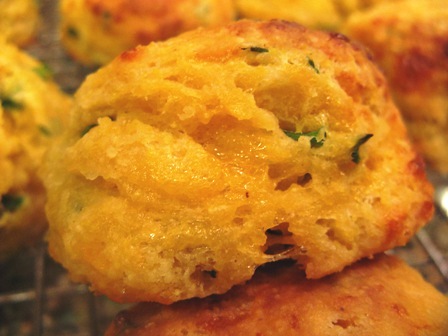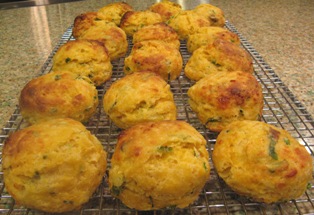 It mixed up into a wettish dough; I folded the dough a few times incorporating some extra flour.
I froze the biscuits before baking: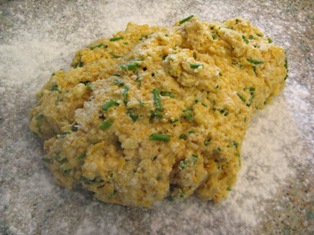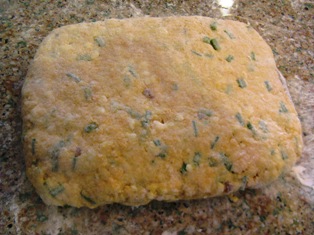 The second bake is Sourdough Cheese Bread from Advanced Bread and Pastry (scaled to 1500 grams for two loaves, including 212 grams cubed sharp cheddar and 90 grams diced, seeded jalapeno slices (from a jar)).  Lots of gooey cheese melting out during the bake! I've been wanting to try making a cheddar and jalapeno bread for a long time.
We couldn't wait to let this cool down before cutting into it to try. Mmmm, good!: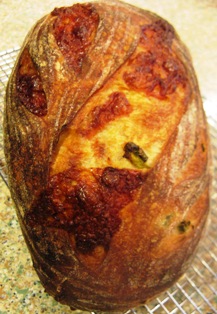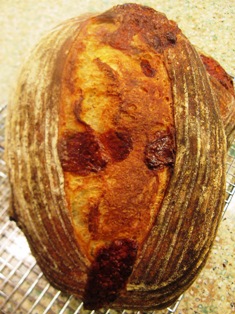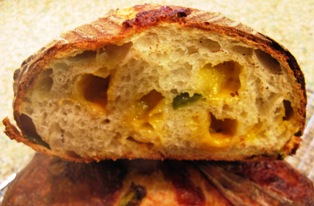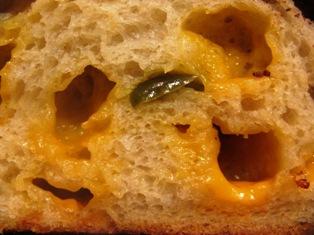 The third bake is Southwest Corn Bread, from Baking Artisan Pastries and Breads by Ciril Hitz.
With thanks to Mr. Hitz for this lovely corn bread formula! This is a Cheddar, Corn, Chile and Lime version.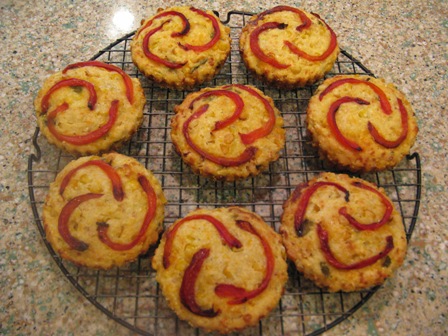 I included the zest and juice (50 grams) of one lime, and 60 grams of crème fraiche, in place of some of the milk called for in the formula.  The lime flavor really came through and was very tasty.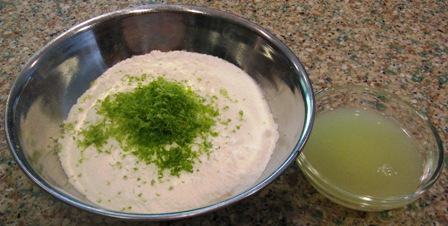 I added four roasted, diced jalapenos and although my husband thought this was fine!, some parts were very spicy
(I thought sometimes the heat overtook the lime and other flavors). Next time, I might just add two jalapenos.
I roasted four peeled cobs of corn, and took the corn off the cob, to add some deeper corn flavor to the bread.
The tops of the corn breads are decorated with roasted red pepper. We really enjoyed these too!
Here is the crumb shot: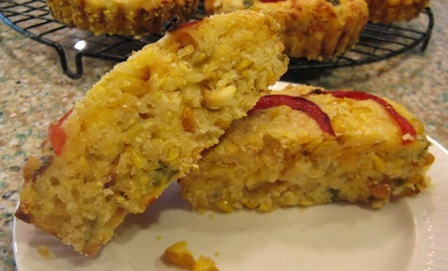 Happy baking everyone!
from breadsong