Survival of the Fittest Pt. 2 - Raisin YW Wins!
If you've been following this blog, when we last left this subject, I was trying to determine which of my many jars of YW I should keep. I have decided that having multiple jars of different fruits is pointless, since it is near impossible to tell which fruit was used by either taste or smell.  Some color will be added from darker fruits, but that's about it.  So, the first trial to see which fruit water was the most effective (the most rise in the least amount of time) revealed that my water made from cherries (initially with dried, then switched to fresh) jump started with strawberry water, was the winner. 
The second heat was to test the cherry water against apricot and raisin.  I ended up having two raisins as my first raisin water was discouragingly slow to activate.  I purchased new raisins from a different source and started a second jar.  One variable that I hadn't accounted for was the relative amount of sugar in each of the solutions that I tested.  To better calibrate this for the second heat, I obtained a brix meter (for wine making) and was able to test each solution straight from the jar and add an appropriate amount of fresh water to bring the solutions to the same level of sweetness across the board.
It was interesting to compare the brix readings from the various jars.  At just 3.4, the winner of the first round, cherry, had the lowest brix.  The older raisin had a brix of 3.6, followed by the new raisin at 3.9, and finally, the apricot had the highest at 5.0.  Since I was after a final test amount liquid of 10g, I calculated the amount of fresh water to be added to each tester to bring all of the testers' brix to 3.4.
Initially, I tried to use a 100% hydration for the test runs (10g solution added 10g bread flour).  However, the paste was too thick to go down my new test tubes, so I had to increase the hydration to 143% (10g solution to 7g bread flour). This created a liquid enough paste to go down the tube and still have enough viscosity to rise back up.  
The following photos show the progress 1, 2, 3, 4, and 5 hours into the race. Testers are from left to right:
raisin2 (new raisin), apricot, raisin1 (old raisin), cherry

 As you can see, from the start, apricot and old raisin were much more active than the other two, just an hour into the race they were pretty much neck and neck.  Cherry and new raisin barely moved.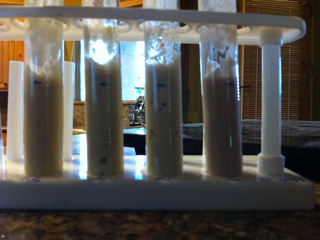 After two hours, cherry had picked up some speed, but raisin2 was still thinking. Apricot was in the lead after two hours, followed close behind by raisin1.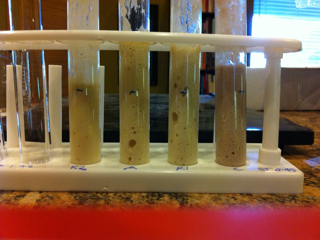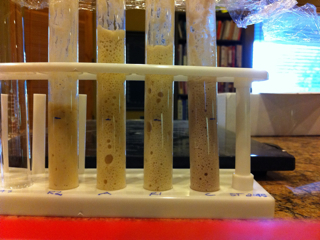 Three hours in, apricot still leads, raisin1 a close second, cherry is picking up, and raisin2 still stuck at the gates.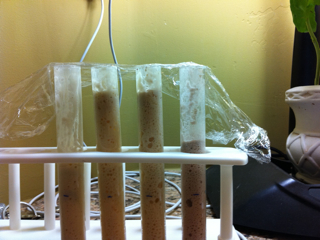 Four hours in, apricot and raisin1 neck and neck, Cherry is stalled, but raisin2 is coming alive!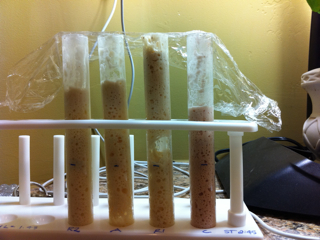 At the finish line, 5 hours after the start, we have a winner. Raisin1 peaked at the top of the tube, Apricot never made it that far.  Had I let Cherry and Raisin2 go, they may have gone farther, but I called it: Raisin1 will live to rise another day!