Survival of the Fittest – Which Fruit Yeast Water to Keep?
I've been experimenting with various types of yeast water for several weeks now.  I now have five separate jars percolating on the counter or in the refrigerator.  Since I've discovered that very little if any fruit flavor is discernable in baked breads made from these waters, it makes sense to me to keep only one.  It also makes sense to me to keep the one that is the most effective.  I have heard that raisin yeast water is the strongest and most active.  When I first started experimenting with these waters, I made a raisin/apricot yeast water, but the color and murkiness was not appealing, so I threw it away shortly after it was created.  Today I am making a new jar with just raisins and another with just apricots.  These will be tested against the winner of this trial.
To see which of my active yeast waters are the more effective, I created test waters containing 30g each of peach, blueberry, strawberry and cherry.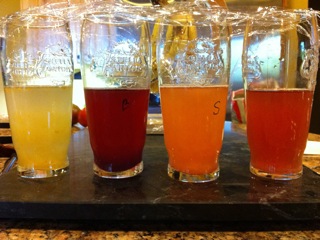 To these amounts I added 90g fresh water and one sugar cube. These jars were left out overnight to activate the yeasts.  This morning I took 3 grams from each of the jars and 3 grams of AP flour. These were mixed together and placed in identical test-tube like glasses (tall and very narrow).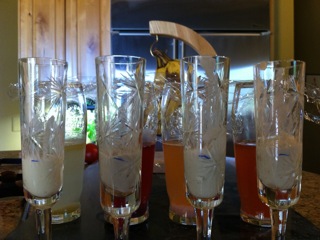 9:30am, roughly 3 hours since start time
 Now it is four hours into the test.  Gauging from my ongoing work on the blueberry yeast water, this first build will take approximately 7.5 hours to plateau.  Halfway through, it seems that the growth pattern of the testers matches too closely to the order in which the tests were prepared, lagging perhaps by no more than 5 minutes from the first (cherry) to the last (peach).  Also, both the strawberry and the peach were slightly more hydrated than either blueberry or cherry.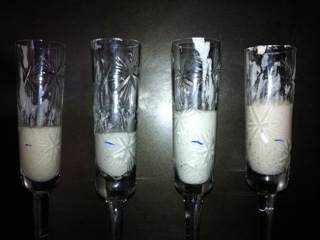 At 12:31pm, roughly 6 hours later, it appears that the cherry levain is far stronger than either the blueberry or the peach. The strawberry levain is only slightly behind the cherry in growth.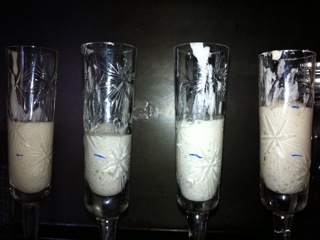 At 2:09pm, roughly 7.5 hours later, it is still cherry in the lead.  At this point I noticed that the glasses are not identical – some are deeper than others.  This accounted for, the cherry is still slightly more effective than the strawberry.  Also, approximately at this same time, cherry had reached its maximum height, approximately double the start level.   Strawberry went on to double at approximately 8 hours, as did peach.  Blueberry, interestingly enough, did not achieve more than a 50% growth over the entire period.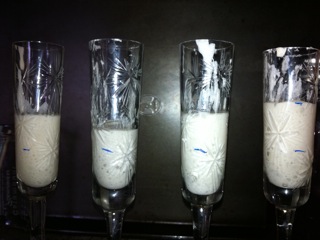 So there you have it. In terms of overall effectiveness for a first level build, cherry is the strongest of the test set.  The rest are not as effective for raising culture in a given period of time.
Next trial, Cherry against raisin and apricot.  Stay tuned.