I wanted to thank Syd who gave me good information to shape a boule. I have had a trouble with it.
Syd's comment here : http://www.thefreshloaf.com/node/23590/pane-con-semola-rimacinata-di-grano-duro#comment-170093
I made Susan's Norwish Sourdough with raisin yeast water.  I wanted to use multi-build levain to get close to sourdough crumb, but I was really motivated to practice shaping a boule..
Susan's Norwish Sourdough here: http://www.wildyeastblog.com/2007/07/08/my-new-favorite-sourdough/  This is my favorite, too. Thank you, Susan!
Here is how I made:
Ingredients:
Levain
113 g  KA AP
68 g  Raisin yeast water with alcoholic raisins
Final dough:
450 g  KA bread flour
58 g    rye flour
331 g   water   DDT 74F
10g    Salt
Method:
Make the levain  mix and leave it at room temperature 70-72F for overnight.
Mix with final dough except the salt.
Autolyze 30 minutes.
Add the salt  and knead until pass a window pane.
Bulk fermentation   4 hours ( 1 time S&F after 45 minutes)  at 73-74F.  * When I saw the dough in 45 minutes, the dough rose doubled already ( I would do S&F even the dough didn't rise much ), I did punch down and make a ball shape like doing S&F in the bowl gently because my family doesn't like to taste strong gluten developed in the crumb.
Preshape 
Bench time  20 minutes
Shape
Proof  1 hour at 76F
Retard  4 hours  at 42.8F.
Proof again at 76F for 40 minutes.
Bake  465F 12 minutes with steam, decreased the temperature to 420F, continue to bake 30 more minutes.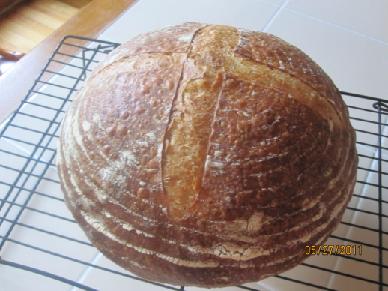 I tasted good sourness from the rye flour. The crumb is softer.  I wonder if I retarded it overnight? 
I finally got the crumb that I was hoping for.  Thank you so much, Syd!
Happy baking,
Akiko