Sicilian Cheese and Tomatoe Pie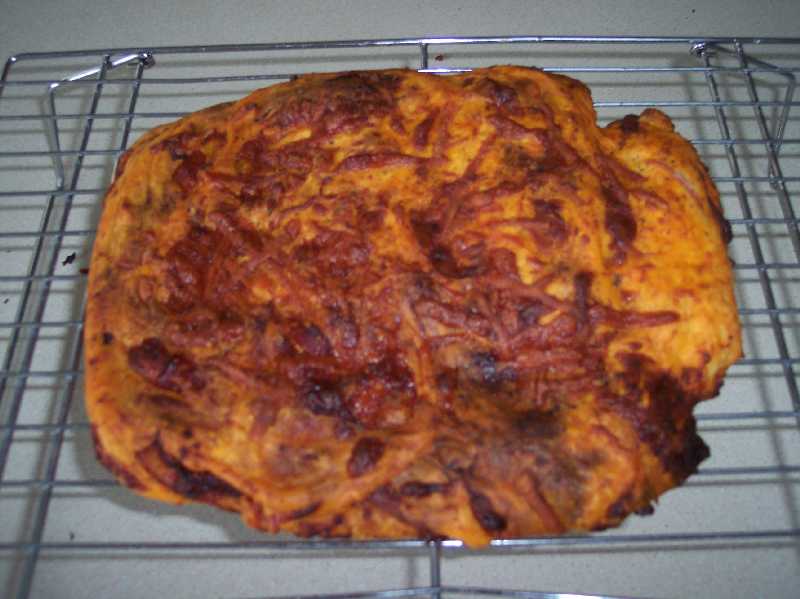 I was browsing through Saveur's online magazine the other day and ran across a recipe for a tomato and cheese pie from Sicily called Scaccia. The recipe can be found at the link below.
http://www.saveur.com/article/Recipes/Tomato-and-Cheese-Pie
It caught my eye not only because it looked and sounded delicious, but also because it uses durum flour for the dough. Having recently acquired 25lbs of the stuff, I've been on the lookout for any recipes that call for it, and thought I'd give this Scaccia a try.
The formula for the dough is simply flour, olive oil, salt and water, which makes a pasta dough that can be stretched out into a very thin sheet and then spread with a thick tomato sauce and cheese. The recipe indicates it can be rolled out with a pin, but that proved impossible for the dough I'd made. In hindsight I'm not sure I'd want the dough so well developed that it could be rolled out anyway, as I think it might make it a little too chewy. The next step of trying to fold this to create several layers of dough and sauce (similar to laminating a croissant or puff pastry dough) was the tricky part. My attempt was moderately close to the procedure described in the recipe, but only because I used the largest icing spatula I had to help me fold the dough over on itself. The dough was hand mixed, and then developed using the slap and fold technique until it was able to come cleanly off the counter, but the next time I mix this I'll use a bit less water to make the dough a little easier to work with. The recipe from Saveur calls just for tomato sauce and caciocavallo or pecorino cheese in the filling, but I used a blend of pecorino and provolone instead. Since I had some thin slices of spicy Capicola sausage on hand, I added some of those for good measure as well. Once I'd managed to get it folded over, more cheese and sauce were added, then another two folds with more cheese and sauce going on. Next onto a parchment lined sheet pan and sprinkled with the last of the cheese and placed in a 500F oven for 10 minutes, then for 35-40 minutes at 400F. Once out of the oven I let it cool on a wire rack for 20 minutes while I made a warm scallop and prawn salad to have for dinner. By the time that was ready, the Scaccia was cool enough to eat, but still warm and soft on the interior, with a cheesy, slightly spicy aroma coming from it. The best way I can describe the flavour and texture of this pie is that it reminded me of what the top layer of a well baked lasagna tastes like, only softer. I'm not sure if what I made is what Scaccia is supposed to be like, but this tastes fantastic just the way it is. A few photos of the procedure and results below.
All the best,
Franko