A Standard KISS Loaf, or Keep It Simple Smiley
    I really enjoy baking artisan loaves, but I decided that if I wanted test the results of changes in my breads, the artisan loaf was a poor choice. I wanted something where each loaf could be compared with the other test loaves - primarily based upon photo records and detailed method writeups on my part.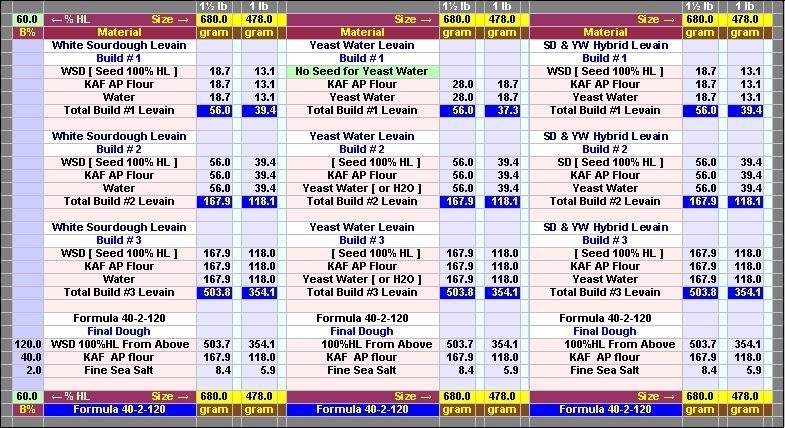 For a while I used Flo Makanai's 123 formulation: 
http://www.thefreshloaf.com/node/9346/123-easy-formula-sourdough-bread
It work okay, but still wasn't what I wanted.
  I finally realized I need to eliminate the variation in shape of the serious "test samples". So, I switched to using a pan bread as my standard. Since it is either myself or the birds that will eat everything I bake, 2 kilo loaves would be a very poor choice in size. Going through my stock of pans, it came down to a choice between a 636 ml, 1037 ml, or 1475 ml capacity pan.
The smallest, a 5-3/4" loaf pan did fine for a 293g size, the 7-1/2" work well for 478g size and the standard 8" loaf pan did well 680g loaves.
Small 300g range example Link:
https://docs.google.com/viewer?a=v&pid=explorer&chrome=true&srcid=0B_MScoZfDZkwY2MwOWMzOGEtNzBlNy00ZWYyLWExNWYtOGI1NGFhMGE3NzFh&hl=en
One pound 500g example Link:
https://docs.google.com/viewer?a=v&pid=explorer&chrome=true&srcid=0B_MScoZfDZkwZDU5NGY1MzMtOGRiMy00MjRhLWIwM2ItZDc0NzMxYjhkZjUw&hl=en
Standard 8" - 680g example Link:
https://docs.google.com/viewer?a=v&pid=explorer&chrome=true&srcid=0B_MScoZfDZkwODI3ZmUyNDMtNWVjMi00OTFlLWFlNzAtNGE1NTcyNjU4OTY5&hl=en
I settled on using my 1 pound loaf pan. It is 7-1/2" x 3-1/4" x 2-1/2" (19 cm x 10 cm x 6 cm) and generally, a 478g dough batch size.

I also wanted a formula that was as basic as I could find, but that offered good flavor development, and a high degree of certainty in judging the levain activity level. I settled on converting the common French formula of 100-60-2-2, where in barker's percentages that was 100 flour, 60 water, 2 salt, and 2 fresh yeast. Well, since I had no easy access to French flour, nor fresh yeast, and since wild yeast is where my interest lies, I chose to take the 60% liquid and use 60% of the total flour as my levain. I simply refer to this as 40-2-120.

I use a 3-build levain sequence, which provides more than enough opportunity to judge the levain activity as it is moved through the three builds. And, I generally manipulate maturity of each build to stretch over a 24 hour period, which generates plenty of flavor from the flour as it matures. Finally, having 60% of the final dough in the levain builds, I have found no need to be a purist about autolysis and generally add the salt in with the last 40% of the flour at the beginning of the final dough. I do give a long rest following the mixing, but since the salt has been added, I will simply call it what it is – a rest.
To ensure that there are still plenty of the goodies remaining that the Wee Bonnie Beasties (WBBs) need to generate the leavening gases, I limit the rises in the 3 levain builds to a target range 60% to 90% as acceptable rise, but I try very hard to never let it exceed 90%.

Kneading, bulk fermentation, shaping, retardation, and final rise are all interrelated variables that I experiment with in any given loaf. Of course, additional ingredients are another class of experimental variables open to extend the "playtime" called baking bread.
Naturally, you come across things that may seem unimportant, that really do make a difference. One example the comes to mind is the old belief that pan breads really do not need to be scored.... Be a skeptic of all "rules".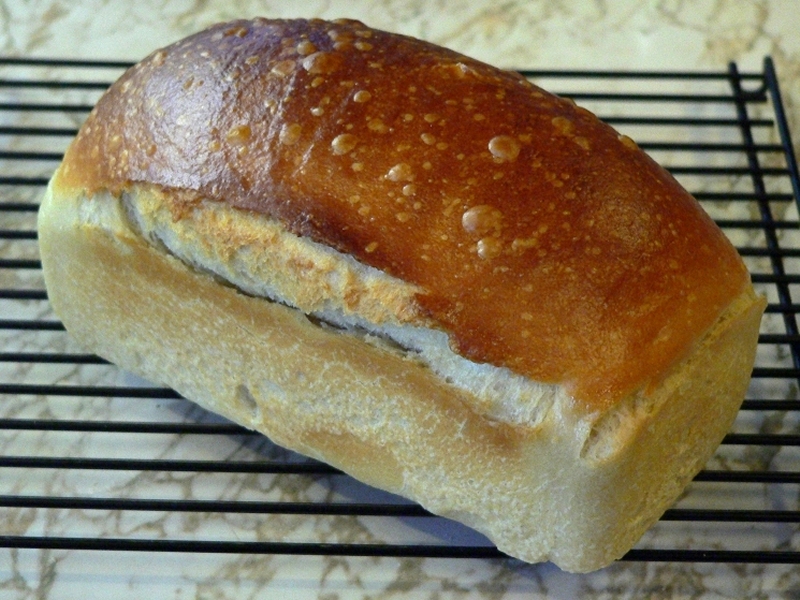 I do think scoring creates benefits....
Ron