Jan Hedh's Pain au Levain With Bran and Vinegar - A Case of Bran-o-mania?
After realizing that we preferred tangy sourdough breads to milder fruit yeast loaves, I banned my apple yeast water into the no-see area of my refrigerator - the place where stuff goes that is hardly ever used. Bad conscience made me feed it together with my other two starters before I went on my trip to Germany, but after I came back I forgot all about it.
Leafing through Jan Hedh's "Swedish Breads And Pastries" again, I felt enticed by his "Pain au Levain with Bran and Vinegar" and rummaged in the fridge for the sorely neglected apple yeast water. Halfways expecting it had perished due to starvation, I opened the lid of the recycled sour cream container. It smelled still sweetish sour, but had some suspicious little white specks floating on the surface.
I poured most of the fruit water into the sink, retaining only the "sludge" on the bottom. From this I took a spoonful to build up my levain, wondering whether it was still alive. Amazingly, it was. It fermented through all 3 steps as it should, it took only longer, so I left it overnight on the counter (NOTE to all other abusive fruit yeast parents: your offspring is way more resilient than you think!).
Adding the other dough ingredients to my lively fruit yeast levain, I realized what an enormous amount of bran was to go into the breads, about 48% (= 250 g bran per 518 g flour for 2 loaves). But it was the first time I was going to make this bread, so I obediently followed the recipe.
From my former experiences with Jan Hedh's recipes I knew better than to stare at the kitchen timer, but let the dough and the shaped loaves proof at their own good time. With former fruit yeast breads I had been too impatient to wait that long - and they had grown "horns" and done other weird things in the oven (see my blog).
I also knew that the baking times in the recipes were often much longer than the breads actually needed in my oven. So when my loaves went into the oven I kept an eye on them. They had some oven spring, and didn't act out like their older siblings, but it was obvious that they would not turn out quite like the loaf shown on the picture in the book: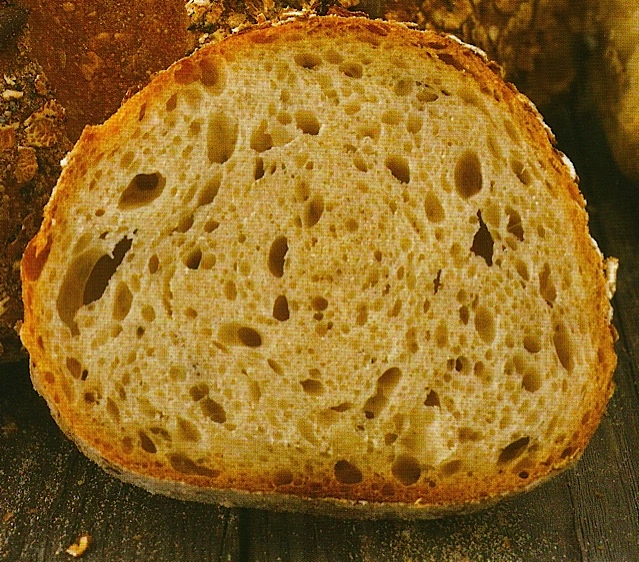 Jan Hedh's Pain au levain with bran and vinegar - as it is supposed to look like (in the book): light and airy, with some little brown specks.
My bread was anything else: brown and dense - it suffered from a severe case of bran-o-mania!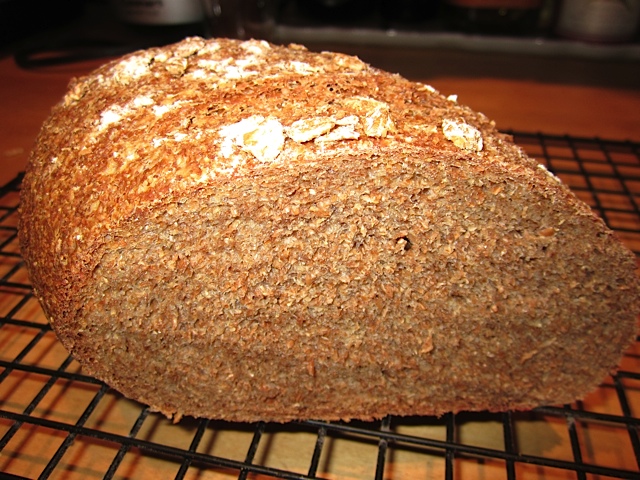 This could not just be one stupid German baker's screw-up - I wonder whether there was a zero too many in the recipe: 25 g bran instead of 250 g?
What it did have, to my surprise, was a really good taste: slightly sweetish (no sweetener added). Much different from an almost whole wheat loaf - what it basically was.