Why did I stray so long? Shiao-Ping's 'House Miche' Revisited
I have a must-try list of sourdough breads and other goodies that I'm constantly working my way through, yet the list never seems to get any shorter. Trouble is, you guys on TFL keep posting irresistible pics, and the recipes go straight on to my list (and waistline).  O the trials of the home artisan bread baker! And of course, we wouldn't have it any other way...
When I'm not trying new breads, I fall back on my trusty repertoire of favourite breads that I do again and again. I'm sure we all have these, tweaked to personal taste. Every so often, I realise I haven't done one of my faves for way too long. So it was with Shiao-Ping's 'House Miche': I baked this again recently after somehow neglecting it for months, and it was like revisiting an old friend - familiar, but stimulating as well. I couldn't quite remember how it turned out (too many loaves ago), but I just knew it was a standout. Well, memory duly refreshed, felt I wanted to share this one with y'all. Blame it on the crumb: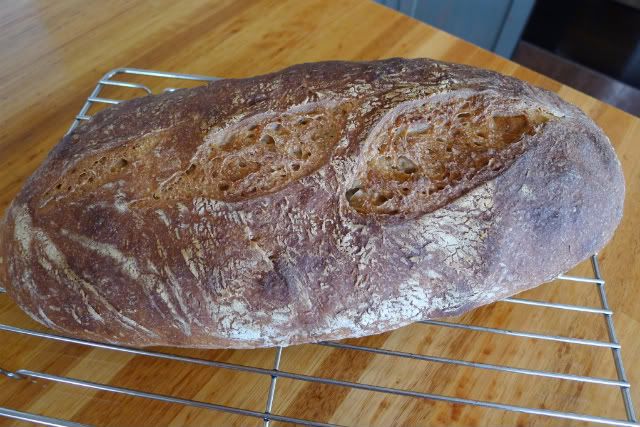 And yeah, it's not a miche. I prefer batards - and the beauty of home baking is that you are free to customise as you please. I also like to take the option of adding a proportion of rye to the dough.
This crumb is spongy, which I really like, with a cool mouthfeel, nice structure and elasticity, a lovely creaminess about it, and nutty flavour tones that develop in depth and complexity the day after the bake. The crust has character, but is not so robust as to be tooth-endangering (conscious of this at the moment, having recently needed a crown due to chomping over-zealously on a pizza and breaking a back molar that had been sending me warning signals that all was not right for many months...dental phobics have unlimited capacity to ignore such signals).
This 'House Miche' - er, batard -  is an old friend that I'm going to make more effort to stay in touch with from now on. Well worth inviting to your table, if you haven't already.
Thank you again, Shiao-Ping!
Cheers
Ross