Andy's Pain Au Levain with Light Rye
Recently Andy posted on his Pain Au Levain with Light Rye.   http://www.thefreshloaf.com/node/23199/pain-au-levain-light-rye-flour  His formula was quite similar to something I had tried awhile ago http://www.thefreshloaf.com/node/22372/sourdough-white-rye with a major difference: the percentage of fermented flour, which was more than double what I had used (33.3% rather than 16%).   I decided to try Andy's approach.  I followed his directions with the following differences: I used my own idiosyncratic methods for refreshing starter mostly in the refrigerator,   scaled to half of his formula and made a single 1Kg batard,  reduced salt to 1% of flour so that my husband could eat it,  and retarded for 12 hours in addition to a 2.5 hour bulk ferment and combined (evening and morning) counter proof of 2.5 hours.   Finally, not having access to either of Andy's flours, I used KAAP and KA White Rye.  The profile of the resulting loaf was quite similar (and Mt. Vesuvius-like) to my earlier efforts and quite different from Andy's more miche-like structure.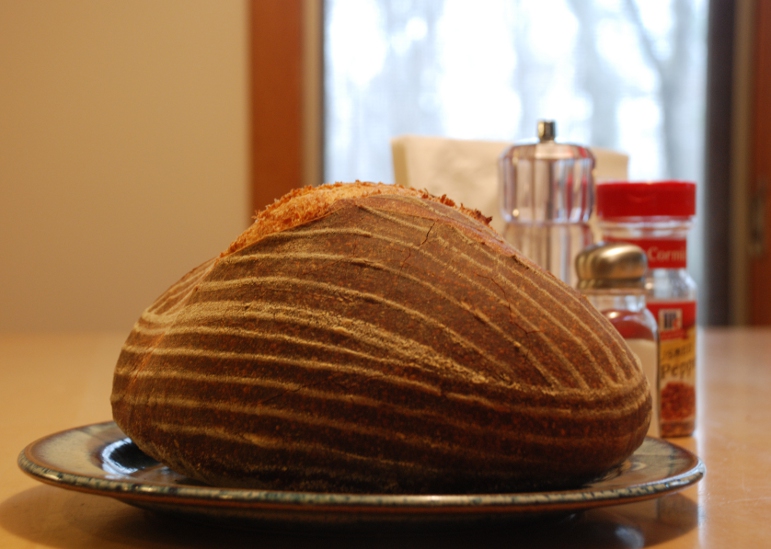 What took me totally by surprise though was the crumb.   While my earlier sour doughs with white rye had a certain density which allowed me to cut very thin slices without smashing the loaf, this one was lighter than air, and I had to cut even thick slices very carefully to keep from tearing apart the loaf: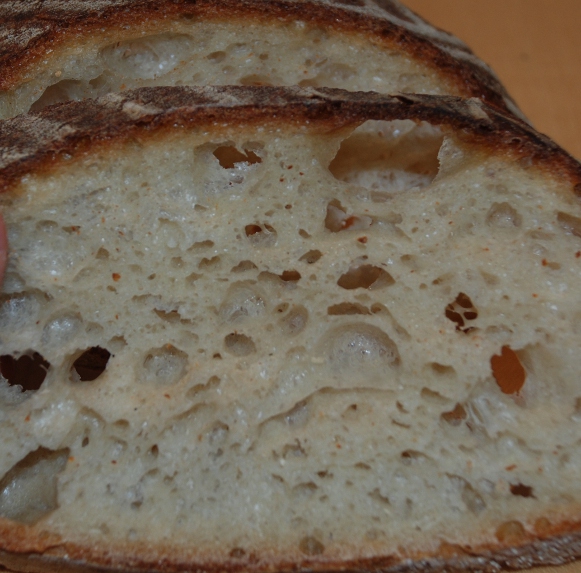 Also, using the leave in the oven for 10 minutes with the door slightly propped open trick which Andy suggested for this loaf (and I've used with absolutely no success on many occasions) I got a nice singing crackly crust.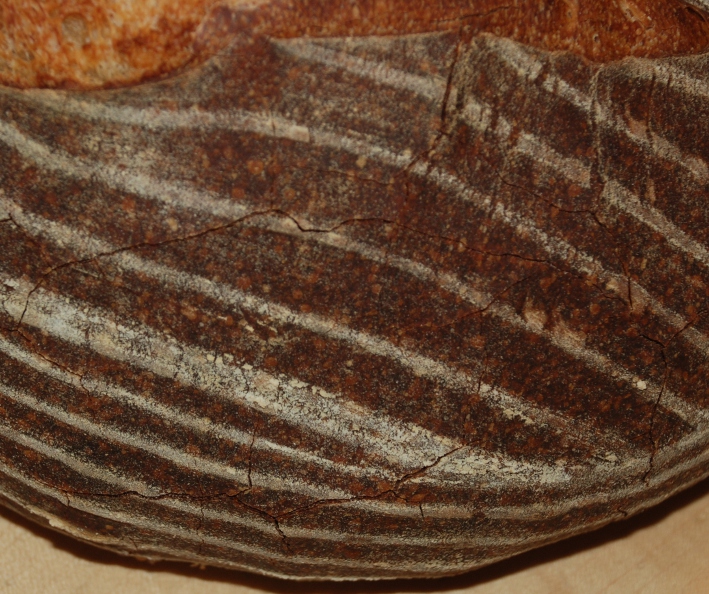 This is the first time I've tried to follow one of Andy's formulas, but certainly not the last.   Delicious!