Pain Au Levain - can't steam the oven too much
A recent blog post made me sit up and take notice.   http://www.thefreshloaf.com/node/22954/getting-grigne-observation shows two loaves; one made with steam at the beginning of the bake, the second steamed later in the process.   The first one looks better by a lot.   Lately I've been making batards with two cuts.   The most frequent outcome is that one of the cuts opens nicely and takes most of the bloom of the loaf, and the second opens a bit, and then seals over.   In trying to diagnose this I thought it might be either a shaping or a steaming issue.    So I changed my batard shaping so that instead of rolling toward me (a la Ciril Hitz) I roll away (a la Mark from the Back Home Bakery).   The latter method seems to allow me to get a tighter gluten sheath so I'm sticking with it.   However, it didn't seem to solve the problem.   Yesterday, I decided to see if more steam at the beginning of the bake would help.   I made a pain au levain (almost the same as Hamelman p. 158 but with higher hydration 69% vs 65%, higher percentage of prefermented flour 17% vs 15% and a lot less salt.)   The only change I made to my regular baking process was to add a dry broiler pan underneath the stone during preheat, and fill it with water at the same time as loading the loaves.   This is in addition to my usual loaf pans filled with water and wet towels which I place on each side of the stone.  Here is the result: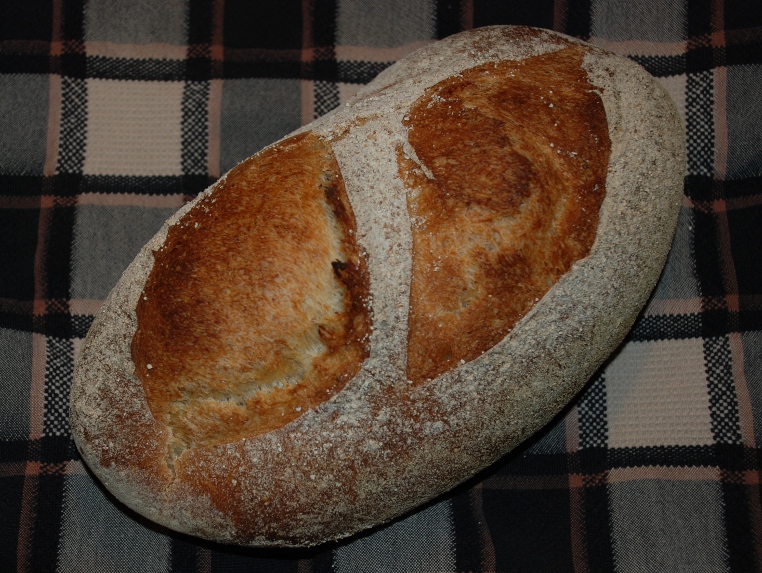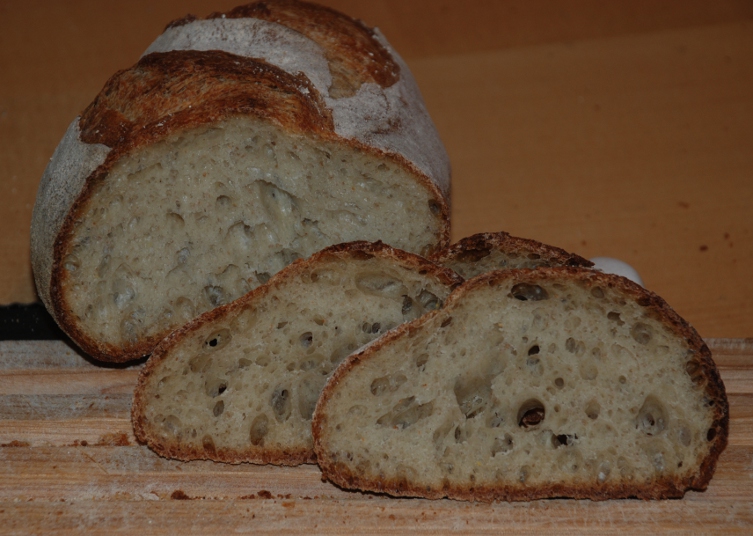 Not a perfect loaf by any means, but the first time in recent memory where my cuts opened evenly.   Should I attribute this to the extra steaming at the beginning of the bake?  I think so.