This was very easy and tastes better than your average sliced bread... It looks cool too!
Ingredients: (for white dough)
2 cups bread flour
1/4 teaspoon instant yeast
1 teaspoon salt
1 1/4 cups water
Ingredients: (for beet dough)
Do the same as the white dough in a seperate bowl, replacing the water with beet juice. To obtain beet juice, I shredded 3 pounds of fresh beets, loaded the shreddings into a mesh bag, and squeezed  out the juice. I recovered about a cup, so I added water to make 1 1/4 cups.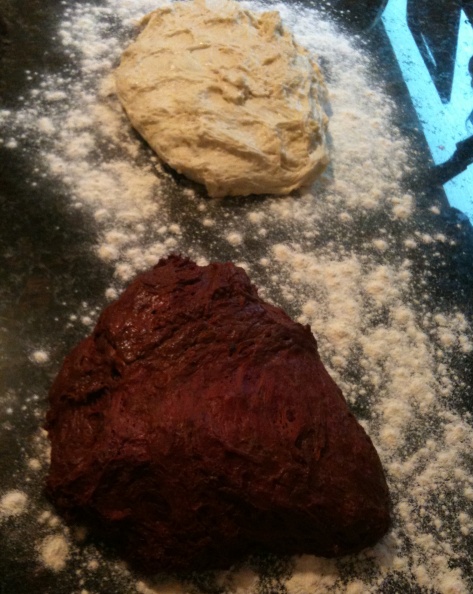 Instructions: (remember you are making TWO doughs)
Add all the dry ingredients (flour, yeast, salt) into two bowls and stir with spoon for about 15 seconds.
Add water to one bowl and beet juice to the other bowl. Stir for about 1 or 2 minutes.
Cover the top of the bowl loosely with plastic wrap.
Let sit on counter top for about 12 to 16 hours (I ussually do this for about 13 hours), the dough will look all bubbly on the top when done rising.
Generously sprinkle flour the top of your clean counter top or a cutting board (don't worry about using too much flour, it won't hurt it).
Slowly pour the dough from each bowl on to the floured surface, using the silicone spatula to help it peal off the sides of the bowl.
Sprinkle a little flour on top of the dough and rub your hands together with flour.
With you hands, gently stretch each dough out to a rectangle shape.
Lay the beet dough on top of the white dough.
Roll up the dough from one end to the other.
Place the dough into a lightly greased bread pan (seam side down).
Let dough rise till it is a bit above the top of the bread pan (about double in size or 1 to 1.5 hours).
Pre-heat the oven to 450 degrees.
Place bread in the oven for 30-40 minutes.
Remove from oven, dump bread out on a cooling rack or your counter top and allow it to cool.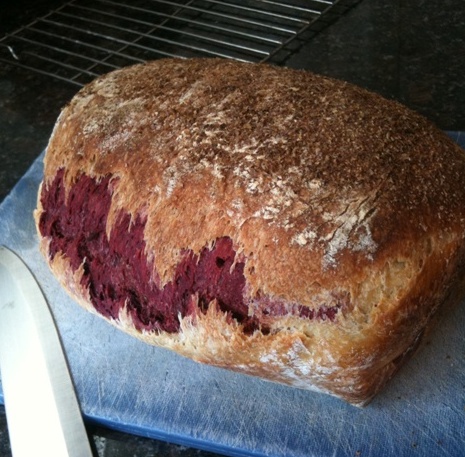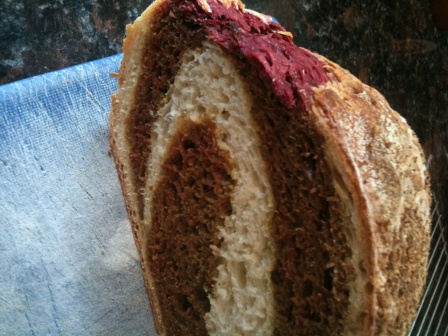 There is a delicious flavor from the beets...somewhat salty, a bit savory, and a smidge of sweet. The deep cherry red color emitted from the crust, but inside it lost the red component and is a boring brown. I think I'll try the beet dough on the outside next time.
Does anyone know why this happens?